The advice of Steve Jobs to help a programmer become a billionaire
At the age of 20, before founding and becoming CEO of Salesforce, Marc Benioff, was a trainee at Apple. He is a "production line programmer".
While working at Apple, the team was busy working with the first Macintosh. Despite raising more than $ 100 million in investment, Apple is still a young, passionate startup where Steve Jobs, founder and Marc, a trainee, can stand in line to drink coffee together.
Twenty years later, when Marc founded his own company, Steve told him that if he needed help running Salesforce, he would go to Steve's office.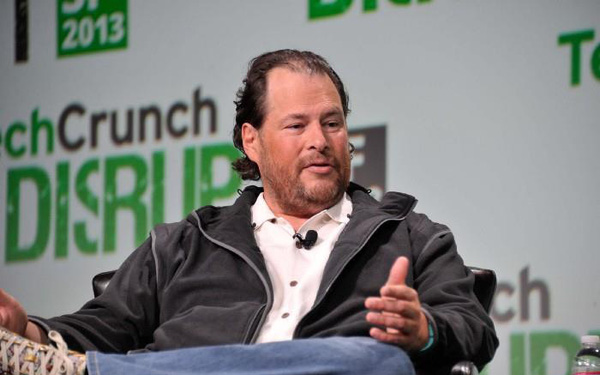 Only 2 years after establishing Salesforce, the Internet bubble has finally burst. Marc and his co-founders needed help, and they accepted Jobs' offer and held a meeting to receive Jobs's guidance.
"I do not know"
Marc opened his laptop and launched the Salesforce demo.
A moment later, Steve replies, "It looks awful!"
You may have heard many people say that Steve Jobs is not the type of person who talks around the country and he absolutely does not know the language with middle words.
But what sets him apart from the crowd is that he gives feedback that can take action afterwards.
Although Steve's first two tips are serious, it's hardly surprising or unique:
"Go convince the biggest customers you can have, such as Avon."
Salesforce is not a consumer product business, Salesforce's target customers are big brands.
"I want you to really understand this. One is that you will grow 10 times bigger in 24 months, or else this business will fail."
Perhaps there's some hidden logic in that statement, or maybe Steve is just trying to motivate Marc. But what he said next made a difference.
"One last thing. You need to build an applied economy."
What is an application economy? Marc asked.
"I do not know!" Steve replies.
Do you dare to believe in a dreamer?
Let's look at the context at the time, it was 2001 – or 7 years before the iPhone was first released. It was the era of CDs and application terms that weren't yet popular.
At its core, Salesforce has – and is – a CRM, a cloud-based application where businesses can track their projects and orders.
But instead of building a solution that fits all categories, Benioff has invested heavily in helping customers and third parties customize it. It became the first business application market, many years before the Apple AppStore was launched.
Jobs's cryptic dream, realized.
Looking back, Marc always stressed the importance of the advice Steve gave him.
He said that Salesforce would not be what it is today – a $ 165 billion software company – without Steve's advice back then.
Listening to a successful person is very easy. But the reality is that the daydreamers around us are the ones who know what's best for us. They just can't explain where their dream comes from, or why their dream is right.
"You should fire him. I feel he is not right for you."
"You have a knack for public speaking, you should start a Youtube channel or something."
"My goodness, you are really good at this. Write for customers to try."
"Why not try it? I always know that you are very sociable with people."
"Yesterday I dreamed you stood on the stage and everyone listened to you. It was wonderful."
Have you ever heard these words from your friends and family?
Or something similar?
They may not be Steve Jobs, but even Steve Jobs was not Steve Jobs before he became Steve Jobs. I know it sounds crazy, but the more you learn about Steve, the more you realize that many of his decisions are made this way.
In my experience, life really begins to open when you listen to "Steve Jobs" inside of who you are. Friends and family will always be there to help you, but the long-term motivation in life comes from the impulses from within.
The only thing needed is courage. Obviously, that's the difference between a loser and a winner: are you really brave enough to pursue an unsubstantiated offer that comes from something "probably" and ends with? Is the answer "I don't know"?
According to ES
Source : Genk