Tesla CEO mocks Apple CEO about new cleaning cloth
To celebrate Apple's new store in Istanbul (Turkey), Tim Cook tweeted, "Introducing Apple Bagdat Caddesi, our beautiful new store in Istanbul. We're excited to be part of this vibrant community and we can't wait to welcome our customers to this spectacular new space."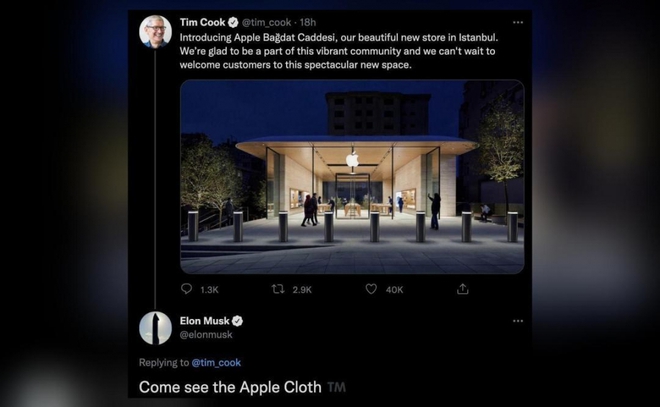 Elon Musk's response to Tim Cook's tweet.
As reported by iMore, the world's richest billionaire responded to this tweet saying, "Come and see Apple Cloth TM". This is clearly meant to mock Apple's new cleaning cloth that's currently on sale on the company's website.
As is known, besides announcing the new MacBook Pro (2021) and AirPods 3 series, Apple also quietly released a new non-abrasive polishing cloth for cleaning any Apple screen that costs $19.
"Made of soft, non-abrasive materials, the polishing cloth cleans any Apple display, including nano-textured glass, safely and effectively," the company writes on the cloth's website. fruit". According to the report, the "Compatibility" section of the product contains every device with an Apple display.
Many people mocked the cloth as a prime example of Apple products being offered for sale at high prices. This product will not be delivered to the customer until January 2022 if the customer tries to purchase it.
Speaking of Apple's new MacBook Pro models, those are the first MacBooks to come with the new Apple M1 Pro and M1 Max chips, which combined with a 120 Hz mini LED display makes them Apple's best MacBooks yet.
Source : Genk