TCL QLED 4K – A TV that is highly sought after by techies
It's no exaggeration to say that Android TV QLED TCL 4K C815 is one of the top choices in the QLED TV segment today. Owning strength and durability, this TV product line is receiving high appreciation from experts as well as users. So what are the salient features of this TV?
Breakthrough screen technology peak
Revolutionized with Quantum Dot technology that adds billions of quantum nanocrystals, TCL QLED 4K AI TV C815 reproduces fine details of all light and natural colors for truly impressive viewing experiences. through 3,840 x 2,160 pixels (4 times the number of pixels on Full HD TV).
With an extremely high 93% color gamut (DCI-P3) per billion colors, the quantum dot display technology in the C815 series will deliver more vibrant and varied colors, without any color or lifespan limit. as short as in other color technologies. As a result, every image displayed from the TCL 4K C815 TV screen reaches the highest quality, sharpened to every detail, bringing the purest colors to help the visual perception deepen, immerse in each frame. Figure.
Display images up to 4 times sharper than Full HD thanks to Ultra HD 4K resolution.
A breakthrough with Dolby Vision cinematography technology, enhanced display color, and contrast achieve incredible image quality through cinematic-inspired HDR technology, which can bring highlights. 40 times brighter, with 50-times brighter-than-dark contrast and unprecedented colors on standard TVs to give users the freedom to enjoy true-to-life color and enhance the Hollywood cinema experience right at home. In addition, MEMC technology will evaluate the motion of images and motion compensation by special algorithms, helping to increase the number of frames as well as the speed of movement between frames thereby reducing. ghosting, and shakes when watching fast-moving footage helps you enjoy the clearest, most detailed and engaging action scenes.
Vivid sound, elevating beautiful entertainment experience
The impressive screen design is not enough, this new generation QLED 4K TV is also equipped with dynamic audio amplifier technology, focusing on receiving audio signals and perfect sound reproduction. Dolby Atmos integrates with Onkyo premium audio system, giving independent sound effects on each individual channel, bringing multi-dimensional surround sound quality, depth of echo, bringing you to the future of entertainment in Gia, helping you to fully experience emotions in every moment.
Discover impressive technology from Dolby Vision and Dolby Atmos
Voice control, no need remote
This TV series is equipped with the latest Android P with Google Assistant, especially hands-free voice control mode, does not need remote, users just need to say "OK Google" and then order the virtual assistant to control control the television.
With an all-in-one artificial intelligence platform, TCL AI-IN will open up a world of entertainment just for you, respond to your questions, turn on – off the TV or even connect smart devices. differs in the TCL Smart Home ecosystem just by voice.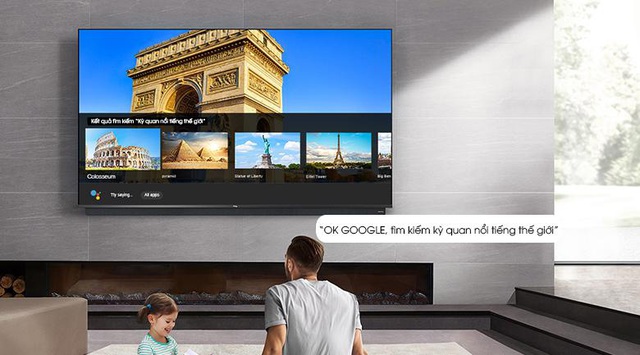 Direct control, easy by voice only.
Elegant design with edge-to-edge screen
Becoming the focus of elegance and modernity, the Android TV QLED TCL 4K C815 has a slim design with a 0.3cm thin bezel combined with an upside-down V-shaped stand in a sophisticated silver color, creating overall harmony enhances the interior space of your home more luxurious.
TCL C815 TV is available in 2 sizes, 55 inches and 65 inches, suitable for placing in spaces such as living room, bedroom, meeting room, …
The ultra-thin screen bezel provides unlimited visibility.
Not only has the outstanding advantages of technology, image quality, or design, this TV also has strengths in durability and price. Choosing TCL QLED 4K AI TV C815 will definitely bring your family a great experience.
With the technological monopoly, not easy to produce and meticulously invested in a masterpiece, it can be said that the Android TV QLED TCL 4K C815 really makes a breakthrough and deserves to be a public product. Technology hunt.
From May 25, 2020 to July 31, 2020, when purchasing any TCL TV, air conditioner or washing machine product, customers have the opportunity to own the super QLED TV AI – IN of TCL.
– SPECIAL AWARDS (3 prizes) – One prize per TCL QLED 4K AI TV 65 inch C815, worth VND 107,970,000
– First prize (10 prizes) – Each prize is 1 washing machine # K08 9kg, total value 89,900,000 VND
– AWARD (20 prizes) – Each prize with 1 JB speaker, total value of 64.000.000đ
– Third prize (30 prizes) – Each prize of 1 TCL air purifier with a total value of 122,950,000 VND
Details: https://www.tcl.com/en/en/blogs/co-hoi-so-huu-sieu-pham-qled-tv-ai-in.html
Source : Genk