Stunned with Big Tech's 'money-making' ability: Amazon makes more than $ 800,000 / minute while Apple pockets nearly $ 700,000 / minute
Big Tech had a great year last year, when the Covid-19 pandemic failed to stop the seven biggest tech companies from growing a combined $ 3.4 trillion in value last year.
Amazon and Apple have posted record sales in recent months, with both hitting $ 100 billion in quarterly sales for the first time in the fourth quarter of 2020.
CNBC reviewed the most recent quarterly earnings reports submitted by the seven biggest tech companies (Amazon, Apple, Alphabet, Microsoft, Facebook, Tesla and Netflix) to the Securities and Exchange Commission. US translation – SEC in recent weeks to calculate what is their turnover per minute in the first quarter of this year. (There are 90 days and 129,600 minutes for the first quarter of 2021).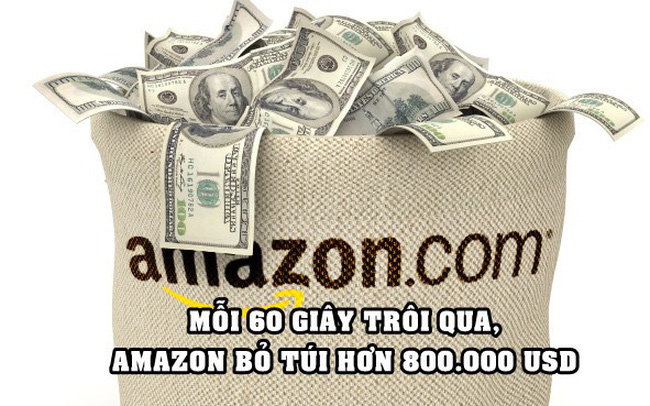 Here are the results of CNBC:
Amazon: $ 837,330.25 / min
Apple: $ 691,234.57 / minute
Alphabet: $ 426,805.56 / minute
Microsoft: 321.805.56 USD / minute
Facebook: 201,936.73 USD / minute
Tesla: $ 80,162.04 / minute
Netflix: $ 55,270.06 / min
The seven companies above brought in an average of $ 373,606 per minute, less than the previous quarter ($ 416,768), when both Apple and Amazon posted record sales.
In the first quarter of 2021, Amazon led the group with more than $ 108.5 billion in revenue. In two consecutive quarters, the e-commerce giant achieved sales of over $ 100 billion. It can be said that Jeff Bezos' group had a huge business time when the Covid-19 pandemic forced people to shop more online. This has contributed to the fortune of Bezos to rise to 200 billion USD.
Amazon is followed by Apple with $ 691,234 in revenue per minute in Q1 / 2021. During this period, the company generated revenue of $ 89.6 billion, with iPhone sales up 65.5% year-on-year.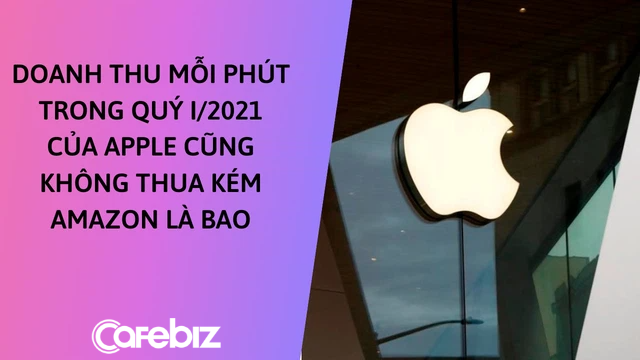 As of April 30, Apple is the company with the largest market value in the world with 2.2 trillion USD. Amazon's market value, meanwhile, is no less competitive, at $ 1.76 trillion.
Alphabet, the parent company of Google (market value 1.6 trillion), earns 426,805 USD per minute. Alphabet's total revenue for the first quarter of 2021 was $ 55.3 billion. Next is Microsoft, with revenue per minute of $ 32,805.
Social network of billion people Facebook (market value 925 billion USD) earns 201,936 USD / minute. The company's total revenue in the first quarter of 2021 was $ 26.2 billion. Elon Musk's electric car maker Tesla (market value $ 677 billion) comes in at No. 6 with $ 80,162 in revenue per minute, and its first-quarter 2021 revenue is $ 10.4 billion.
In January of this year, Musk overtook Bezos as the richest man on the planet, after a very successful 2020 year with Tesla's stock price soaring. Musk currently owns a fortune of $ 175 billion, behind Bezos with $ 202 billion, according to Bloomberg statistics.
Finally there is Netflix (market value 227 billion) with 55,270 revenue per minute and total revenue of 7.2 billion USD in the first quarter of 2021. Despite hitting a record year in sales last year, the giant saw subscriber rates slow down in the first quarter of this year.
Source: CNBC
Source : Genk