Strangely, the company has never surpassed zero revenue, but shares are up more than 3,000% in eight months, breaking Tesla's record.
The company has only potential, no revenue
No information about Blink Charging Co.'s finance. It is one of the hottest stocks in America. The company has never announced annual profits in its 11 years of operation. Last year, they even said they could go bankrupt, lose market share, drag sales down and management operations were disturbed in recent years.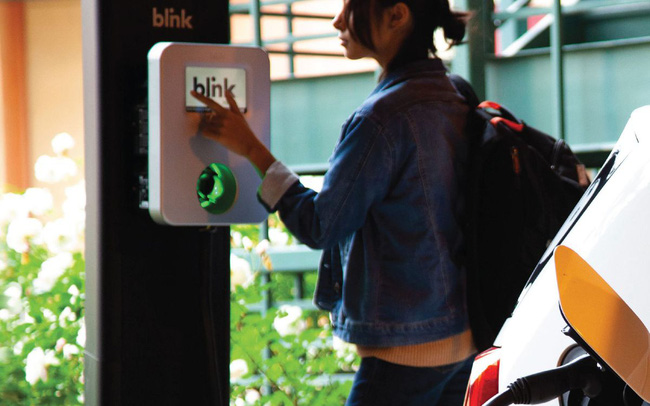 However, this is still a highly sought-after stock. Over the past eight months, investors have pushed Blink's share price up 3,000%. Out of about 2,700 shares with a total value of at least $ 1 billion, only 7 have grown stronger in the same time frame. This is because Blink is a green energy company that owns and operates charging stations for electric vehicles. And if investors are sure of the fever sweeping the financial markets, they don't miss the green companies.
No stock has recorded an impressive rise like Blink. With a market cap of $ 2.17 billion as of Feb. 8, the value / revenue ratio – a common measure of whether a stock is overvalued, has risen. it jumped to 481. Meanwhile, Tesla – the "darling" of the electric vehicle industry, was only 26.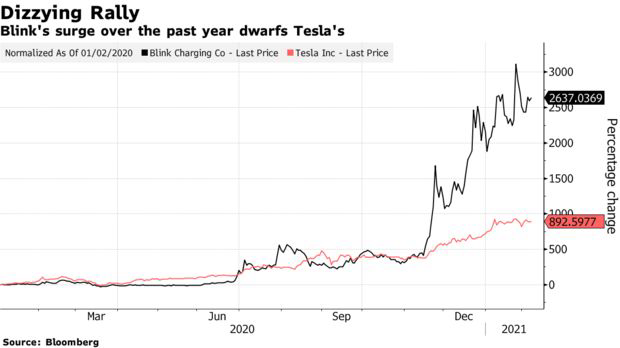 Stock price movements Blink and Tesla.
Historically, making money "recharging" electric cars is an activity that will make the company lose money. In theory, a model like Blink – which involves selling equipment and charging user fees, could deliver steady returns as the government pushes up the use of electric vehicles. However, no company has yet.
Pavel Molchanov, an analyst with Raymond James & Associates, said: "This market is still too small and only in its infancy. It will take a long time to scale."
While industry standards are not strict, Blink's sales are still modest with an estimated $ 5.5 million in 2020. Meanwhile, ChargePoint Inc. – The company intends to go public through 1 SPAC last year, already has revenue of $ 144.5 million by 2020, according to a filing filed in January. Although the sales figures differ, all three companies are valued at between $ 2.1 billion and $ 2.4 billion.
In a filing released in May, Blink warned that the company's financial viability raises doubts about the company's ability to continue operating continuously for a year, when it doesn't. enough cash for 18 months of operation.
Erik Gordon – Pre-professor at the Ross School of Business at the University of Michigan: "The dot-com boom has created a number of companies, but most overvalued companies are bad investments. The explosion in the electric vehicle sector is a similar story. "
However, the recent upheaval of the market has blown new winds for Blink, helping the company raise $ 231.1 million through its IPO in January. Recently, Roth Capital Partners has launched an incentive. Recommend to buy this stock with a target price of 67 USD, 27% higher than currently.
Blink's annual profit has never exceeded zero.
The company's outlook is based on the growth of the electric vehicle industry. In January, Farkas discussed its plans to roll out about 250,000 chargers "over the next few years" and often talked about its ability to generate recurring revenue from the company's network. Currently, the company says it has 6,944 charging stations in the network.
Unlike some of its competitors, Blink's revenue model relies in part on driving utilization rates – which are currently "1 digit low". This is too little to generate significant revenue, Farkas said in November. He said that number will increase as electric vehicles become more popular. Meanwhile, for most Blink chargers being used, the utilization rate must reach 10-15% to break even.
The target of the short-sellers
"Everything is wrong with this company," said Andrew Left, founder of Citron Research. "It's just a name that catches the eye of retail investors."
Citron was one of a handful of companies that shorted Blink stock last year. It was one of the downside bets on stocks that were favored by the retail investor group, typically the recent GameStop story. The short selling rate for Blink has fallen below 25% compared to outstanding shares, from over 40% at the end of December.
For the short-sellers, one of the things that has sparked the alarm is that several Blink-related figures, including CEO and Chairman Michael Farkas – are involved in companies that have breached regulations stock for many years ago. However, Farkas was quick to dismiss this information and assumed that the short selling was just against him.
The original Blink story was the primary target of the short-sellers. Founded in 2006, when it was just a cover company called New Image Concepts Inc. To provide high-quality personal counseling related to beauty and entertainment.
In December 2009, the company signed a stock exchange agreement with Car Charging Inc. Farkas joined the company as CEO in 2010, after a stint as a stockbroker and investing in companies including Skyway Communications Holding Corp. – which the SEC calls "inflated" behavior.
In 2013, Farkas oversaw the acquisition of the bankrupt company – Ecotality, with $ 3.3 million and received more than $ 100 million in funding from the US Department of Energy to install charging stations across the country. . The company later changed its name to Blink.
Since then, Blink has had many difficulties with 3 out of 5 members of the board of directors leaving from November 2018 to November 2019. In March 2020, COO James Christodoulou was fired and he sued the company, accusing them of violating securities regulations. However, Blink and Christodoulou reconciled for $ 400,000 in October.
Financial expert Justin Keener – once a major shareholder of Blink, and the company was accused of not registering as a securities dealer while selling billions of dollars of cheap stocks. by another company. Later, Farkas said it had severed all ties with Keener.
Consult Bloomberg
Source : Genk