Startup drawing of 'Made in Vietnam' chart draws users from 165 countries
Launched in May 2019, but Zen Flowchart unexpectedly achieved a respectable achievement by attracting "huge" users in a short time. The application was also voted as the No. 1 charting product on Product Hunt, a site introducing new technology products in the US.
Nick Hoang, founder of Zen Flowchart, said that the application now attracts more than 450,000 users from 165 countries around the world, including many employees of Apple, Google, Spotify, Lyft … The most in the order of users are the US, China, France, Saudi Arabia, England, India, Japan, Canada, Germany … In which, many users are employees from major technology firms (Google, Facebook, Uber, Lyft, Spotify …) and nonprofits.
It is worth noting that the startup has never promoted its products. Zen Flowchart is only known from sharing via social networks, as well as "word of mouth" reviews from users on international technology sites.
Founder Zen Flowchart added, the application originated from the search for an online charting software, but after many days still could not find a product like that. Products on the market are too complex, not user friendly, or use old technology so they are slow and error prone. Nick also realizes that many people are having problems like him, when there are more than 150,000 searches related to "flowcharts" (charts, flowcharts) every month, which urges him to create his own products that are suitable for him. majority.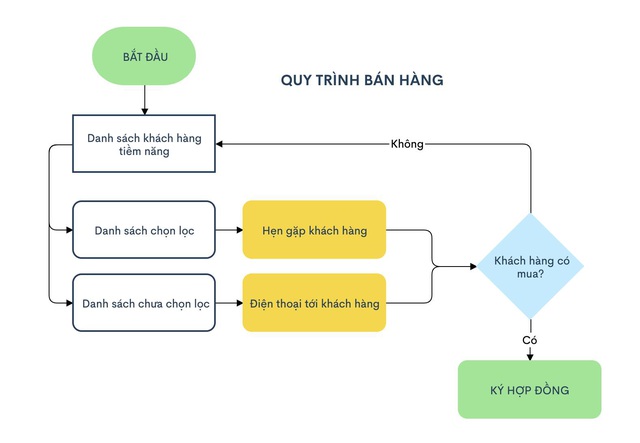 A chart of sales process created with Zen Flowchart
"Many office workers struggle to draw flowcharts to express and share work processes within the company. And Zen Flowchart is the easiest online charting software. The application has a minimalistic design, interface. friendly, time-saving, fast-paced and convenient sharing, "Nick talks about the major product differences.
Current charting tools are quite complex, requiring a lot of time to learn to get used to, while the chart is only a small part of the boss report. Zen Flowchart overcomes this, using an extremely simple web design language and retaining only the most important features. Even people who are not tech-savvy can quickly create graphs without reading the manual too much.
The Zen Flowchart introduction page is as minimalist as the product's interface. "We are a small team based in sunny Vietnam. With Zen Flowchart, we want to help you draw diagrams more easily. The software on the market is quite confusing and unfriendly to new users. So when designing Zen Flowchart, easy-to-use interface is our # 1 priority, "the startup team wrote shortly.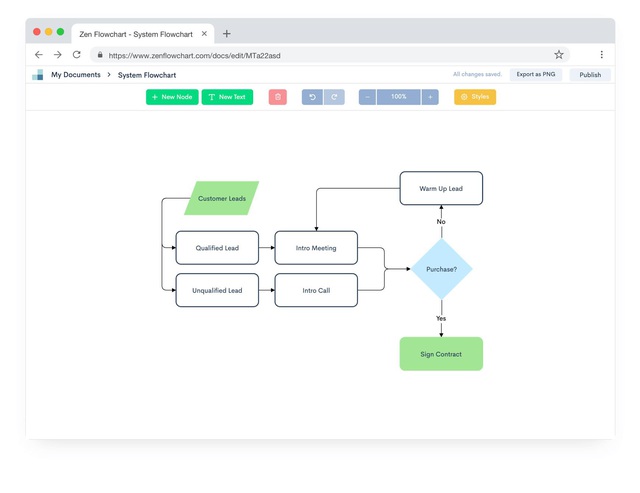 In the past, users often used Microsoft Word or Powerpoint to draw diagrams, but because it was not a specialized feature, to create an additional cell on the diagram, it took three steps to navigate. Meanwhile, Zen Flowchart only takes one "cloning" step. Startup called this feature "One-click Creation", helping users to save up to 50% of the time to create charts.
Finally, Zen Flowchart has built-in "Publish Document" feature, which helps users not need to download or print the chart, but just share the link to the user. This is very convenient when the sales manager creates a customer service chart, or the production manager draws the 20-step chart in the line, and then can send it to you immediately. employee set.
Zen Flowchart now offers free basic plans for users and full-featured advanced packages for only $ 4.5 / month for individuals, not business packages. However, Nick Hoang said that he did not place a strong emphasis on revenue, but the ambition to create the best product 'Made in Vietnam' but international. Therefore, all profits will be reinvested in product development and upgrading for at least the next 1-2 years.
"In this market, Lucidchart of the United States is a success story worth learning. Lucidchart is valued at about $ 500 million, accounting for the majority of market share today, which shows that the market is large enough for Zen Flowchart to enter the market. compete, "said Nick.
Find out more about Zen Flowchart at website: https://www.zenflowchart.com/
Source : Genk