Sorry Samsung, Apple is still the king of the tablet market
According to data from market research firm IDC , Apple's iPad line is still selling very well with sales of no less than 12.9 million units in Q2/2021.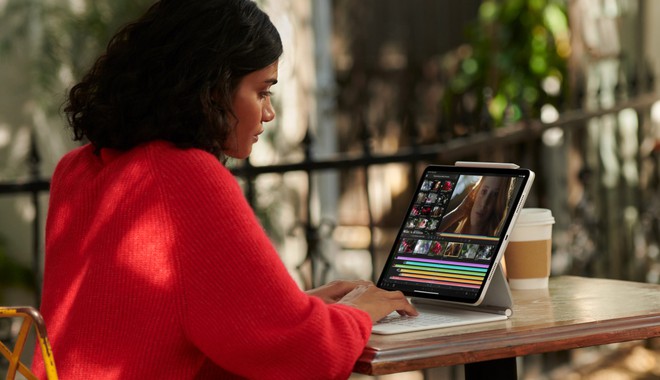 Unexpectedly, only nearly 13 million iPads sold in Q2/2021 was enough to help Apple lead the tablet market.
Specifically, Apple controls 31.9% of the market, while Samsung ranks second with 19.6% market share and sales of 8 million tablets sold last quarter. Lenovo ranked third with 4.7 million units sold and 11.6% market share.
The remaining positions in the top 5 can be mentioned other names such as Amazon with sales of 4.3 million units and accounting for 10.7% market share. Huawei ranked 5th with 2.1 million units and 5.1% market share.
However, only Lenovo is the company with the fastest year-over-year growth with 64.5%. Meanwhile, Huawei recorded a sharp drop in growth compared to the same period last year. Huawei's previous market share in Q2/2020 was 11.5% but now it is only 5.1%. This is quite understandable since the company is still in the grip of US sanctions.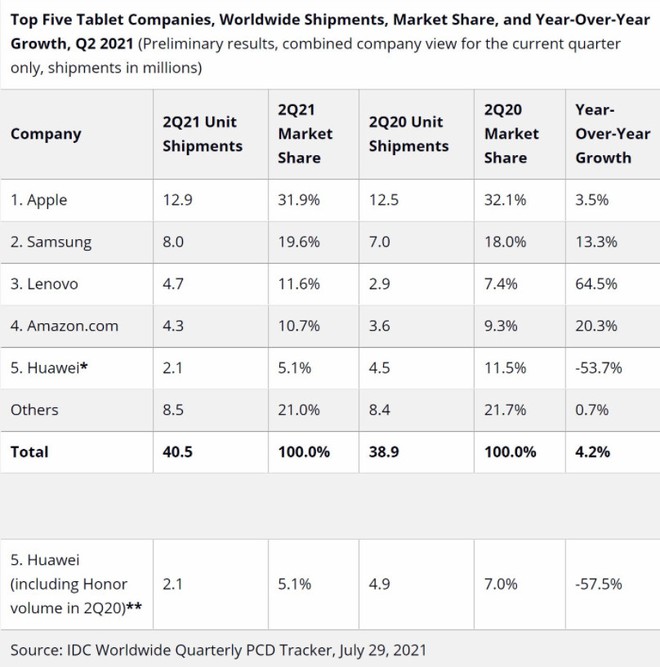 Tablet sales and market share of brands in the market by the end of Q2/2021
IDC also shared data related to Chromebook sales and revealed that sales of this model are increasing strongly in Europe and Asia.
HP is the number one Chromebook seller with sales of 4.3 million units and a 35% market share. Next is Lenovo with 2.6 million units and accounting for 21%.
The reason why Chromebook sales are so high is because the demand for education is still very large. But besides that, manufacturers are starting to prioritize Windows laptops with higher profit margins. However, experts fear tablet demand will slow down much faster than Chromebooks and PCs.
Samsung posted the biggest growth in the Chromebook market with a 179.2% increase year-over-year. The company sold nearly 1 million Chromebooks last quarter, enough to secure a 7% market share.
IDC said that sales of tablets and Chromebooks increased last quarter, but on the other hand, both types of devices are showing a slowdown compared to previous quarters.
Refer to Softpedia

Source : Genk