Some personal settings with Windows 11 make it easier for you to work with your hands (Part 2)
6. How to automatically sign in in Windows 11
When you sign in to Windows 11 with a Microsoft Account, the operating system forces you to use your password or PIN. Some users may find it annoying to enter a password every time they boot, because without other people having access to their computer, security is not a concern. The following guide will show you how to sign in to Windows 11 without a password.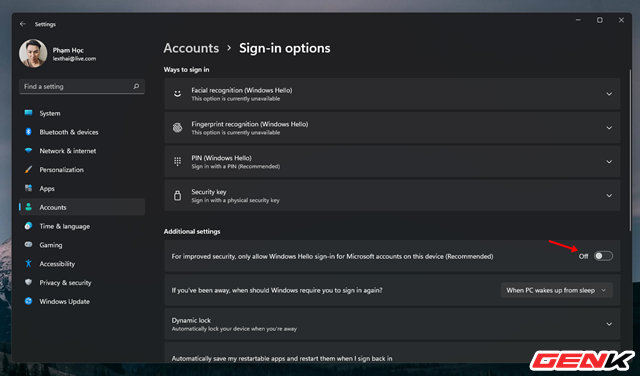 Open Settings and go to Accounts > Sign-in Options . Switch to OFF in the line For improved security, only allow Windows Hello sign-in for Microsoft Accounts on this device (Recommended).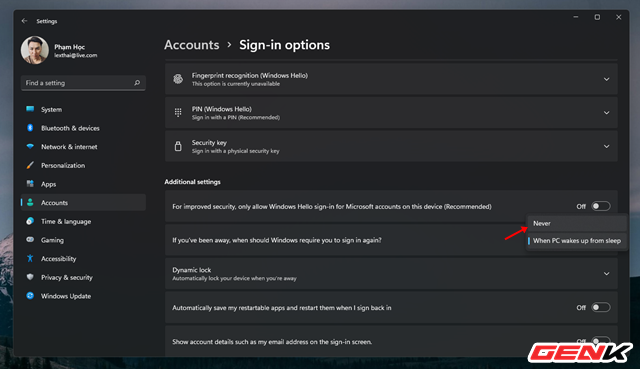 In the If you've been away, when should Windows require you to sign in again line , select Never.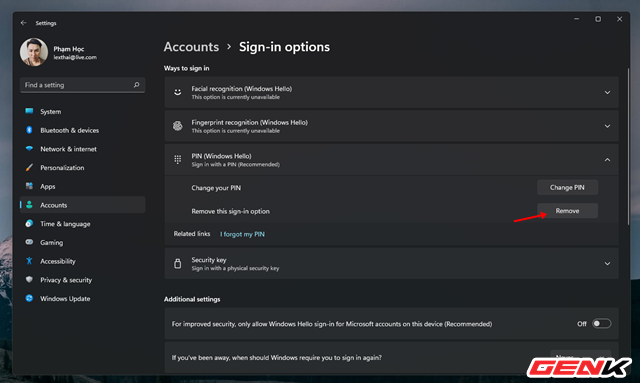 Scroll to the PIN section and tap on it, select Remove .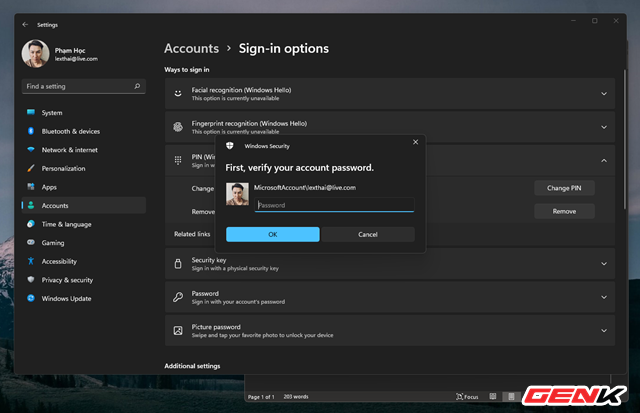 Then the account login dialog box will appear, enter your password and click OK to confirm the change.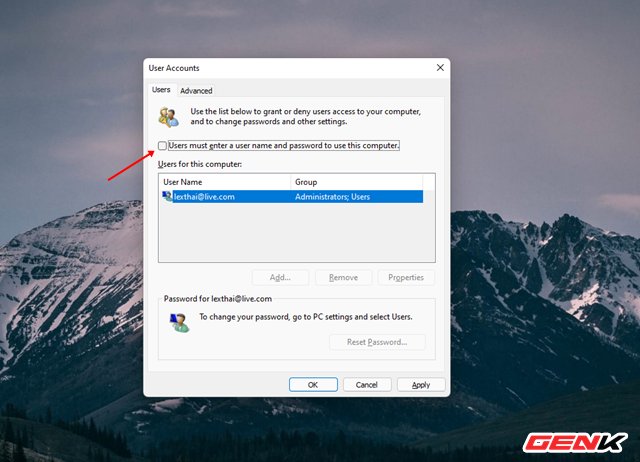 Now enter the netplwiz command in the RUN dialog box and press the ENTER key. The User Account dialog box appears, uncheck Users must enter a user name and password to use this PC and click OK .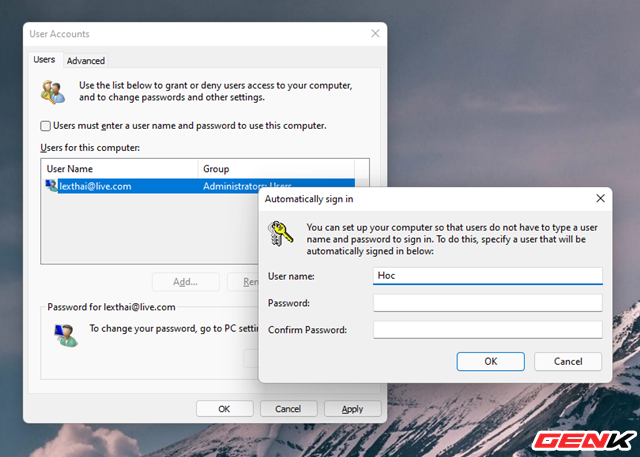 The password input dialog box appears, enter the password and confirm.
Finally, restart Windows to check the results.
7. Set to automatically activate Night Light mode in Windows 11
Night Light mode, aka night mode/eye saver, is a popular computer screen light filter these days. Night Light mode is pre-installed on Windows computers and laptops to reduce eye damage, suitable for those who often work with computers at night. Night Light mode when turned on will turn the computer screen color to yellow and reduce the background brightness to help protect your eyes from the harmful effects of blue light.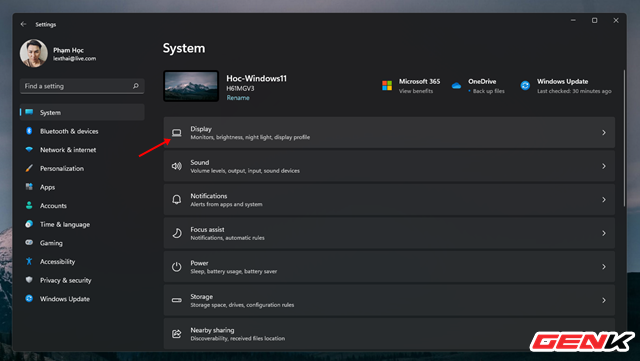 Open Settings and go to System > Display.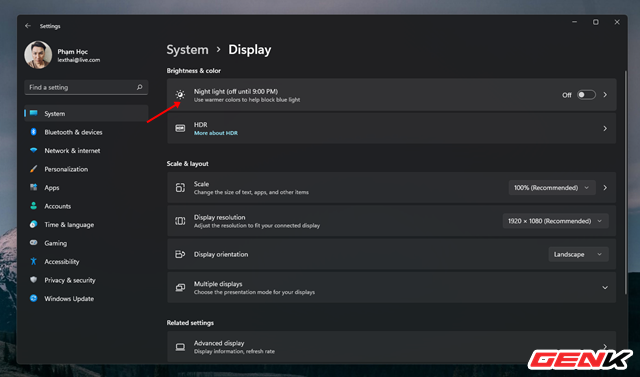 Click the Night Light option .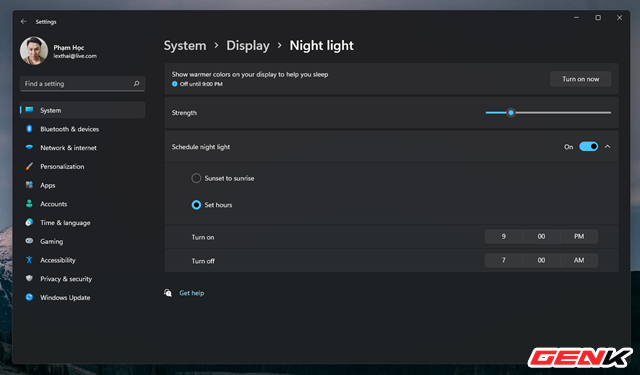 You can adjust the on and off time for Night Light in Windows 11, as well as adjust like the light intensity as you like. Changes will take effect immediately.
8. How to Show Hidden Files in Windows 11
File Explorer on Windows 11 has a completely new interface, which looks a lot more modern and elegant than on Windows 10. Plus, the design is perfectly suitable for computers with touch screens. Due to the interface change, some function commands have also been relocated, and the following is a guide on how to show hidden files in Windows 11.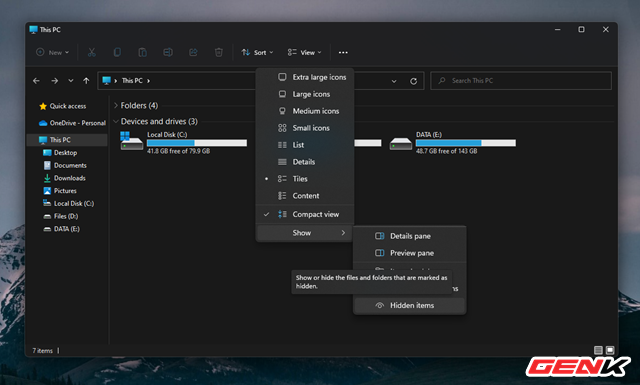 Open File Explorer and click the View button (3-dotted icon), click Show > Hidden items.
9. How to use the Print Screen key to activate Snip and Sketch in Windows 11
In Windows 10 Build 1809, Microsoft introduced a new application called Snip & Sketch, replacing the popular Snipping Tool in previous Windows versions. This tool is considered a complete upgrade of the Snipping Tool.
In addition to the screen capture function, it also provides tools like pen or pencil to draw on it and share anywhere you want. In Windows, Microsoft has added an option that allows users to assign the Print Screen key on the keyboard to activate Snip and Sketch to exploit many of the screen capture features that this application brings. As follows.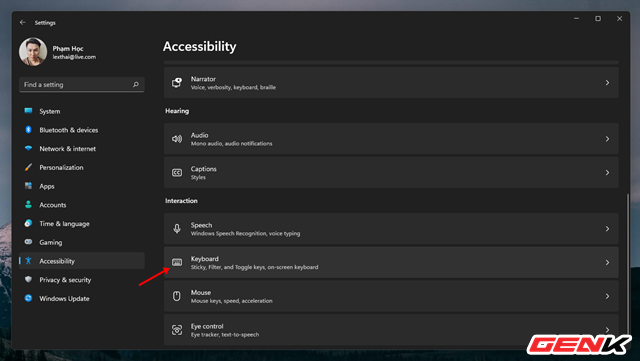 Open Settings and go to Accessibility , then navigate to the Interaction section and click on Keyboard .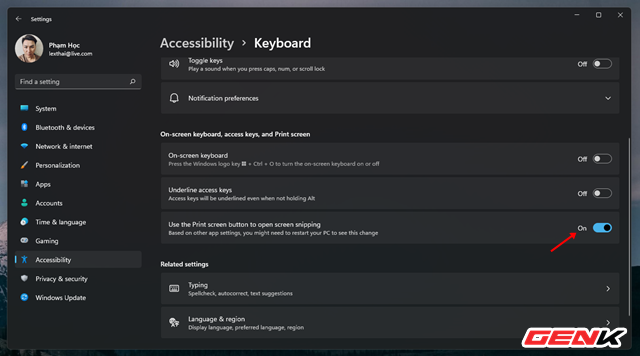 Scroll to the line " Use the Print Screen button to open screen snipping " and check it.
And now try pressing the Print Screen key on the keyboard to see the results.
10. How to enable maximum screen refresh rate in Windows 11
Besides a high resolution like 4K, one of the factors that many modern monitors today take advantage of as a "guest fishing rod" is a high refresh rate. Usually, you will see manufacturers advertising their monitors with 120Hz or 144Hz panels. This is a feature that confuses users, because few people know what those numbers mean, and unlike most other enhancements, the refresh rate has no effect on color accuracy or color accuracy. resolution.
By default, when connecting the monitor to the computer, the refresh rate of the monitor will be automatically received "60Hz", if you want to increase the refresh rate higher, you have to do it manually. To be able to maximize the screen refresh rate, you need to use a Displayport cable instead of HDMI, because for high-frequency monitors, the HDMI cable will not be able to make the most of the frequency. scan of the screen.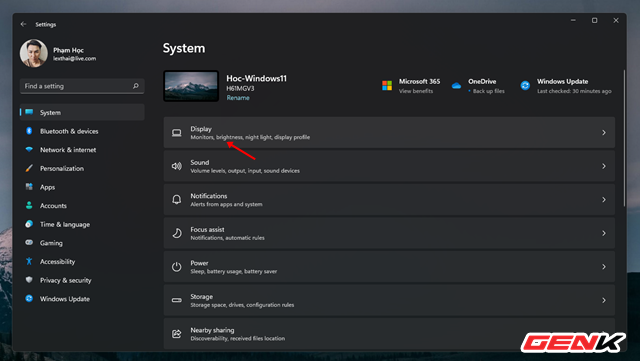 Open Settings and go to System > Display.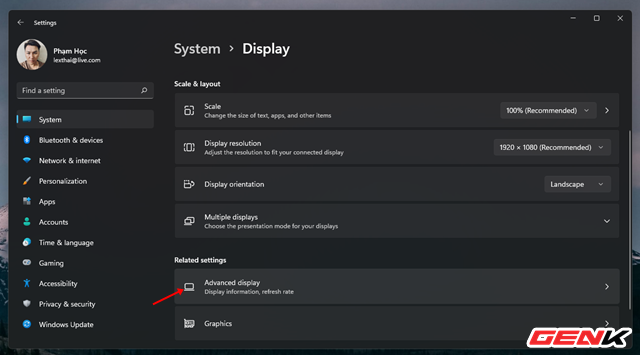 In the list of options, scroll down and click on Advanced display.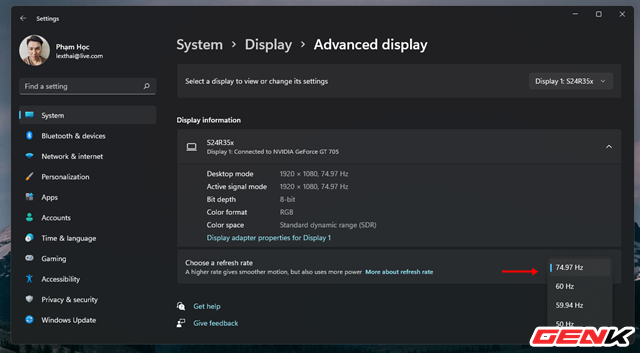 Click the selection menu at Choose a refresh rate and select the highest frequency.
Changes will take effect immediately.
Source : Genk