Six features on iOS 14 make iPhone more attractive
Apple has just introduced iOS version 14 with many new features. Users can download the iOS 14 beta to iPhone to try it out. "Apple defective" has learned many points from Android to perfect its mobile operating system.
Here are 6 attractive features on iOS 14 and how to use it.
1. Mark other people when texting
Apple's Messages app is updated and focused on iMessage group messaging. In particular, users can mark (tag) others when they want to attract their attention, respond to specific messages, create topics right in the conversation.
To use it, simply type @ and enter the person's name.
2. Pin the message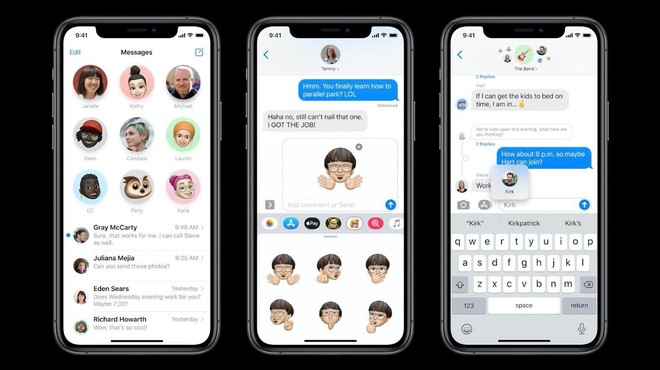 Pinning a message to the top of the Messages app will help you no longer have to scroll through a long list to find it. This is especially useful when you have a daily conversation group like between family members or with a close group of friends or are planning an event.
To pin a contact or message, just swipe to the right.
3. Translation Application
Instead of having to use Google Translate, iOS 14 integrates the Translate app so you can understand what a foreign friend is saying. Currently, the feature can translate English, Chinese, French, German, Spanish, Italian, Japanese, Korean, Arabic, Portuguese and Russian.
You have two options when opening the application. You can enter words / phrases to translate or click the microphone icon at the bottom of the screen to use voice translation.
4. A cleaner home screen with the App Library
The iPhone finally has an Android app drawer, but is named the App Library. It automatically sorts apps in a group together into a folder. The purpose of the App Library is to help you find all the downloaded applications on your iPhone easily. In addition, the home screen in iOS 14 has the option to hide pages of less frequently used apps.
5. New designed utility bar
With iOS 14, you can add widgets (widgets) directly to your screen in multiple sizes. The Smart Stack widget will display information from multiple applications if it thinks you are in need. For example, it will display the weather widget when you wake up.
You can view widgets in the Today View tab as usual or drag and drop a widget from Today View to the main screen.
6. Paintings in paintings
iPad has been able to play picture in picture mode for several years and now it is the iPhone's turn. In simple terms, you can watch videos while using other apps that support this feature.
For example, when watching a YouTube video, swiping back to the home screen, the video still plays but in a smaller window. You can drag this window to any position or adjust the window size. When finished watching, press the X to close the video.
According to Cnet
Source : Genk