Severely "sticky", YouTube canceled the YouTube Rewind project after a 10-year journey
Recently, the official YouTube Creators Twitter page posted a status line saying that this year there will not be any YouTube Rewind videos to be released. Instead, the company will "focus its energies on honoring YouTube viewers and trends with a whole new experience".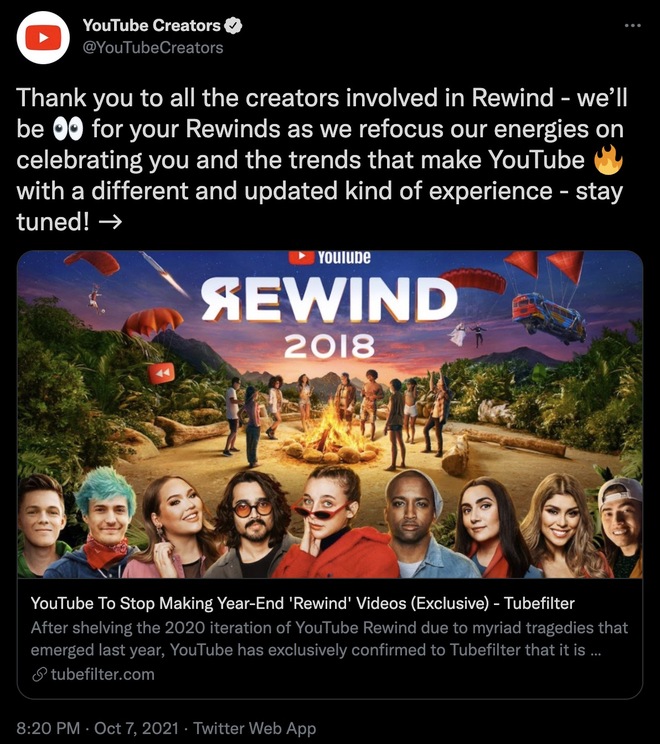 YouTube confirms cancellation of Rewind project
Known as YouTube Rewind, each year YouTube releases a video clip that summarizes the most popular trends, while honoring the YouTube standout of the year on its platform. Starting in 2010, YouTube Rewind has attracted tens, hundreds of millions of views annually. The top 3 YouTube Rewind with the most views ever belonged to 2016, 2017 and 2018, with 241 million, 238 million and 219 million views.
In 2018, although it was always at the top trending right after YouTube Rewind was released, this video received a lot of "brick" from viewers because it did not accurately reflect what happened in the year. In 2018, there is typically no mention of the battle between PewDiePie and T-Series (India), one of the most prominent events of the year on YouTube that almost everyone knows.
YouTube Rewind 2018: Everyone Controls Rewind | #YouTubeRewind
Even YouTube CEO Susan Wojcicki had to admit that YouTube Rewind 2018 was a disaster. Rewind 2018 then became the most disliked video on YouTube, with a total dislike of 19.5 million.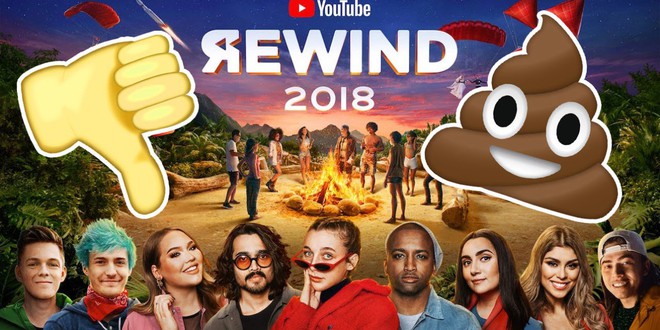 YouTube Rewind 2018: YouTube's disaster
Sticking to 2018's "fuck", the Rewind video of 2019 is not much better when it receives 9.5 million dislikes, although YouTube has tried to summarize only the videos that are most liked by viewers on its platform, but perhaps viewers did not sympathize with YouTube's way of doing things.
By 2020, YouTube will cancel the Rewind of the year, and this year is officially the end of YouTube Rewind, there will be no more trending content. The amount of "brick" from viewers for recent Rewind videos may be the reason why YouTube is no longer interested in this content.
Source : Genk