Server end virtualization maximizes processing power – IT-er, any technology company needs to know
The limitations that cannot be overcome include – difficult to expand, complicated upgrades, long downtime, data loss when the server crashes, expensive new purchases, replacement, maintenance, wasted resources. when not being used up, there is a need for specialized personnel to operate – has spurred technology development and produced better solutions.
Virtualization in the cloud solves most of these limitations meanwhile. Virtual server or Cloud Server is currently the solution being used popularly when it allows to increase or decrease the configuration, add or remove resources very flexibly and easily whenever there is a need right on the admin page. Almost zero Downtime and limitless scalability.
So is there any solution to combine "2 in 1" to help maximize all advantages from the two above models?
Virtual server version is more dominant, serving specific needs than Cloud Server
With Cloud Server, all resources such as CPU, RAM, hard drive are automatically replaced when broken, so the operation of other Cloud Server will not affect the server performance of the enterprise. However, Cloud Server still shares computation resource from the original physical server.
Dedicated Cloud Server or dedicated cloud server provides a powerful configuration server equivalent to a physical server in the form of virtualization on the cloud platform and serving exclusively for that virtual machine.
As such, Dedicated Cloud Server is a combination of the processing power and resources of a traditional private server with instant provisioning and flexibility of the cloud platform. Dedicated Cloud Server inherits the advantages of the ability to store and transmit information of a normal Cloud Server, but it is a model for an individual customer.
Fundamental difference
Dedicated Cloud Server compared to Cloud Server has a higher level of privacy and security by not sharing compute resources with any other party, serving the maximum and variety of specific needs of the business; while still fully inheriting the advantages of flexibility, scalability, availability and management efficiency of 1 Cloud Server.
Dedicated Cloud Server also provides performance for projects that need huge resources with high processing speed and security. (Can provide up to 256 GB RAM, 40 vCPU – equivalent to 40 physical CPUs)
Outstanding advantages can be mentioned:
– Exclusive and configurable capabilities
For standalone use, do not share compute resources with other virtual machines. The server can be configured correctly, choosing the correct RAM, processor and memory according to needs.
High performance and high Input / Output (I / O) speed
If the business needs large I / O speeds, that is, if the application requires reading and writing of a significant amount of data, specialized hardware is required for good performance. In this case, private servers are well suited for such requests.
– Security and privacy
For strict data security and regulatory compliance, dedicated hardware is the right choice. If the first priority is absolute preservation of data and information, not letting even the smallest details, choose Dedicated Cloud Server.
– Cost effective:
No initial investment costs, operating costs, buying new, replacing or expensive maintenance and upgrades.
Dedicated CPU Server – A dedicated environment dedicated to applications and software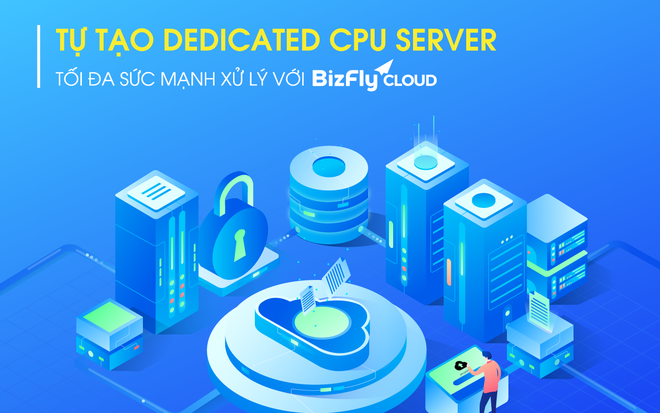 To help businesses maximize performance, processing power and flexibility with just a few clicks from Dedicated Cloud Server at minimal cost, BizFly Cloud now offers a line of Dedicated CPU Server up to 99.99%, charged according to the exact capacity every hour.
– Each core of Cloud Server will correspond to one core of physical server, not shared with other Cloud Server.
– Inheriting all advantages of Cloud Server.
Use for applications requiring high CPU performance.
In addition to proactively creating Dedicated CPU Server according to your needs, customers can also quickly and conveniently switch from shared CPU to Dedicated and vice versa.
BizFly Cloud is currently one of the reputable Cloud Server providers that fully meets all technical criteria and criteria of the Vietnamese cloud computing platform set by the Ministry of Information and Communications; operating the system for more than 3000 customers, including many big customers such as Vingroup, Tuoi Tre, Topica, VTV …
BizFly Cloud is operated by VCCorp – a leading company in communication and technology in Vietnam.
Join the free trial of Cloud Server and get the OFFER for up to 3 MONTHS at: bizflycloud.vn/cloud-server
Source : Genk