Selling iPhone components processing, billions of dollars in sales and exports of Samsung in Vietnam will be affected?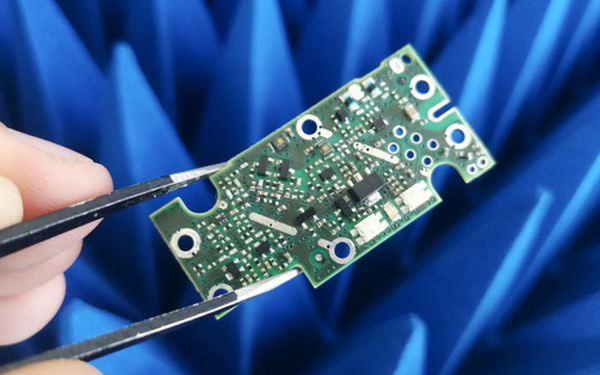 The fact that Samsung Electro – Mechanics Vietnam (SEMV – Samsung electromechanical) plans to sell the hard flexible printed circuit board (also known as RF PCB) business is not new information.
Last year, after being appointed as the head of Samsung Electro – Mechanics (the parent company in Korea), CEO Kyung Kye-hyun requested a review of the wireless communication module business. ) and RF PCB.
The array of wireless communication modules was later sold to Chemtronics, but failed.
In fact, in Korea, the printed circuit board (PCB) industry is having the appearance of more and more competitors; This led to the withdrawal of Samsung Electro – Mechanics. Furthermore, the fixed costs and deficit from the RF PCB business cost Samsung about 50 billion won ($44 million USD) per year.
RF PCB is a printed circuit for high-frequency circuitry, which connects the OLED screen to the main panel. The tough and flexible nature allows manufacturers like Apple to design their phones more easily, the boards send signals faster; Those are the advantages of RF PCB.
SEMV factory located in Thai Nguyen has a turnover of nearly 2 billion USD per year
Samsung Display, a joint company with Samsung Electro-Mechanics, exclusively supplies OLED displays for Apple's new iPhone products. Forecasts show the possibility that Samsung Display can supply up to 100 million OLED screens to the "Apple defect" manufacturer. According to market research firm Omdia, Samsung Display's OLED display production for Apple has increased by nearly 23%. Orders from Apple for OLED displays skyrocketed compared to last year, leading to an increase in demand for RF PCB components.
However, Samsung Electro – Mechanics still decided to sell off this business segment due to its low efficiency; Although the sudden increase in orders from Apple caused the sale to be significantly delayed.
Samsung Electro-Mechanics' plan to sell RF PCB arrays has forced Apple to restructure its supply of these components. According to TheElec (Korea), Apple has chosen board manufacturer BH (South Korea) to provide more than half of the RF PCB for the new iPhone product launched later this year. Currently, Samsung Electro – Mechanics provides 30% and Youngpoong Electrics provides 10% for Apple.
The weight from Samsung Electro – Mechanics may be shifted to BH; meaning, BH could supply up to 70% of RF PCBs used in iPhones by 2022, TheElec said. Besides, Youngpoong can also increase the proportion to 30%.
Samsung Electro – Mechanics is planning to only produce RF PCBs until November. The company can start selling this business in Vietnam from August, the sale can be divided into two phases.
Samsung Electro – Mechanics Vietnam (SEMV) is one of the components of the Samsung Group ecosystem in Vietnam, but its age is still relatively young.
SEMV was established in September 2013, the factory is located in Yen Binh Industrial Park, Thai Nguyen. The company's first product, the camera module, was released in January 2015. By 2016, SEMV built a factory to manufacture HDI boards (high-density interconnect printed circuit boards) to produce RF PCBs. So far, these are the two main business segments of SEMV.
The total amount of investment capital poured into SEMV to date is nearly 113 billion won (100 million USD). The company plays the role of supplying components to the big manufacturers of Samsung in Vietnam, such as: Samsung Electronics Vietnam Thainguyen, Samsung Electronics Vietnam, Samsung Display Vietnam.
According to the financial report of Samsung Electro – Mechanics (Korea), the factory in Thai Nguyen (Vietnam) and the factory in Tianjin (China) are the two main factories producing RF PCB products. The investment of the Tianjin factory is about 39 billion won, only one third of that of the Vietnamese factory; This leaves open the proportion of contribution of Vietnamese factories is relatively large.
Printed circuit board (PCB) business last year brought in 1,761 billion won ($1.55 billion) in revenue for Samsung Electron – Mechanics, equivalent to more than one-fifth of total revenue; operating profit more than 100 billion won.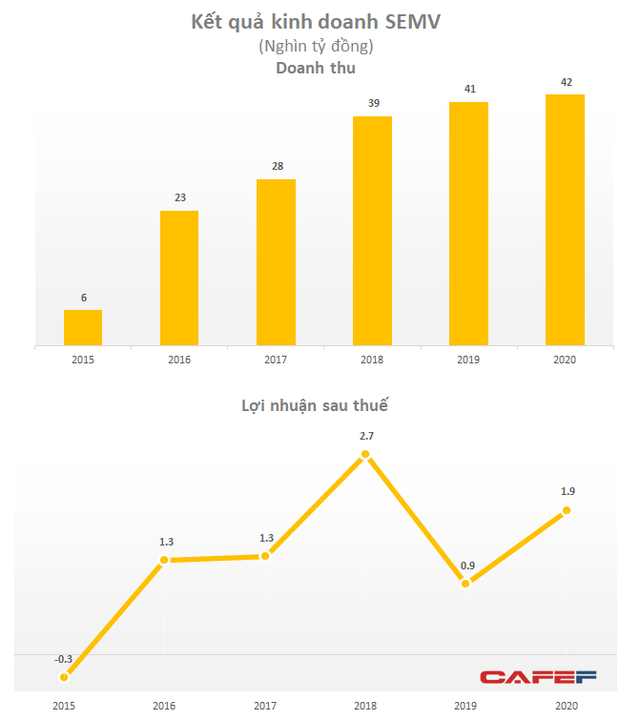 According to research, Samsung Electro – Mechanics Vietnam last year achieved revenue of about 2,155 billion won (approximately 1.9 billion USD). Revenue in Vietnam accounted for a quarter of Samsung Electro-Mechanics' consolidated revenue.
According to the converted data, SEMV brought in nearly 42,200 billion dong in revenue and more than 1,900 billion dong in net profit. The company's revenue did not grow significantly from the previous year, but profits more than doubled. SEMV's profit record is in 2018, earning nearly VND 2,700 billion.
In 2015, when only the camera module factory was put into operation, SEMV's revenue recorded nearly 6,000 billion VND; along with that, a loss of 310 billion dong.
In 2016, when operating more HDI circuit board factory, the company's revenue immediately increased to nearly 22,700 billion VND; along with a net profit of nearly 1,300 billion dong.
SEMV's revenue continued to grow strongly in the period 2017 – 2018, before slowing down since 2019.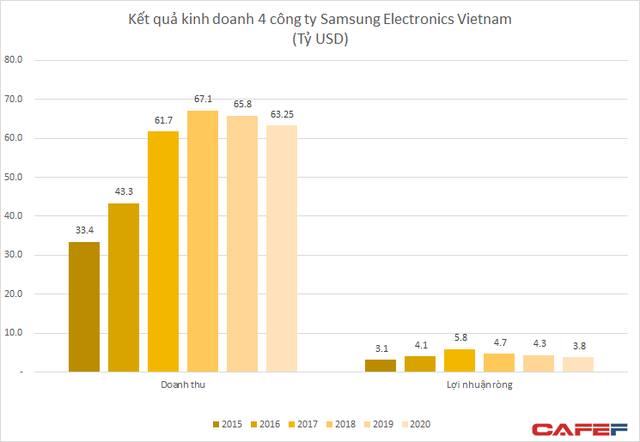 SEMV, along with battery manufacturing company Samsung SDI Vietnam (2020 revenue reaches VND 28,000 billion) are the largest satellite companies of the Samsung Electronics complex in Vietnam.
In 2020, the total revenue of 4 subsidiaries of Samsung Electronics (including Samsung Bac Ninh, Samsung Thai Nguyen, Samsung HCM and Samsung Display) reached more than 63 billion USD, a slight decrease for the second consecutive year.
Source : Genk