Selling $ 12 billion of Tesla shares, Elon Musk wants to quit his job and become a KOL?
After selling tens of billions of dollars of Tesla shares, the world's richest billionaire Elon Musk tweeted that he was "thinking" about quitting his job and becoming an influencer.
"Thinking of quitting and becoming a full-time influencer, what do you guys think." Musk said in his tweet.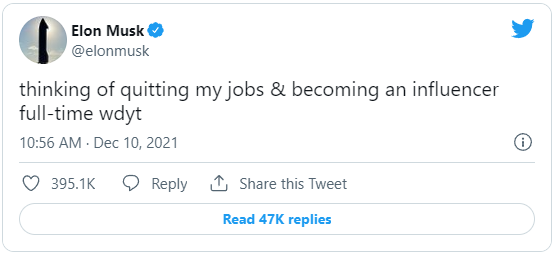 It remains unclear what the true intentions of Mr. Musk, who has a reputation for posting controversial tweets on social media, are when it comes to giving up his current job.
Currently, in addition to being the CEO of Tesla, Mr. Elon Musk is also the founder and CEO of the rocket company SpaceX, as well as the leader of the brain chip startup Neualink and the infrastructure construction company The Boring Company. . During an earnings call in January of this year, Mr. Musk said he wanted to be Tesla CEO for "many more years."
"It would be nice to have some free time instead of working continuously day and night, from waking up to sleeping seven days a week. It's quite stressful."
Last month, Musk asked his Twitter followers whether to sell his 10% stake in Tesla and received approval from the majority of respondents. Since then, Musk has sold about $12 billion worth of Tesla stock.
Impromptu tweets have gotten Musk into trouble in the past. In 2018, Musk was fined $20 million by the US Securities and Exchange Commission for his tweets and was forced to resign as Tesla chairman. Even then, there was a requirement to have followers monitor Mr. Musk's tweets before they were posted.
Refer to Reuters
Source : Genk