Reveal the AMD Ryzen 5 5600X performance score, crushing the Intel Core i5-10600K rival
According to a recently leaked source, AMD's Ryzen 5 5600X processor has revealed an impressive performance score. Twitter account TUM_APISAK posted the Ryzen 5 5600X Cinebench R15 CPU performance score, and it really crushed Intel's Core i5-10600K.
The Ryzen 5 5600X scored a multi-core performance score of 2040cb, and a single-core performance score of 256cb. Meanwhile, the Core i5-10600K got a multi-core performance score of 1457cb, and a single-core performance score of 201cb.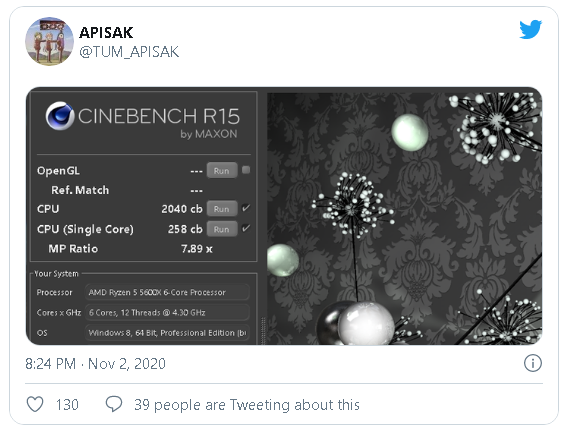 This means that, as Wccftech points out, the Ryzen 5 5600X is 45% more powerful in multi-core performance and 25% more powerful in single-core performance than the Core i5-10600K. While having lower clock rate and 60W lower power consumption.
Not only that, according to Wccftech, Ryzen 5 5600X also outperforms Core i7-10700K, in both multi-core and single-core performance. Shows that AMD's new chip is indeed a performance monster.
AMD has outperformed Intel with multi-core performance in previous generations of processors, but has consistently lagged behind single-core processing capabilities for a long time. While single-core performance is important, as many applications and especially PC games are optimized for single-core processing.
Therefore, AMD's release of the Ryzen 5 5600X is not only a challenge for Intel, but it may be an end. With up to 25% stronger single-core performance, AMD will take the throne from Intel thanks to the most important metric gamers care about when building a gaming PC.
However, these are just leaked numbers online. Currently, the reputable technology sites in the world can not actually test the Ryzen 5 5600X chip performance. Therefore, we will have to wait a while to really appreciate the real power between the Ryzen 5 5600X and the Core i5-10600K.
Reference: techradar
Source : Genk