Rare: A Google app can make many people lose their jobs
Recently, a fairly popular Google application on Android, the Clock application (Google Clock) has received a series of 1-star reviews on the Play Store app store. Reviews have started popping up since March, and according to a Reddit post, the Google Clock app has a bug that prevents alarms from being triggered, affecting many users. The most popular are Pixel, OPPO, OnePlus and many other Chinese brand smartphone users.
Specifically, many Reddit users spoke out about the Google app when it failed to trigger a previously set alarm, including playing sound and vibration. In some cases when it's time for the alarm, the phone just vibrates slightly and then turns off completely.
The reason given by many people is that the Do Not Disturb mode has been activated before. This mode will turn off all incoming notifications, but the alarm should not be affected by this mode.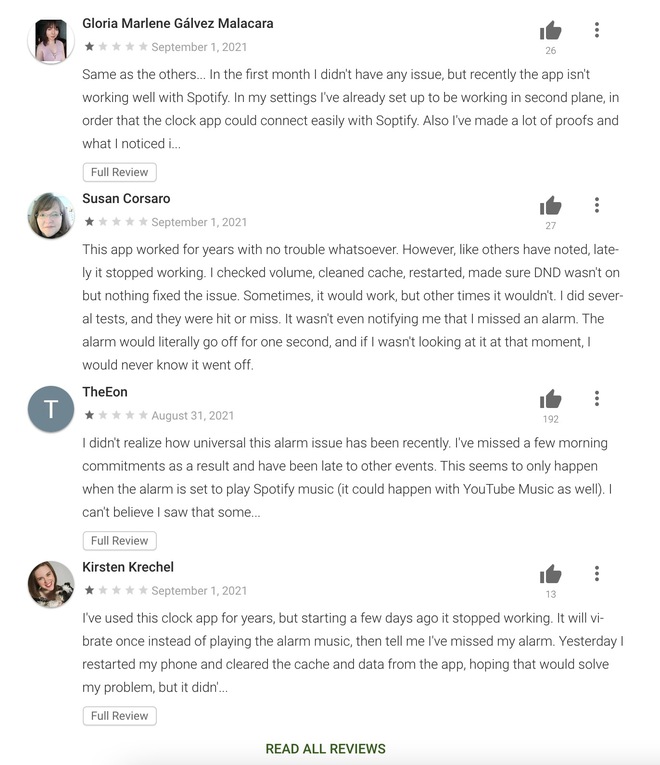 The Google Clock application received a "rain" with a 1-star rating on the Play Store
In the reviews of the app on the Play Store, many people said they lost their jobs because the alarm didn't go off. "I lost my tutoring just because I woke up late twice in the morning" , or trying ways like deleting the app, reinstalling, restarting the device, clearing the clipboard or even turning off the silent mode. bothering will not fix the above situation.
Now Google says it's aware of the issue and is working on a solution. An update will most likely be released soon to fix this bug.
Source : Genk