Quarter II / 2020: 1 in every 3 smartphones sold in China
Smartphone sales in China in the second quarter of 2020 were down 17% from the same period last year – according to a statistic from Counterpoint. However, compared to the previous quarter, sales increased by 9%, showing signs of recovery after the COVID-19 outbreak earlier this year. The epidemic situation is almost under control in China, but consumers' demand for smartphone purchases has yet to recover to pre-COVID levels.
Commenting on the overall growth momentum of the Chinese smartphone market, Mengmeng Zhang, an analyst at Counterpoint Research, said that " although China's trade activities have recovered since the pandemic was under control, the consumer confidence remains low. "
" Both OEMs and Chinese carriers are actively promoting 5G smartphones through lowering prices of 5G devices as well as 5G packages. As a result, 5G has become more popular, with one third of it. Of all smartphones sold in the last quarter were 5G devices – the highest rate of 5G adoption worldwide, but not enough to compensate for the overall market downturn. in general. "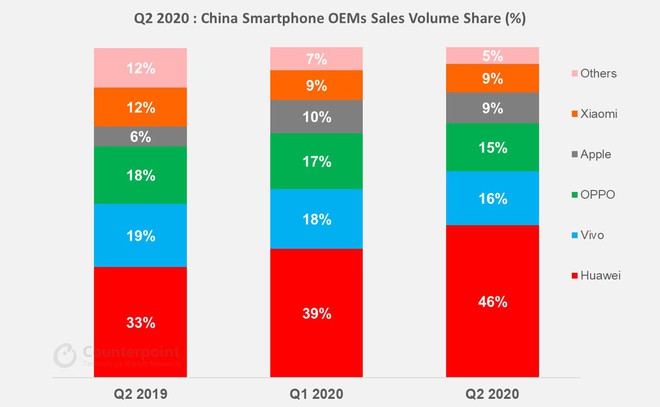 Smartphone sales ratio in Q2 / 2020 in China
Talking about the fierce competition in the market, Flora Tang, an analyst at Counterpoint, said that " Huawei continues to be the most efficient company in the Chinese market, accounting for 46% of market share in the last quarter. Huawei achieved a growth rate of 14% over the same period last year despite the market slowing down. "
" China has been the most important market for Huawei as its overseas sales have plummeted after it no longer has access to Google Mobile Services on the latest smartphones. Huawei's giant network to expand its distribution network both online and offline is paying off.In addition, Huawei's 5G product portfolio is also expanding rapidly with the help of Mate 30 series devices. and high-end P40, as well as the mid-range Nova 7 series . "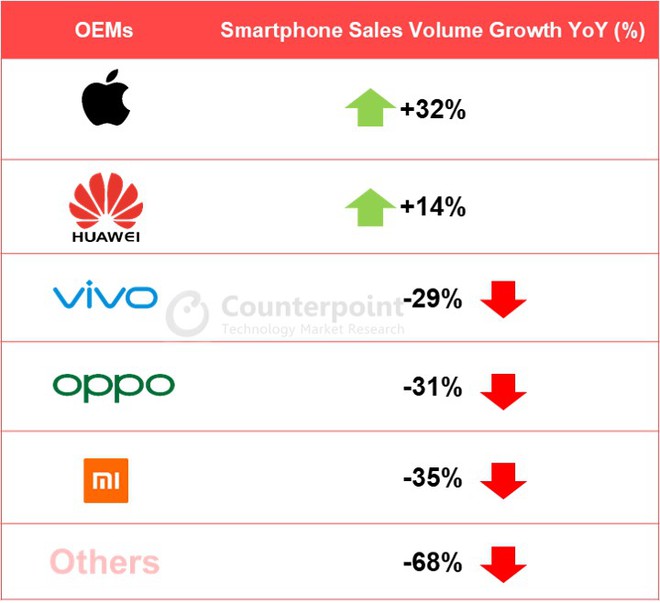 Smartphone sales growth rate over the same period last year
In terms of growth rate, Apple is the fastest growing key OEM in the second quarter of 2020. Despite the declining market, Apple still saw an impressive growth of 32% over the same period last year thanks to the outstanding popularity of the iPhone 11 series and the discount programs. iPhone SE 2020 also quickly reached the top 3 best-selling iPhone models in the second quarter of 2020. June was the month with the highest smartphone sales to date of the year after the COVID-19 pandemic, mainly due to the surge in smartphone sales of brands such as Xiaomi (up 42% from the previous month) and Huawei (up 11%).
Talking about the development of 5G smartphones in China, Ethan Qi, an analyst at Counterpoint, commented that " Despite the stagnation of the Chinese smartphone market, Chinese OEMs have stepped up the pace of 5G development. which was affected by COVID-19 in the first quarter of 2020. In the second quarter, 33% of smartphones sold were 5G devices compared to only 16% in the first quarter. This rate was even higher in June, when more than 40% of smartphones sold support 5G. "
" China's 5G smartphone market is almost in the hands of domestic firms, with HOVX 'four pillars' (Huawei – Oppo – Vivo – Xiaomi) holding 96% of the market. Huawei leads the 5G smartphone market with 60%. The market is followed by Vivo, Oppo and Xiaomi.The 5G smartphones in China are still priced in the mid to high-end range, from $ 400 or more, however, 5G smartphone prices are rapidly shifting to low prices. "High-end 5G smartphones are mostly from Huawei, while Huawei, Oppo, Xiaomi and Vivo have quite a lot of options in the mid-range segment ."
Reference: CounterpointResearch
Source : Genk