Qualcomm's latest 3rd generation 5G Snapdragon X60 modem is manufactured on 5nm process
Today, the company has revealed details about the upcoming 3rd generation 5G modem design – Snapdragon X60, a high-end modem for smartphones, as well as industrial and commercial devices that require a separate 5G modem. The main features of this modem include that it is manufactured on a 5nm process, supports 5G network aggregation from Sub-6 to mmWave, and has a maximum download speed of 7.5 Gbps.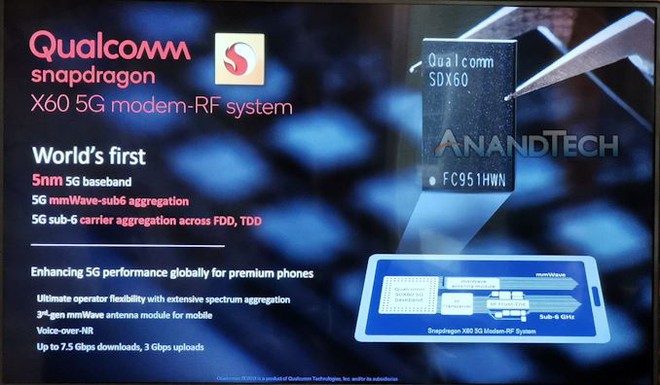 The reason Qualcomm insists their modems are manufactured on the 5nm process at the moment is very interesting, especially in the context that TSMC recently announced a product development roadmap, and that they are also capable of Power using the 5nm process.
With Snapdragon X60, Qualcomm emphasizes the ability to support many 5G features, such as the ability to add network coverage between Sub-6 GHz bands in FDD / TDD (similar to LTE network aggregation capability), and to support plus concurrent network coverage between Sub-6 GHz and mmWave 5G bands. As a result, the maximum bandwidth will be pushed very high, which according to Qualcomm is X60 for download speeds of up to 7.5 Gbps with the mmWave band, upload speeds of 3 Gbps, and maximum downloads of 5 Gbps with the band Sub-6 GHz.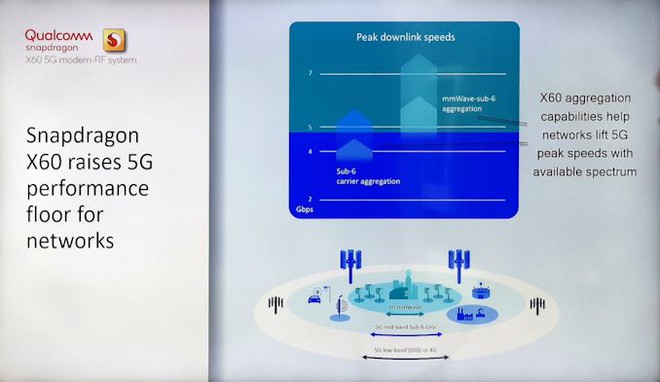 To achieve the aforementioned maximum speed, the X60 modem uses new mmWave antenna modules. With the X50 / X55, Qualcomm introduced the mmWave QTM525 module with a small design. Despite its compact size, the X50 / X55 modems support up to four QTM525 modules, and Qualcomm recommends at least three modules – enough because one extra module should be available to previous-generation devices. reach a certain minimum thickness to ensure coverage. The new QTM535 module is advertised as being thinner, reducing the need for device thickness.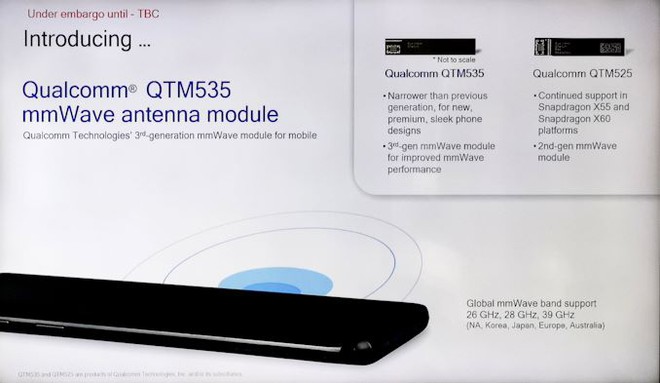 Unfortunately, the comparison drawing given by Qualcomm (pictured above) on the new module (it doesn't have any actual modules to represent) is not scaled, so we can't yet. Compare its dimensions with the old module. Qualcomm also said that it has not discussed the size issue at this time, although the important highlight of the launch of QTM525 is its size. The new module can support 26 GHz, 28 GHz, and 39 GHz, which is wider than before. Qualcomm upheld the recommendation that manufacturers use at least three of these modules on a device.
Along with the modem and the mmWave antenna, Qualcomm also offers a full package of RF front-end solutions for the Sub-6 GHz band. Qualcomm proudly announced at Tech Submit last year that of the 150 devices that use X50 / X55 modems, all use its RF front-end solution. X60 will also bring the same solution.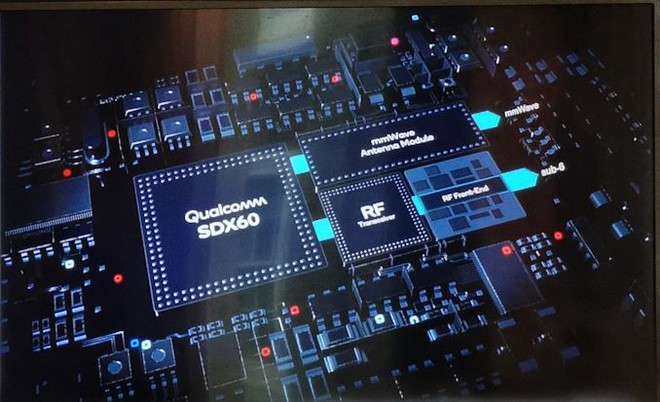 Qualcomm's 5G modems have a flexible launch time. The time period from the first generation X50 was announced until actually appeared on consumer devices is about 2 years. With the X55, this process is accelerated, with a shorter market launch, and will be widely deployed on consumer devices by the end of 2019 and throughout 2020. Therefore, Qualcomm continues to work. Announced the next generation 5G modem is predictable. With the X55 now complete, it's time to introduce the X60. Qualcomm said it did not set any specific time frame with the new modem, and a company spokesperson said that " such things will undergo numerous modifications". It should be emphasized that TSMC has not yet entered mass production on the 5nm process (but they will soon), and Samsung is lagging far behind. Therefore, the launch timeframe for the X60 is likely to be in 2021. Qualcomm plans to hold its annual Tech Summit in December, so we may see X60's first reference designs at This event is more likely to include a prototype or a first batch.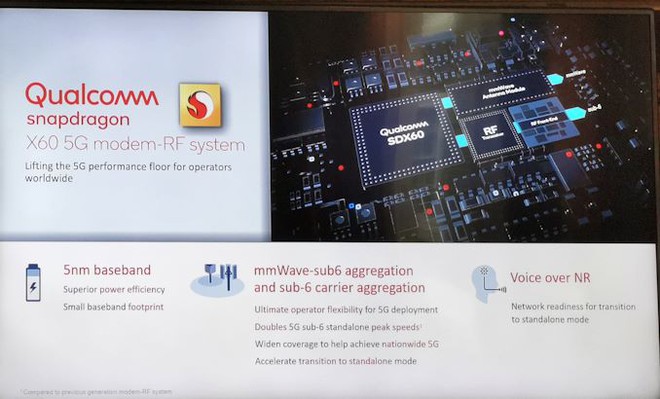 With the MWC 2020 being canceled, news about the Snapdragon X60 will probably appear more later this year, at IFA in late August, for example, or at Qualcomm's own 5G analysis event. And don't forget the Tech Summit event in December.
Reference: ANANDTech
Source : Genk