'Prince' Samsung has a broken appendix
Reuters reported that the trial of the case involving Samsung Vice President Jay Y. Lee was postponed to April 22. The news comes after several local newspapers reported that Lee is still having a high fever after undergoing emergency surgery last week.
He has been detained at the Seoul Detention Center since January for a 2.5-year sentence for bribery and other crimes. However, last Friday, Mr. Lee was hospitalized urgently for surgery due to rupture of the appendix.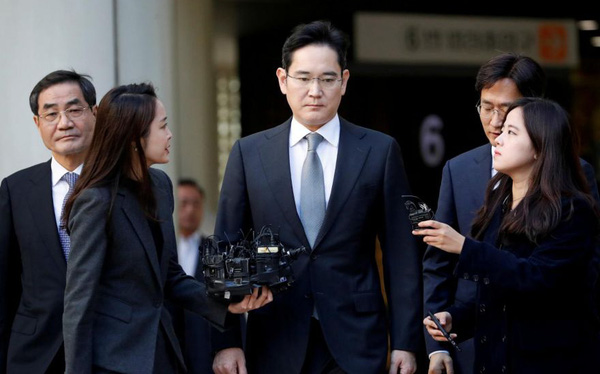 Mr. Lee, 52 years old, is the most powerful businessman in Korea. Legal problems that have occurred in the past few years have severely affected his health, and this also hampered Samsung overhaul plans following the death of late Chairman Lee Kun-hee in December. ten.
According to local media, the Vice President had shown many symptoms earlier this month but hospitalization and surgery were delayed until Friday.
Citing a source close to the site, the Chosun Ilbo newspaper said it was the delay that caused Mr. Lee "gangrene and forced amputation of part of the large intestine". Although his life was not in danger, Mr. Lee still had 38 degrees or more fever constantly after the surgery.
Seoul Central District Court documents show that the trial of Mr. Lee and 10 others, scheduled for Thursday, will be postponed until April 22. This case involves accounting mistakes and stock price distortions related to the 2015 merger between two Samsung subsidiaries.
Currently, both Samsung Electroncis and Samsung Medical – the hospital where "crown prince" Lee is treating, did not comment on this matter.
The above information continues to cast a shadow on Samsung Group. During the 52nd shareholder meeting held last week, Samsung shareholders expressed concern and questioned the fate of Vice Chairman Lee.
There has been a surge of criticism directed at Samsung over the issue of retaining Mr. Lee's position as Vice President and his de facto role as the company's de facto leader after becoming involved in bribery related to the former. Deposed President Park Geun-hye.
Under South Korea's economic crime laws, sentenced persons will not be allowed to work at their companies for 5 years after their term is released.
Samsung Co-Chairman and Chairman Kim Ki-nam said: "The company will consider Lee Jae-yong's position as Vice Chairman to maintain its global network and determine the future of operations. It is also about reviewing exact current legal affairs and affairs.
Earlier while serving a prison sentence, the Vice President of Samsung Electronics sent a message to all employees on the intranet. In the letter, Mr. Lee apologized for his jail time again and urged everyone to "keep work as usual when he's away".
"I feel really guilty for putting such a load on your uncle. I will seriously reflect on myself and humbly reflect on the jail process."
Source : Genk