Predator Triton 300 gaming laptop – The power behind the thin and light appearance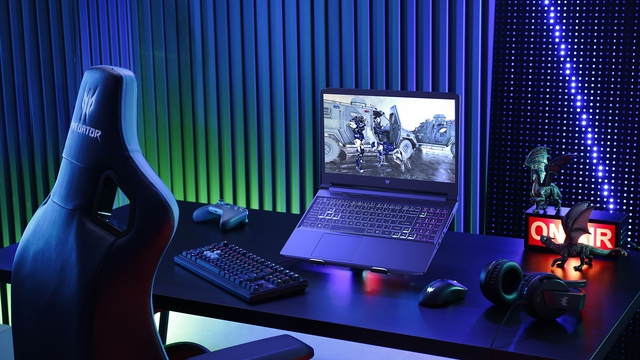 In recent years, the design trend of gaming laptops is having many innovations. In addition to models with somewhat sophisticated and aggressive designs, manufacturers have launched many new laptop models with a much thinner and more elegant appearance. However, it still has all the necessary power to serve the strict requirements of gamers.
Acer, which is famous for its Predator series in the market, also caught up with the trend with the launch of the Triton 300. With breakthrough power in a neat and sophisticated design, this Triton 300 model promises to deliver. give the user a very good experience.
Sophisticated design, powerful performance
Predator Triton 300 possesses an extremely high-class metal exterior, attracting users at first sight. However, this model takes the mysterious black color as the main color, which is still a common color on today's gaming laptop models.
Unlike other aggressive gaming laptops, the Triton 300 feels much more luxurious and simple. The machine is only 19.9mm thin, although it is fully equipped with hardware for the "try hard" of gamers.
The back of the machine has bevelled heat sinks, lined up side by side with a blue-black color scheme. This creates a strong style without being too rigid.
When opening the device, the 15.6-inch large screen with 2K resolution and ultra-thin screen border will bring a great visual experience to the user. Below is the engraved Predator logo that has the ability to glow with metal material imbued with high-end design language. And yet, gamers will also get perfect frames without fear of stuttering, lag or tearing thanks to a very high refresh rate, up to 165Hz.
Although the appearance is as thin and light as a business laptop, the internal configuration of the machine is not inferior to any gaming laptop in the same segment.
Predator Triton 300 possesses high configuration up to NVIDIA GeForce RTX 3070 graphics card, Intel Core i7 11800H processor, 8GB RAM and 512GB NVMe SSD memory that can be upgraded up to 2TB for you to comfortably store data Whether.
Users also do not need to worry about overheating issues when this laptop is equipped with 5th generation AeroBlade 3D fan technology. This technology helps cool air to move quickly throughout the body, reducing heat quickly for the device, keep high performance.
The company also equips high-end models with some notable features such as Intel Killer network stabilization technology, DTS: X Ultra surround sound system, Thunderbolt 4 super-fast connection protocol…
Attractive price and exclusive 3S1 warranty
With a price of only 44,990,000, the Predator Triton 300 will be a great choice in the high-end gaming laptop segment. With a sophisticated, luxurious design and powerful configuration, Triton 300 is always ready to satisfy the most demanding gamers.
The machine also enjoys 3S1 Warranty service. The products will be checked, guaranteed and sent back to customers by Acer in just a short time: 3 days (72h) including T7 and CN. In particular, customers will receive new products of the same or equivalent type (1 for 1 exchange) for cases where the warranty is not completed within 3 days from the time of receiving the product.
Source : Genk