Pre-order iPhone 12 today down more than ten million, Xiaomi beasts racing to reduce shock early December
Pre-order iPhone 12 Series, enjoy a discount of tens of millions and get free shipping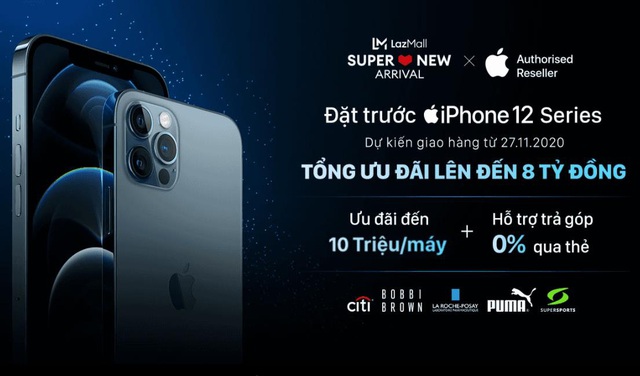 Rated as the best offer in the whole market at the moment, the iPhone 12 pre-order program is a very "stable" financial choice for Apple fans. Only today, November 24, on Lazada will open for all products of the iPhone 12 series with a total value of promotions reaching a record milestone of 8 billion VND, bringing a remarkable incentive level of 10 million / device. and exclusively by Lazada on November 24th only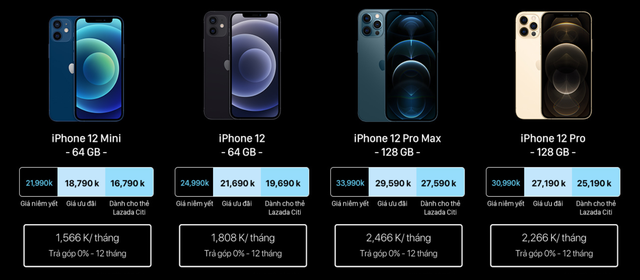 Attractive preferential price with 0% installment plan, light burden for Apple fans.
Along with the 0% interest installment support program, the iPhone 12 mini is open for sale at a price of 16,790,000 VND for the 64gb version with an installment fee of about 1,500,000 VND / month until the current most advanced line is iPhone 12 Pro Max is priced at 27,590,000 VND, installments of nearly 2,500,000 VND / month for 128gb version, all color versions. In particular, fans who quickly hunt for vouchers in the "discount code" tab of Lazada can also enjoy many discounts directly at checkout.
In addition, orders placed today will receive a series of attractive gifts such as Promotion Combo "Direct discount of VND 6,000,000 – gift voucher worth VND 2,000,000 for Lazada Citi Platinum cardholders" Set Expensive cosmetics from Bobbi Brown brand with free shipping.
In addition, with a genuine Apple booth on LazMall, you can be completely safe because all iPhone 12 Series models distributed on LazMall are genuine VN / A, 100% new and fully warranted for 12 months. at Apple centers nationwide. Financial barriers and quality concerns are gone, so why not add immediately to your shopping cart? All offers are valid for today only. Refer right here

In addition, a small revelation for those who do not know – with the iPhone 12 series, Lazada is also having a super good promotion for the Apple Watch Series 6 , please all those who want to own all the smartphone duo – smartwatch from "technology giant". Don't let this one-year chance pass, "Apple" fans!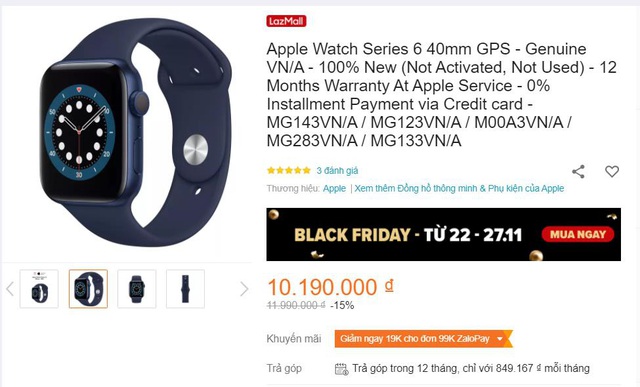 15% off, 0% installment less than 1 million / month with freeship for those who love Apple Watch
Exclusive latest flagship launch from Xiaomi, shock reduction for 2 "beasts" at the top of the segment
In harmony with the pre-order atmosphere of iPhone 12 series on LazMall, today, the global livestream launching POCO M3 is also broadcasted by the giant Xiaomi in cooperation with Lazada via Lazlive channel. Accordingly, fans will have a detailed look at the Xiaomi beast next to the "drip" information revealed by Xiaomi about the 6.53 inch screen to help bring a large display space for users, the Snapdragon chip. 662 powerful and "huge" battery of 6,000 mAh, promises to satisfy 2 days of long use with high intensity of users. Along with that, at the end of the year Sale Festival, tech followers on Lazada will have the opportunity to add POCO M3 to their shopping cart to enjoy a series of faint offers from LazMall, only for 3 days 12, 13 and 14 /twelfth.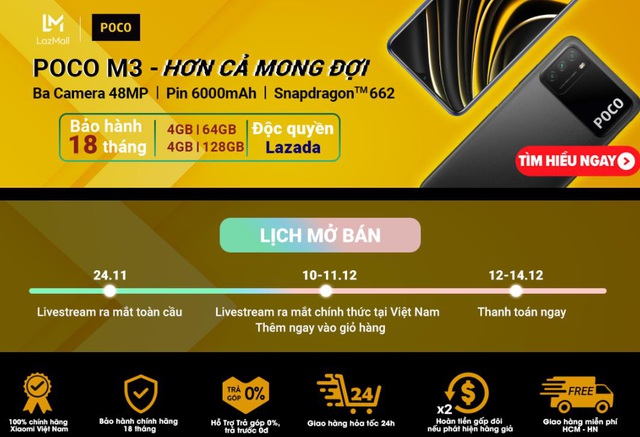 At 7:00 p.m. today, you can watch the livestream panorama right on the Lazada app at the Lazlive tab.
In addition to POCO M3, Xiaomi also cooperated with Lazada to bring the super bargain price promotion for the Xiaomi Mi 10T – Poco X3 duo on the genuine booth at LazMall. Specifically, with the flagship model directly countering Samsung Galaxy S20, fans of "Stir-Fried Noodles" will enjoy a discount of up to 20% when buying Xiaomi Mi 10T on LazMall genuine booth. Only less than 10 million to own the configuration "crisis" Snapdragon 865 – 8GB RAM / 128GB – Triple Camera after 108MP – Battery 5,000mAH with 33W Quick Charge. An exclusive bargain deal should not be missed on LazMall – Lazada's genuine store system.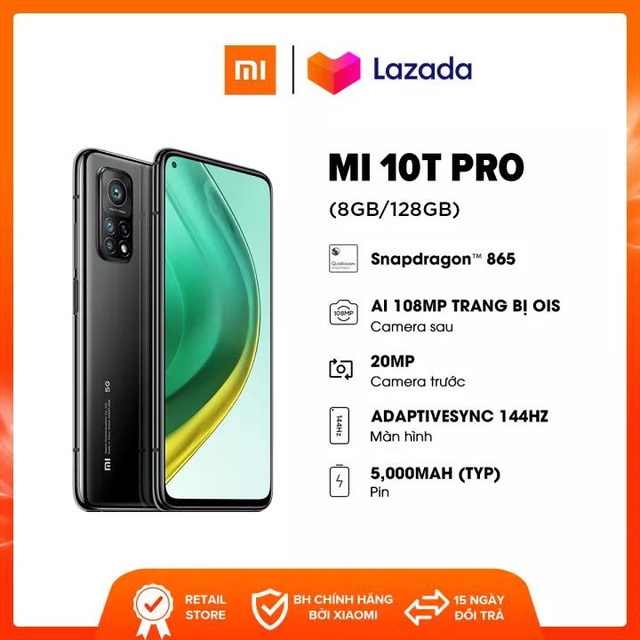 As for the Poco X3 , a mid-range smartphone featuring a Snapdragon 732 chip, 6GB RAM / 64GB ROM, a 120Hz screen refresh rate "smooth" and a 5,160mAH "buffalo" battery (with 33W fast charging) will be Lazada. plummeted to 1,000,000 dong, only 5,290,000 on the big sale festival at the end of December 12.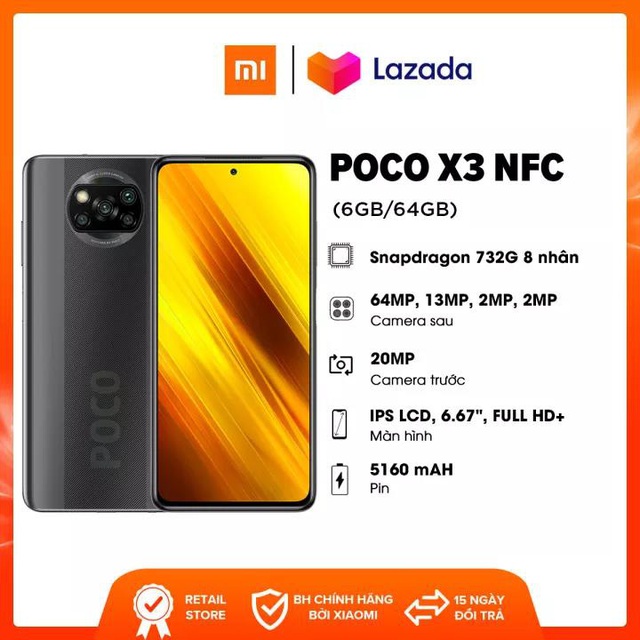 All technology super products on LazMall are genuine, guaranteed with warranty programs such as store purchases, with freeship and exclusive attractive offers on the market. Golden opportunity for people who are wondering to confidently spend smart, change the smartphone life at the end of this year.
LazMall is a genuine system of Lazada booths gathering more than 18,000 brands, including shopping malls and department stores. Every month, reputable brands will together with Lazada bring shopping experiences with 100% commitment to genuine products, unbeatable discounts and free shipping nationwide.
Access here or select LazMall tab on Lazada application for details.
Source : Genk