Portrait of Facebook has poured 5.7 billion USD, Google poured 4.5 billion USD: Overcoming Jack Ma into Asia's richest billionaire, holding the empire of 100 billion USD
Mukesh Ambani is India's richest billionaire with an estimated fortune of $ 47.7 billion. He is the owner of the textile group Reliance Industries and the Premier League cricket club Mumbai Indians.
Recently, Mr. Ambani has witnessed his wealth and reputation flourish as his business flourishes. After making a surprise when receiving $ 5.7 billion investment in Jio Platforms owned by Reliance Industries. Yesterday, Jio announced that they would continue to receive an additional 4.5 billion USD in investment from Google.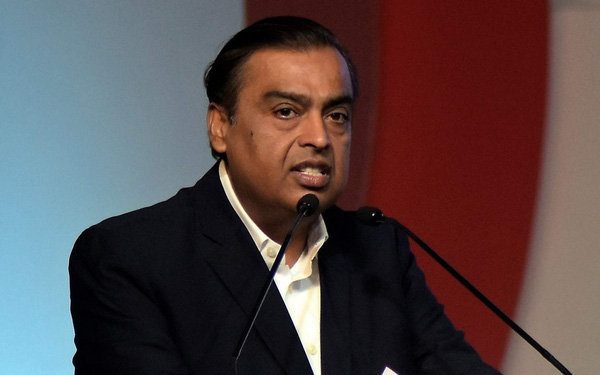 The fact that both the world's two largest technology giants pour a huge amount of money into Jio shows the huge potential for business development of this company.Jio is known as the bet of billionaire Ambani to towards digital and data services for future growth, building an online platform to battle Walmart and Amazon's Flipkart online services in India – the market. 1.3 billion people.
Ambition to create "Alibaba of India"
Mukesh Ambani always wanted to build the next global technology empire, standing side by side with the "big" at the present time. And if his "gamble" is successful, JioPlatforms will soon be on par with the world's big tech giants such as Google, Amazon, Alibaba and Tencent.
JioPlatforms, in fact, is an ecosystem of applications, serving users from online shopping to streaming videos, currently about 388 million people register via Reliance mobile telecommunications network. Jio in India.
However, Asia's richest billionaire is more ambitious than that. Ambani "certainly wants JioPlatforms to grow further, out of the shadow of a mere telecommunications company. They want to be an Indian Google or Tencent," according to Wylie Fernyhough, an analyst from PitchBook.
"The ultimate goal," said Tarun Pathak, an analyst from Counterpoint Research, is to build an indispensable platform for millions of internet users in India, serving all the needs that a citizen. need.
Groceries account for 70% of India's retail market, according to Bernstein, and more than 90% of this market operates in the form of unorganized professionalism, the majority of which are small shops in neighborhoods. population, run by housewives, also known as kirana in India. The retail market is generally expected to grow twice as much, from $ 676 billion in 2018 to nearly $ 1.3 billion in 2025, according to Bernstein.
India's online shopping market is only a small share, with a value of only $ 3 billion in 2020, according to market research firm Forrester. But the company says that the numbers are impressive, with the Covid-19 pandemic helping to change people's consumption habits.
When JioMart launched last year, the company set a goal to persuade about 30 million small stores to switch from traditional business to online business on their platform.
Because of all that potential, it's no surprise that Silicon Valley giants like Google and Facebook are continually investing in Jio.
The tycoon owns a $ 100 billion business empire, living in a $ 1 billion building
Billionaire Ambani is the notorious tycoon in India. His Reliance Industries manufacturing is currently worth more than $ 100 billion, making it one of the 50 most valuable companies in the world. Mukesh Ambani, 62, owns a net worth of $ 72.4 billion, holds the position of chairman and largest shareholder in Reliance Industries. Currently, Mukesh Ambani has surpassed Jack Ma, founder of Alibaba Group to become the richest billionaire in Asia.
The building where the Ambani family lives is a luxurious building, 27 stories high, worth about $ 1 billion and is often called Antilia. It includes a swimming pool, ballroom, a 3-storey garden, 6 floors of parking, 3 airports and can withstand strong earthquakes of 8 degrees. There are up to 600 servants in the house. The house is considered one of the most expensive properties in the world, second only to Buckingham Palace.
Ambani's family has long been close to high-profile figures around the world, such as Prince Charles and Camilla, Duchess of Cornwall, former British Prime Minister David Cameron, Indian Prime Minister Narendra Modi or former US President Barack Obama.
Source : Genk