Plow Shopee Live, hunt for Apple AirPods 2 for less than VND 1.5 million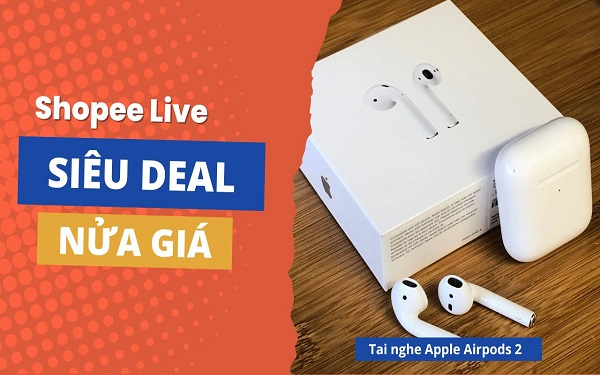 If you are "watching" waiting for a good price to close the order, follow "12H News – Catch a Shocking Trend" at Shopee Live at noon on November 8 and hunt for a shockingly deep discount for genuine Apple AirPods 2 products from time to time. Apple Flagship Store, only 1,475,000 VND, compared to the price of 2,950,000 VND.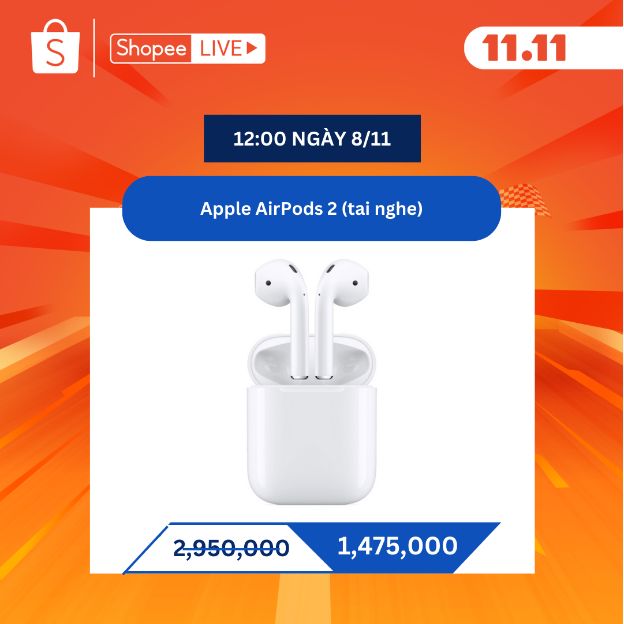 Shopee Live offers the opportunity to own Apple AirPods 2 for VND 1,475,000, directly 50% off the displayed price
Apple Air Pods 2 and its pluses
Apple AirPods have always been the trusted headphone brand in today's wireless headphone market. AirPods 2 owns the same design as the 1st generation, although small in size, it is difficult to fall, fits and does not cause discomfort when worn for a long time because the user's ears will not be sealed when used.
Improved over the first generation, AirPods 2 are equipped with the Hands-free Siri feature, which helps users perform tasks through Siri virtual assistant without having to touch the headset. Currently, although it has "cooled down" after 2 years of launch, the price of Apple AirPods 2nd generation is still quite high, with prices from 2.5 million VND at many systems and stores.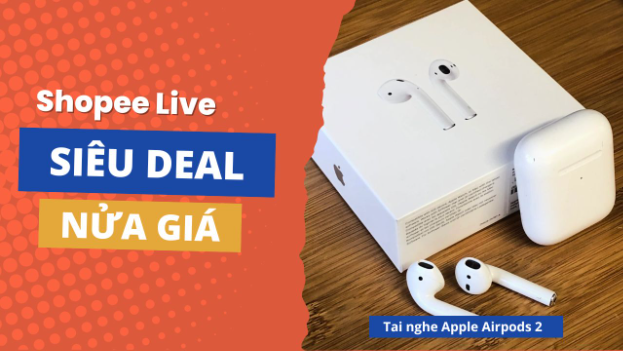 To "subsidize" for users who love this product, Shopee Live will bring "Super Half Price" Apple AirPods 2 for only VND 1,475,000 at 12 noon today 8.11
For the 50% discount voucher for "super deal" on November 8, there will be 3 fixed milestones in the livestream: 12H11, 12H22, and 12H33. Viewers can save these vouchers in the warehouse and quickly pay at 12:44 to buy Apple AirPods products at a 50% discount. Be prepared to go to the cart as quickly as possible.
Shopee Live and "extreme" deals
Shopee Live is a livestream feature from Shopee, helping you interact and "close orders" right in the livestream. Shopee Live offers many incentives for users, such as a series of free shipping vouchers for live products, as well as vouchers from sellers and brands. To follow Shopee Live, you just need to touch the "Live" section in the Shopee app, choose a favorite store to follow and immediately seize the opportunity to hunt for a sale at a "great deal" price.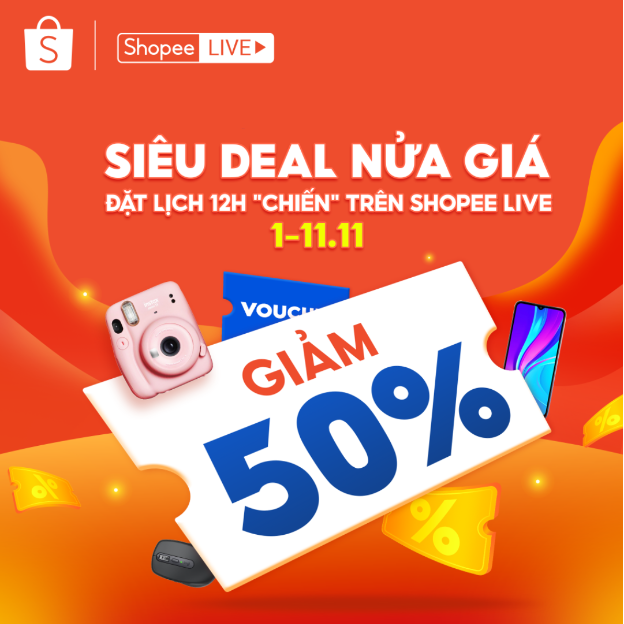 From now until 10.11, in order not to miss any "Super Deal Half Price" livestream of the following days, book a "Remind Me" schedule to easily follow attractive programs from Shopee Live
Only every Wednesday, users have the opportunity to receive up to 4K Shopee Coins when watching livestreams on Shopee Live and the opportunity to share 4 million Coins when participating in extremely simple challenges that are updated every week. Don't forget to collect code for free shipping up to 25K when watching livestream every day. In particular, users are also given a unique free shipping code worth 99K on 11/11 to enjoy shopping.
Only 4 days left, the 11.11 Super Sale event – the biggest shopping event with free shipping of the year on Shopee will take place. From now until November 12, the program offers a series of exciting shopping and entertainment experiences with the opportunity to collect vouchers up to VND 1.5 million, receive a code for free shipping up to VND 99,000 when watching Shopee Live, and Lots of other free shipping codes for orders from 0 VND. Quickly access the Shopee app to enjoy a series of attractive offers!
Source : Genk