'Playing' like the government of El Salvador: Free Bitcoin for all people, just install a blockchain wallet to be eligible to receive
On June 9, El Salvador's parliament passed a law recognizing the legality of Bitcoin, making the country the first country in the world to officially accept the cryptocurrency. According to El Salvador President Nayib Bukele, the recognition of the legitimacy of Bitcoin will encourage foreign investors to invest in El Salvador, as well as create more favorable conditions for receiving remittances from people living abroad. .
Most recently, the president of El Salvador continued to announce that the government of this country will give away 30 USD worth of Bitcoin (BTC) to all adult citizens of the country. With a total population of about 6.5 million people, the government of El Salvador will have to spend $195 million worth of Bitcoins to distribute to people across the country.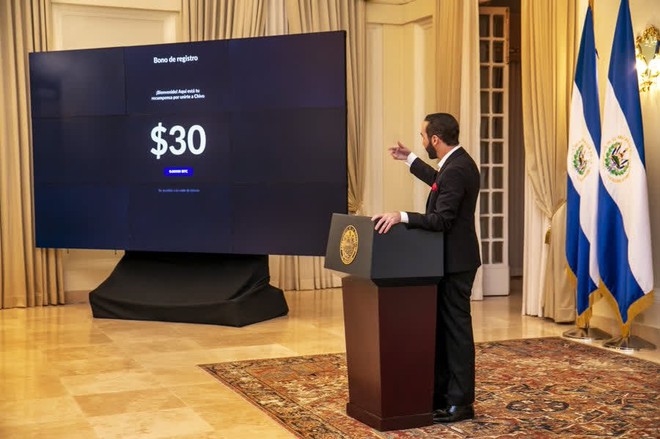 The government of El Salvador will give away $30 worth of Bitcoin (BTC) to every adult citizen of the country for free.
It is known that each resident in this Central American country will have to download a blockchain e-wallet application developed by the government, to be eligible to receive the aforementioned Bitcoins. This also means that the crypto community around the world will soon receive millions of new users.
"The government blockchain wallet application will even work anywhere with a mobile connection and you won't have to buy a separate data plan," President Bukele said at a press conference held today (May 25). 6/2021)
President Bukele also announced that El Salvador's famous Bitcoin law, which recognizes BTC as legal tender nationwide, will go into effect on September 7.
However, the World Bank (WB) stated that it could not support El Salvador to implement Bitcoin as an official means of payment.
"We are committed to helping El Salvador in a number of ways, including currency transparency and some regulatory processes," the World Bank said. "The government of El Salvador has offered us support for Bitcoin, but this is not an issue that the WB can help with."
The International Monetary Fund (IMF) has also issued a warning about the risks of using Bitcoin in day-to-day transactions after El Salvador, which is in the process of negotiating a loan from the organization, issued allows to use this coin as real money.
Refer to CoinTelegraph
Source : Genk