People are still waiting in line to buy the iPhone 12 despite the COVID-19
Today Friday, October 23 is the first iPhone 12 to go on sale worldwide. And despite the impact of the COVID-19 pandemic, at Apple's launch in Sydney, Australia, a lot of users are still ready to line up to buy new iPhones.
A few dozen people lined up at the Apple Store in Sydney's CBD, less than last year, but perhaps more than what to expect during the COVID-19 pandemic, at 8am when the store opened. door.
Jun, who was in line first, marked his spot from 11:30 the night before. He bought an iPhone 12 and iPhone 12 Pro and said he will return on November 13 when the iPhone 12 Pro Max launches.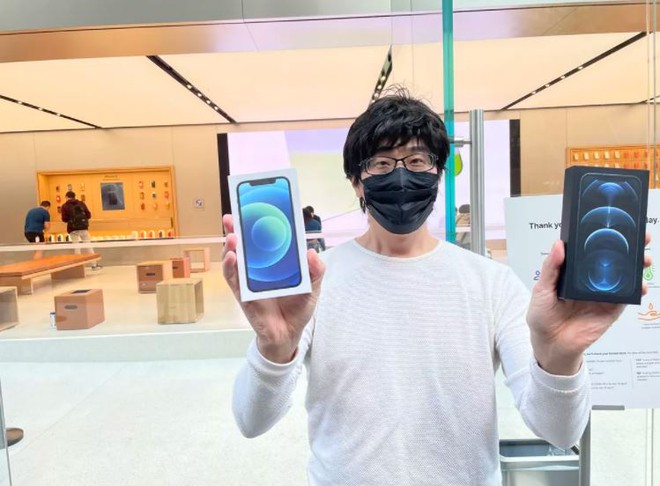 Jun, the owner of Sydney's first iPhone 12.
In fact, compared to other major cities in the world, Sydney is one of the places least affected by COVID-19. New South Wales, where Sydney is the capital city, has recorded a total of 4,363 cases and 53 deaths. For comparison, New York has 260,000 cases, London has 39,400 cases and Tokyo has 29,350 cases.
However, Apple has taken measures to protect Apple Store employees and customers from the coronavirus. Stores are required to check the temperature and wear a mask to go shopping in Sydney, and donate masks to those who forget to bring them. Customers can also wait outside and be given a phone by an employee if they don't want to enter the store.
Jun said he is concerned about the coronavirus, but believes Apple will enforce a social gap in the purchasing process. He also stood about 1.5 meters from a customer behind him.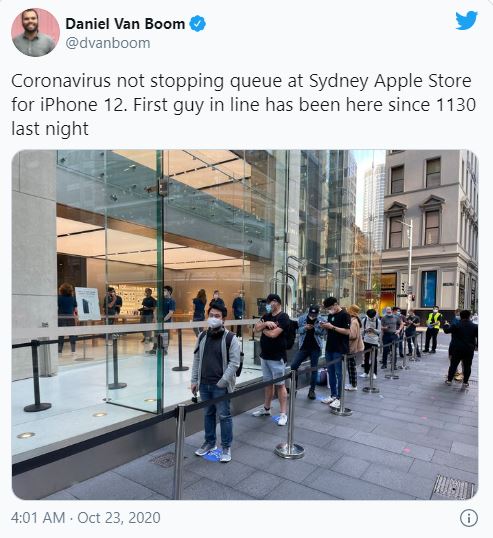 Of course, this does not mean that other cities are not affected by COVID-19. In San Francisco, for example, a store in Union Square of Apple has opened, but customer activity is more tightly controlled. Customers cannot enter and exit freely. Apple places a "subscription window" for 15 minutes when a customer arrives to pick up the device or wants to shop directly with an Apple Store employee. People save barcodes to Apple Wallet on their phones and register at their allotted times at the fences outside the store. When customers are allowed in, the guards will measure their body temperature and direct them to the table to ask the store clerk for help with the purchase.
For Apple product aficionados, queuing for hours (or days) is a familiar element with every iPhone launch. Hundreds of people lined up in New York, London and a few other major cities for the first iPhone. Soon after, it became a worldwide phenomenon. September means new iPhones come out and new iPhones mean there will be crowds outside of the Apple Store.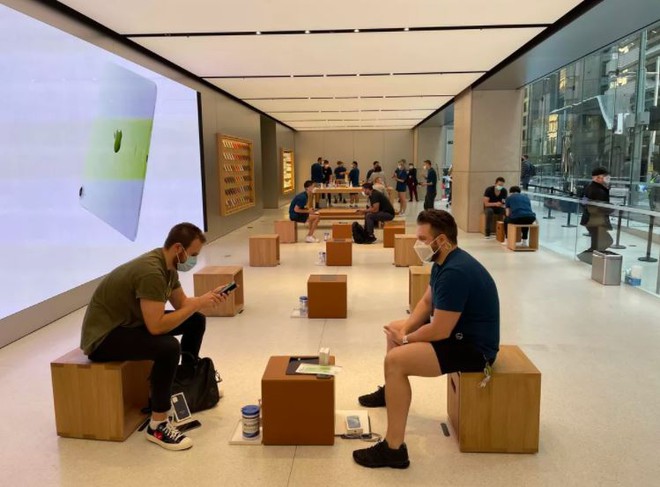 Inside the Apple Store in Sydney.
Experts have long predicted the disappearance of this habit, especially as online shipping becomes easier and more efficient. However, despite the decrease in numbers compared to last year's iPhone 11 launch, the Sydney product launch shows that loyal Apple fans are still willing to stay up all night to join the show. fun.
"The experience here is very good," said Mitch, who arrives in the store to pick up a new iPhone before business hours. "Every time I choose a device here, it's really good. They let you sit down, everything is visible to you. They guide you through the whole process."
The iPhone 12 and iPhone 12 Pro coming out today are two of the four Apple product models that will be released this year. Coming on November 13 is the iPhone 12 Mini, the iPhone 12 model with a smaller screen, and the iPhone 12 Pro Max, the iPhone 12 Pro model with a larger screen to be sold.
The new iPhones come with a bunch of improvements, including screens, processors, and cameras. But the biggest leap comes in 5G support, which all four phone models come with. Due to its low coverage and limited availability, 5G is still a relatively new service. But with its significantly increased rates and reduced latency, it promises to be the new standard for mobile Internet within a year or two.
Refer to Cnet
Source : Genk