Overwhelmed with photos of Facebook crashing globally
As noted by the incident tracking site DownDetector, the Facebook crash was recorded at about 10:34 pm on October 4, with a peak of more than 126,000 error reports by users globally, from Guatemala to across the United States and Canada. as far as Europe and all of Asia.
The bug report also appeared on the home page of Oculus, a smart glasses owned by Facebook since 2014. From 11:28 p.m. on October 4, the error reports recorded on DownDetector tended to decrease, but not because of the error. The issue has been fixed, but Facebook is aware of the issue and is working on a fix.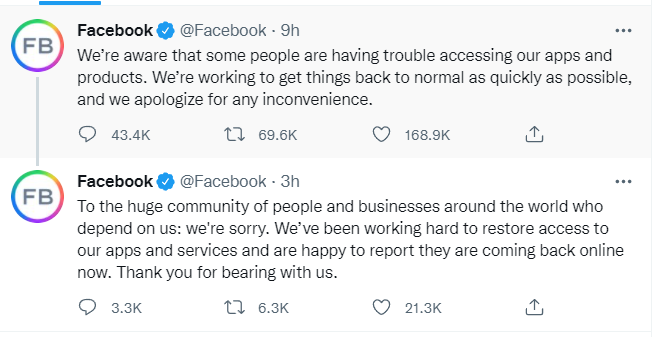 Facebook had to use a rival's Twitter to report the problem.
The funny thing, however, is that the shutdown of all services caused Facebook to announce the problem on… Twitter, because the blog attached to the homepage went down.
Immediately, hashtags #facebookdown and #instagramdown reached the top trending on Twitter with the number of tweets reaching hundreds of thousands of times. Twitter users also took advantage of this opportunity to create satirical photos of Facebook, Instagram and WhatsApp based on the popular movie "Squid Game".
In addition to Twitter, other services like Discord or Telegram are also flooded with sarcastic comments about Facebook. Many people humorously think that Facebook has been hacked by Skynet, signaling the end of the Internet for the Internet.
Here is a series of Facebook satirical photos that have been circulating online since last night:
Facebook services when entering the first survival game of the movie Squid Game.
Until the candy removal game (still in the Squid Game), only Twitter kept players alive.
Twitter users calmly received users from Facebook's services to switch over.
Many Twitter users are delighted when Facebook's services are paralyzed for hours, if it completely crashes, the better.
Facebook is teased that it uses a spiritual form to ask for help on the server not to fail instead of actually fixing it.
Facebook's unexpected accident made Twitter users a delight.
Facebook and Instagram influencers wait in vain for the service's revival.
It's time for Facebook users to turn the wheel.
Private messaging services like Telegram, Zalo, Discord have become lifesavers for billions of Facebook users. (Photos from the movie Squid Game)
Source : Genk