Notoriously difficult, Bill Gates used to send 'sarcastic, critical' emails to his employees at midnight
Bill Gates, cofounder of Microsoft, built this company into one of the most valuable tech empires in the world. Amid the many difficulties to get the company to grow and the pressure to succeed in the fierce competition, the 64-year-old billionaire is not always a "cute boss".
Like fellow billionaire Steve Jos, who co-founded Apple, Gates is known as a strict manager, motivating employees to work at full capacity during his tenure at Microsoft.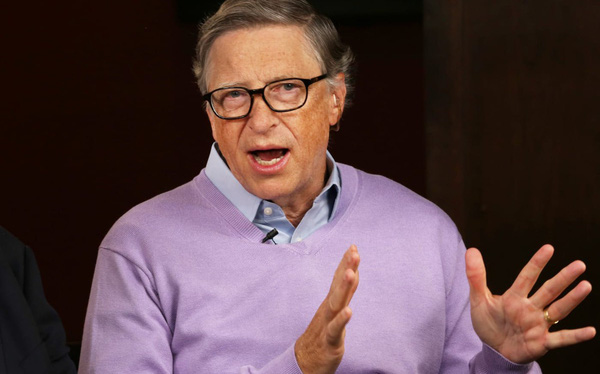 Billionaire Bill Gates, cofounder of Microsoft. Photo: CNBC.
As harsh to employees as to yourself
In a recent interview on the "Armchair Expert" podcast, the tech billionaire admitted that, as the CEO of Microsoft, he had been harsh about any employee mistakes.
"I was certainly not a favorite boss when I was running Microsoft," Gates told host Dax Shepard in the interview.
Gates even agreed with Shepard when comparing his sometimes harsh attitudes to his staff similar to the way basketball legend Michael Jordan treats his teammates. The famous rigor of the American professional basketball (NBA) superstar is considered one of the reasons that helped Jordan become the greatest basketball player of all time.
Jordan's work ethic made him strict with himself and with his teammates, whom he expected to also work hard to strive for for shared greatness. It is the same intensity in the business world, with countless stories emerging about founders and CEOs with seemingly utopian standards.
There is an aspect of the basketball legend that Gates says: "I think it can be said for Steve or for myself." In fact, a leader's expectations for colleagues and employees only reflect the extremely high standards of themselves.
"I never ask employees to work harder or be more strict with their mistakes than I do," Gates said, comparing himself to people like Jordan or Jobs. "But at least seeing it will help you improve yourself."
If any employee feels they can't thrive in that harsh environment, no one will force them to stay in Microsoft, the Microsoft co-founder added. This is the same as Jordan's teammates at the Bulls basketball club when trying to swap out or leave another NBA team.
The words "sarcasm and criticism" at midnight
Biography 1993 "Hard Drive: Bill Gates and the Making of the Microsoft Empire" (roughly translated: Bill Gates – Ambition great and the formation of the Microsoft empire) said Gates is a difficult person "infamous sound "in the early days of Microsoft. He often sends out "criticism and sarcasm" about his employees' work by email at midnight, also known as "fire mail".
Some programmers will receive late-night notes from Gates, announcing that their product contains "the dumbest piece of code ever written". Many Microsoft employees have described working under Gates as "intense" and "intense," the biography says.
For his part, Gates fully admits he is a tough boss. "When I was at Microsoft, I was very strict with my colleagues. Many of them have contributed to our success and I am sure many others have surpassed themselves," Gates said in the year. 2019.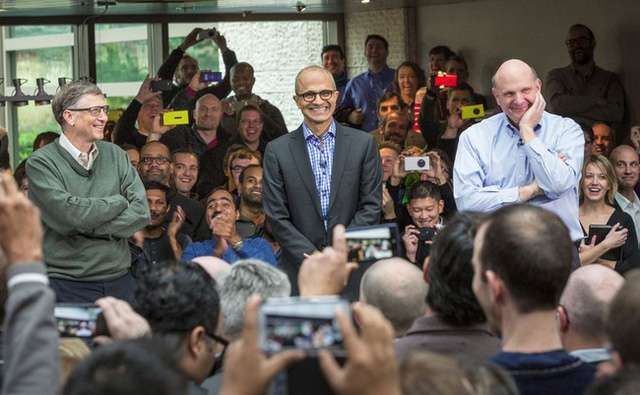 Bill Gates poses with Satya Nadella – current CEO of Microsoft and Steve Ballmer – former CEO of the company. Photo: Getty Images.
In his podcast interview, Gates said that he was definitely trying to motivate employees the way he motivated himself. In the early days of Microsoft, every moment was crucial in beating other tech competitors.
Furthermore, Gates insists that he always tries to make sure employees know that he respects their work. "The reason you're here is because you're great. So don't get confused when we're stuck with you," he said. "We are a team and we fight together".
"Sometimes we can be stricter than necessary," admits Gates. "But not as much as Steve Jobs," he added.
Like Jordan, whom many of his former teammates have described as a "fool", also admits that Jordan's intensity helped his teammates better on their way to the championship. Some former Microsoft employees shared that the Microsoft co-founder's work ethic and rigor helped motivate them a lot. They also expressed admiration for Gates' ability to put the ego aside and admit when he was wrong.
Gates stepped down as CEO of Microsoft in 2000 and left the company's board in March 2020. He currently spends most of his time developing the Bill & Melinda Gates Foundation.
"I think I'm old and experienced enough to be wiser in motivating people without being too strict," said the 64-year-old.
Source : Genk