Nokia 6300 and Nokia 8000 revived with new design, 4G support, price up to 2.2 million
After a series of leaked rumors, HMD Global has officially revived the Nokia 6300 and Nokia 8000 duo. These are two famous phones from a while, each contributed to the branding for Nokia decades ago.
Starting with the Nokia 6300 4G , the handset has a much different design from the original. Instead of using a stainless steel frame, it has only a body made of polycarbonate plastic. In addition, the power button on the top edge is also cut. Even so, the new model comes with many significant upgrades on the inside.
Nokia 6300 4G runs on KaiOS operating system, is equipped with Snapdragon 210 processor with 512MB RAM, 4GB internal memory – much larger than the 7.8MB memory of 2007 model. Besides, it also supports expansion storage capacity via microSD card up to 32GB.
The phone comes with a larger 2.4-inch display, the battery also nearly doubled from 860mAh to 1500mAh and charged via microUSB port. According to the manufacturer, the Nokia 6300 4G can extend battery life up to 27 days in standby mode.
Another big upgrade is the addition of 4G network connectivity and Wi-Fi streaming. The device has a VGA resolution camera, an LED flash that can be used as a flashlight on the back. The device supports GPS connectivity, Bluetooth, 2 SIM nano standard, FM radio and has a 3.5mm headphone jack.
Nokia 6300 4G – Live the social life
The Nokia 6300 4G is also pre-installed with a variety of applications such as Facebook, WhatsApp, YouTube and even the virtual assistant Google Assistant. As expected, the machine will be sold in Europe for 49 Euro (about 1.34 million), comes with 3 color options: Gray, White and Blue.
As for the Nokia 8000 4G , this handset possesses a much more premium design than popular phones currently on the market. It has a glass-like case, while the display, keyboard and chassis are all curved.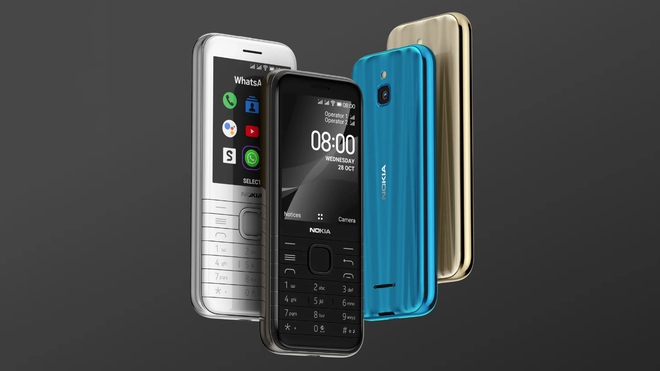 The Nokia 8000 4G does not use the same slider design as the original model. In terms of specifications, the device is equipped with a 2.8-inch screen, Snapdragon 210 processor with 512MB of RAM and 4GB of memory, which can be expanded with a microSD card.
Moving to the back, this is home to the 2MP camera and the LED flash that functions as a flashlight. HMD Global said the 1500mAh battery of the Nokia 8000 4G can last up to 28 days on standby, more than 3 hours of 4G talk time.
Nokia 8000 4G – Add a little flair
Like the Nokia 6300 4G, the handset also supports Bluetooth connectivity, Wi-Fi streaming, FM radio, 3.5mm headphone jack and 2 SIM cards. As expected, it will be sold in Europe for 79 Euro (about 2.2 million), with a total of 4 colors – White, Black, Blue and Yellow.
Source : Genk