Nikkei explains why Apple will produce millions of wireless headsets in Vietnam for the first time
According to some sources that Nikkei Asian Review obtained, Apple will first produce millions of AirPods wireless headphones in Vietnam this quarter.
This is a sign that the company is speeding up the process of diversifying its production activities out of China in the context of a worse pandemic.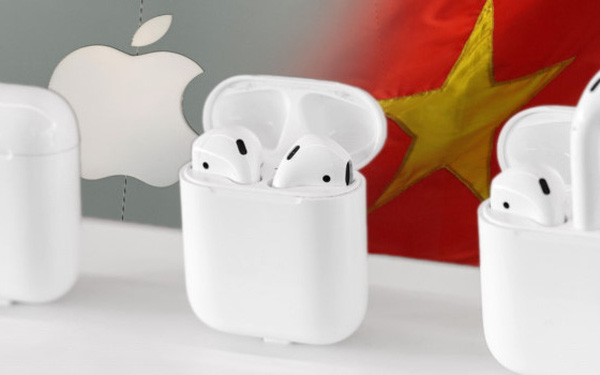 According to these sources, between 3 million and 4 million wireless headphones, or about 30% of Apple's traditional AirPods, will be made in Vietnam.
The shift of headphone production to Vietnam this time does not include the AirPods Pro, the high-end headphones feature noise-canceling feature that Apple introduced to the market last year.
Most AirPods, including the $ 159 AirPods and the $ 249 AirPods Pro, continue to be made in China, even though some of these products are taxable. higher according to US President Donald Trump's policy launched last year.
Apple's best-selling products including iPhone phones and MacBooks laptops are not subject to higher taxes and are still being manufactured in China.
The source emphasized: "The mass production of AirPods in Vietnam started in early March 2020. Vietnamese officials even granted special licenses to people involved in the production of Apple Airpods to enable Apple to bring engineers into Vietnam for production during social isolation. " On a large scale, the Vietnamese government has begun to relax some blockade measures by the end of April 2020.
In mid-January 2020, when the U.S. and China signed a first-phase trade agreement to ease trade tensions that lasted more than a year, Apple halted efforts to shift production. out of China, the country's largest production site.
However, the global pandemic has made many technology companies more cautious about the importance of diversifying production and maintaining the sustainability of production, not merely paying attention to the costs. low fee.
Tensions between Beijing and Washington are returning as the administration of US President Donald Trump considers how to move part of the supply chain out of China as a sanctions for how China handles the pandemic. Tokyo also affirmed that it would financially support Japanese companies to move production out of China in order to reduce their dependence on China.
Source : Genk