New scam app on App Store forces users to rate 3 stars to use
A new App Store scam has been revealed by developer Kosta Eleftheriou. A new scam has been discovered on the UPNP Xtreme app, which requires at least a 3 star rating to work and allow use.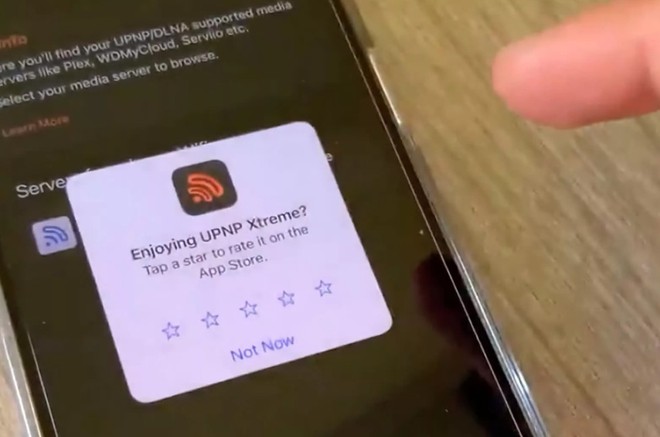 UPNP Xtreme is an application that allows to stream content to TV from their iPhone and iPad. However, this app will prompt for App Store rating as soon as you enable it for the first time. But it won't work until you leave a review. Accordingly, this application requires you to have a minimum rating of 3 stars to use. However, this app has now been removed from the App Store.
Requiring an app review at launch and not allowing users to dismiss pop-ups is a violation of the App Store guidelines.
Kosta also shared a video on its Twitter account showing that the app won't work if you don't give it a good review.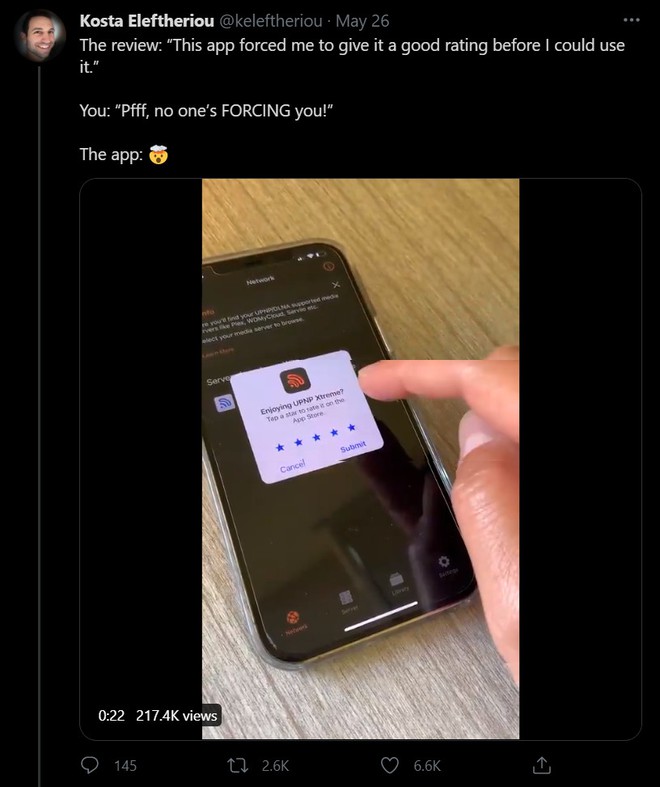 Kosta says the app had over 15 million downloads before it was removed from the App Store, and has made quite a bit of money.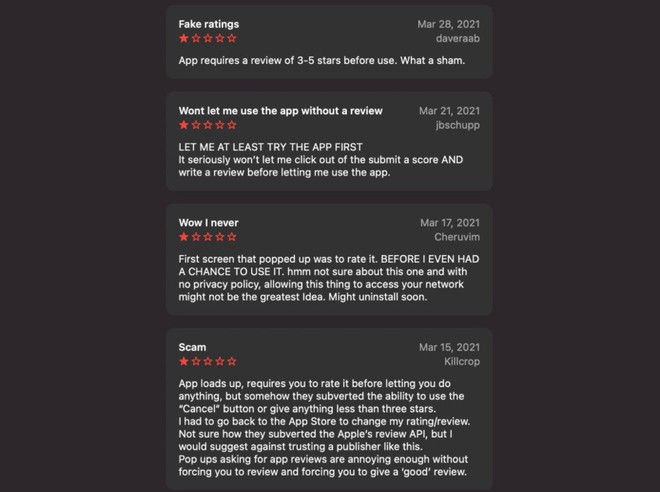 User feedback about this app abusing the pop-up screen to force them to give favorable reviews
FlickType keyboard developer Kosta Eleftheriou has been declaring war on Apple for quite some time.
The incident happened when the owner of a copy of the FlickType keyboard app took over the original app due to fake reviews and ratings. Eleftheriou has since sued Apple for flaws in the App Store and accused his apps of being sold for cheap.
Eleftheriou has since repeatedly reported scams on the App Store through its Twitter account.
Previously, Eleftheriou reported a VPN scam app stealing $5 million/year from Apple users. Additionally, he also revealed an app scam that turns it into an online casino, as soon as you connect to a Turkish server.
Video recording the scene of a fraudulent iOS application that does not allow users to access without a rating of at least 3 stars or more
Check out iPhonehacks

Source : Genk