Near the $ 42,000 mark, what is the main driving force behind the explosive rise of Bitcoin and other cryptocurrencies?
Michael Bucella, a partner at crypto investment firm BlockTower Capital, said: "The market data clearly shows the rise of retail investors. This is reflected in the recent rally. of altcoins – digital currencies other than Bitcoin, as well as crypto exchanges that focus on small-scale investments.
Bitcoin's bulls argue that the recent sublimation is different from the late 2017 bubble, which saw the price rise to nearly $ 20,000 then crash to as low as $ 3,122 the following year. According to them, the main difference is that institutional investors are behind this bullish force.
Some well-known investors including Paul Tudor Jones and Stanley Druckenmiller became crypto believers last year. Meanwhile, British wealth management firm Ruffer added 550 million pounds ($ 747 million) of Bitcoin to its portfolio.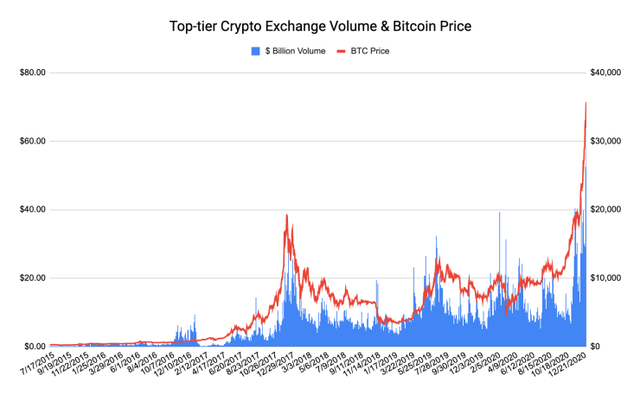 Price volatility and volume of Bitcoin transactions.
Still, some people are skeptical. For example, US stockbroker Peter Schiff and economist Nouriel Roubini argue that Bitcoin is a speculative asset with no intrinsic value and that this bubble will burst at some point.
Even so, there are signs of strong demand from retail investors who don't want to miss out on the upside. This could have significant implications for the latest crypto market cycle, as retail speculators are seen as a major driver of Bitcoin's similar movement in 2017.
Meanwhile, Google data shows that web searches for Bitcoin surged at the beginning of the month. This caused some market watchers to recall the increase and search activity of cryptocurrencies in December 2017. However, the search for Bitcoin is different from 3 years ago.
On January 7, the total market capitalization of the crypto market exceeded $ 1 trillion for the first time, supported in no small part by the prosperity of Bitcoin. In addition, on 8/1, Bitcoin price also reached 42,000 USD, with a capitalization of more than 700 billion USD.
Currently, online investment platforms are seeing the number of registration and use of services skyrocketing. For example, Etoro recorded 61% more people owning 1 Bitcoin on Jan. 4 than a year ago, while 49% held Ether.
Simon Peters, market analyst at eToro, said: "There will be volatility, it is natural that we have seen it, but the long-term trend is clear. mainstream and more and more investors are looking for it. "
Revolut says it has registered more than 300,000 crypto investment customers in the past 30 days, as Bitcoin has hit its peak. On the platform, Bitcoin has been the most popular digital currency for the past 2 weeks, followed by XPR and Ether.
The prices of altcoins – like Ether, Litecoin and Bitcoin cash, have also risen significantly over the past week, and sublimations have taken place at times when Bitcoin has risen sharply. For example, Ether on Monday surpassed $ 1,000 for the first time since February 2018.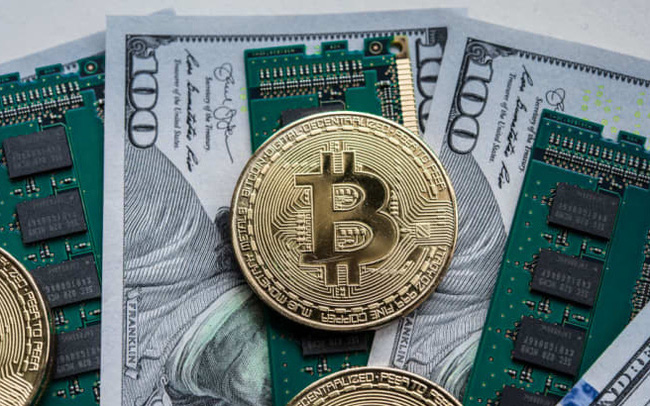 Bucella said the recent rally in altcoins was mainly driven by the participation of a small pool of investors, while institutional investors "dominated" Bitcoin.
According to data from CryptoCompare, the daily volume of cryptocurrencies rose to $ 68.3 billion last Sunday. This surpassed the peak of the 2017 bull run, when daily trading volume reached $ 27.8 billion.
Many crypto investors say Bitcoin is like "digital gold" – a safe haven and a hedge against inflation. Meanwhile, JPMorgan strategists also recently forecast the price of the currency to touch $ 146,000 in the long term and are starting to compete with gold as a series of alternative currencies.
Even so, many strategists also note that Bitcoin will see significant volatility once the above target is reached. They added that there were some signs of strong retail investor interest seen on platforms like PayPal and Square's Cash.
Daniel Lacalle – chief economist at Tressis Gestion, said Bitcoin and other cryptocurrencies have become increasingly popular with retail investors in emerging markets like Argentina, Brazil and Turkey – as they see copper. The local currency dropped against the USD and the greenback was weak.
Predicting the future of cryptocurrencies, Charles Hayter – CEO of CryptoCompare, says there are two catalysts in the crypto market. It is likely that a Bitcoin ETF will be born and an IPO from Coinbase.
Consult CNBC
Source : Genk