MWG CEO Doan Van Hieu Em: I hope TopZone makes Apple recognize Vietnam as a tier-one market like Singapore, which means that when the US has goods, we will have that day!
It can be seen that TopZone is the most favored child in the Mobile World (MWG) family. Proof: it was Chairman Nguyen Duc Tai and CEO Doan Van Hieu Em of The Gioi Di Dong – Dien May Xanh chain who manually lifted the curtain to open the chain, then Mr. Doan Van Hieu Em also regularly appeared in events. by TopZone.
In many experiments in the last 2 years, up to this point, TopZone can be considered as the most successful project of Mobile World, both in terms of scale and sales. Just opened in October 2021, TopZone currently has 31 stores. In 2021, TopZone brings MWG 280 billion, is expected to bring in 750 million USD in 2022 and 1 billion USD in 2023.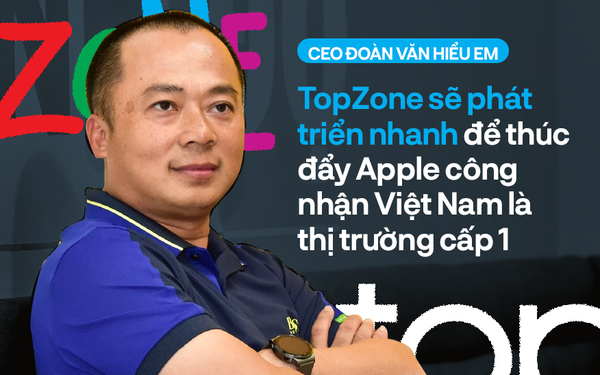 With Apple's difficulty in censoring store quality standards, personnel, and cross-border logistics are still not favorable because of Covid-19, TopZone's store opening speed is quite slow compared to MWG's expectations. . According to the plan of the Mobile World Leaders, TopZone will have 50 to 60 stores by the end of March 2022 in order to run KPI 200 stores by the end of 2022.
According to Mr. Doan Van Hieu Em's share with us, TopZone tries to expand as quickly as possible – in addition to quickly occupying the Apple market in Vietnam, it is also to promote this "big man" for promotion. us, from the tier 3 market to the tier 1 market.
If that's the case, Vietnamese customers will be treated like American customers, Americans who buy iPhones every day, Vietnamese people can buy iPhones that day and don't have to wait like now. Equally, the iPhone dealer in portable goods does not have a "door" to sell in the Vietnamese market.
After 6 months of appearing on, how has TopZone impacted the Apple market in Vietnam, sir?
Up to this point, TopZone has 31 stores – including 2 high-end APR stores in Hanoi and Ho Chi Minh City. In the future, TopZone will expand and upgrade this chain of stores.
What you are experiencing in the morning of April 12 at APR Khanh Hoi store – I think is the best in Vietnam. And this is also a most modern shopping model, with the best investment from Apple and Mobile World in Vietnam.
We have brought a classy shopping experience space – the most advanced version in Vietnam, so that customers can shop and experience Apple's standard space. From now on, Vietnamese customers do not need to go abroad, but can go to TopZone's APR stores to experience it.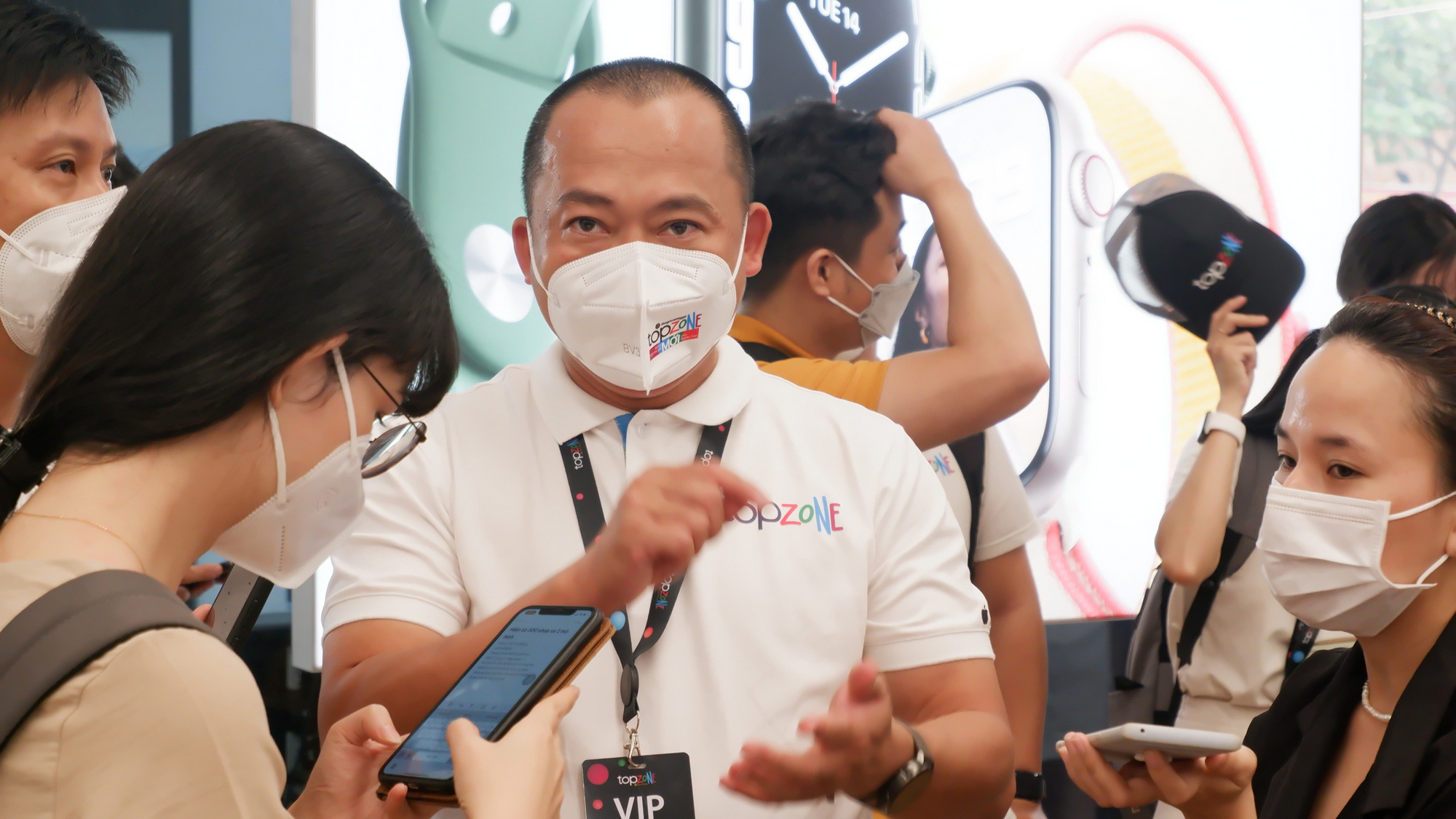 Mr. Doan Van Hieu Em – CEO of Mobile World – Dien May Xanh chain.
Why do we see in Khanh Hoi APR store that there are other accessories such as blue tooth and mid-sized speakers of different brands such as Sony or JBL?
Well, those are the products that Apple allows us to sell more. In addition to products such as iPad, iPhone, Macbook… Apple allows us to sell other electronic products in APR stores in Vietnam.
How has TopZone contributed to the 'war' against hand-carried goods in Vietnam? Currently, what is the percentage of portable Apple products in Vietnam market?
I think that, in the past 2 years, along with the impact of the epidemic, the source of hand-carried goods to Vietnam has decreased a lot and is very limited. Second, the appearance of TopZone helps to shorten the gap in price as well as the appearance time of the latest models in the Vietnamese market and between Vietnam and other countries in the region.
I still don't know the exact percentage of hand-carried goods that have been consumed in the last 2 years, but from my observations, it's not significant.
Has what happened with the TopZone chain in the past 6 months as expected of Mobile World?
We will continue to expand this chain of stores in the near future and set a revenue target of about USD 1 billion in 2023 – TopZone chain stores will contribute 14% to the Group's overall revenue structure.
How is the purchasing power of Apple products in Vietnam? Does it still have a lot of room for development?
In Vietnam, there is a fairly large segment of loyal customers – also known as 'Apple followers' (iFan). Therefore, I think that the Apple product market in Vietnam is large and will continue to develop in the near future. That's why MWG invests in TopZone.
Looking forward to the more distant future, that TopZone will step in and change the retailing of Apple products in Vietnam; more specifically: make Apple recognize itself as a tier 1 market, like Singapore and some countries in the region.
That is, if we are upgraded to the tier 1 market, we will have every day in the US. Accordingly, the time gap that Vietnamese iFans can buy the latest models compared to international ones is getting shorter and shorter. Currently, Vietnam is a tier 3 market.
In short, we expect, with the expansion of TopZone store chain, and the cooperation between The Gioi Di Dong and Apple, in the not too distant future, Vietnam will be promoted.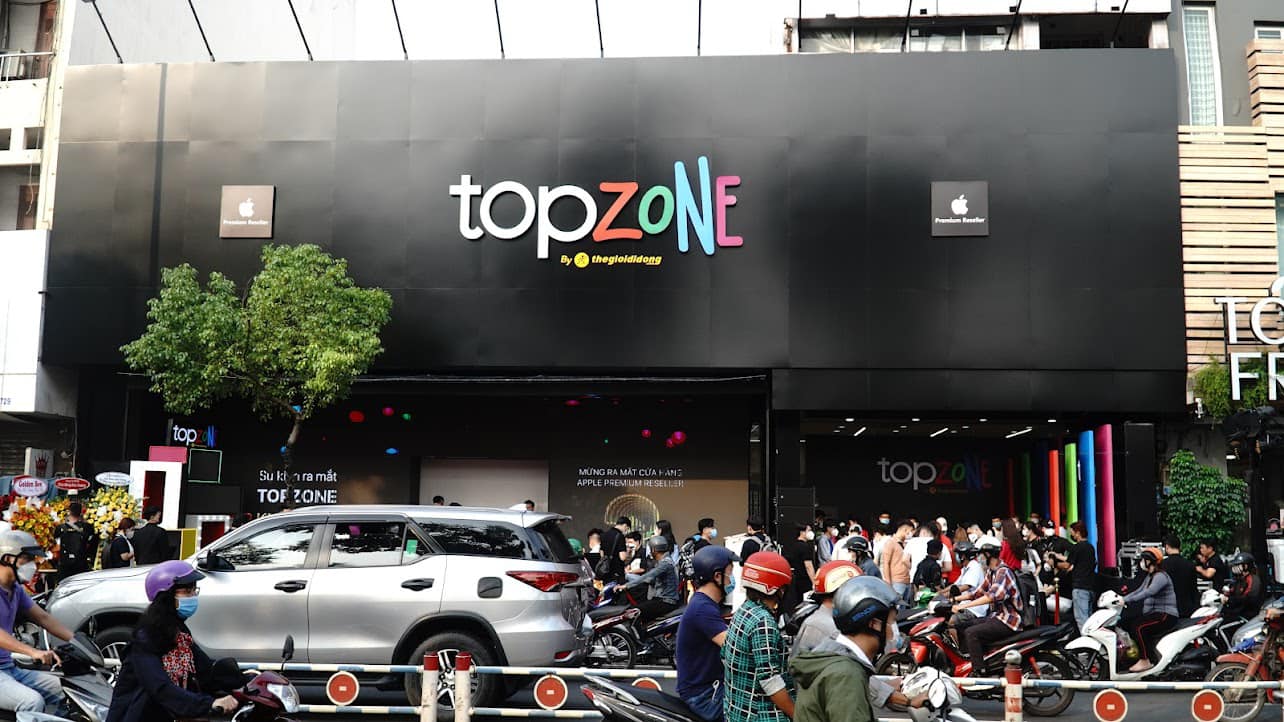 So what are the standards for Apple to classify market types? Is demand or revenue?
There are many factors. Revenue was also important and the emergence of modern chain stores – authorized like TopZone now; gradually, all will help the retail market of Apple products in Vietnam get better.
How much is the sales of current TopZone models, sir?
Currently, TopZone has 31 stores – 29 under the AAR compact model and 2 under the large high-end APR model. With the AAR model – the revenue will fluctuate around VND 6 billion/month for each store and with the APR model – we expect to be around VND 10 to 15 billion/month.
Currently, how many TopZone stores can Mobile World open each month?
We are gradually completing phase 1 – with 50 stores, currently have 31 stores and will reach 50 by the end of June. With Mobile World, does it matter how fast we open stores? No wonder, but when working with Apple, each TopZone store has its own set of unique standards, which we cannot follow.
For example, APR Khanh Hoi store, the material of the floor we are standing on and the product display platforms; All imported from the US. They didn't look terrible at first, but we had to bring them back from America. Or looking at the design and decoration of the store is very simple, but it is not for us to decide but to follow the concept that Apple offers.
TopZone is a newcomer to the market, compared to many competitors – such as F.Studio by FPT Shop. So what is TopZone's competitive advantage?
In our opinion, the difference between new and old in this piece is not large. Go fast – go slow – go ahead or go behind, it doesn't matter, what matters is what Mobile World is doing at this moment.
You imagine: Mobile World has been working with Apple for a long time, selling 'apple house' products in the Mobile World chain. And now, in just a short time, we have opened up to 31 stores and will be up to 50 by the end of the month, there is no other business that can open the Apple Mono Retail chain as quickly as us.
Compared to other retailers, if you look back, you will see that most have not achieved the expected results.
In the near future, TopZone intends to expand the system to other countries in Southeast Asia, sir?
No, we still intend to focus on hitting the domestic market first.
Thank you, sir!
Source : Genk