Mr. Trump threatened to "kill" Big Tech group if US Congress did nothing
Last night in Vietnam time, the US House of Representatives held an online hearing with four of the most powerful technology CEOs in the United States. They are Mark Zuckerberg (Facebook), Jeff Bezos (Amazon), Tim Cook (Apple) and Sundar Pichai of Alphabet (Google's parent company).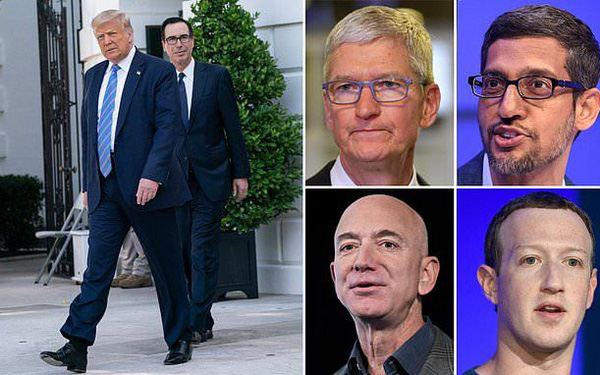 Just before the hearing, the White House boss tweeted criticizing Congress for doing nothing to the tech giants for years. He pledged to use the president's executive order to quell the situation if the US Congress still ignored Big Tech.
"If the US Congress does not bring justice to the Big Tech group, which they should have done years ago, I will do it myself with executive orders. In Washington, people just talk without doing it for many years and the people of our country are tired of it, "tweeted Mr. Trump.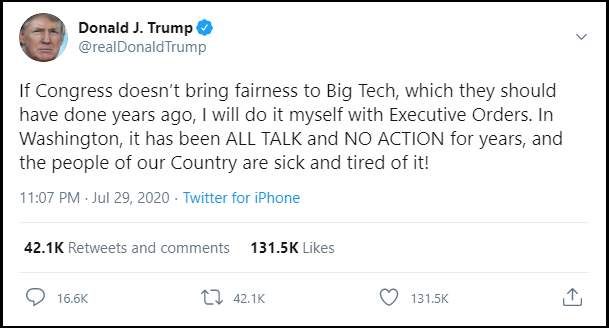 However, this US House of Representatives hearing is supposed to focus on the Big Tech group's unfair competition issues with small startups, not how this group behaves with the user's speech.
The US Congress has the power to supplement antitrust and unfair competition laws, but its enforcement usually depends on the Department of Justice and the Federal Trade Commission. The heads of these two agencies are actually under Trump's control.
The two agencies have been criticized for decades by the lax enforcement of antitrust laws and the ratification of major mergers that reduced competition in specific industries.
In late May, Mr. Trump immediately signed an executive order threatening to sanction social networking companies that banned or restricted users from making political views, after his post was marked by Twitter. Information censorship is required.
Under the decree, Mr. Trump wants to empower federal regulators to amend Section 230 of the Communications Act, allowing social networking companies to censor content on their platform and not be subject to responsibility for the content that users post to.
By the end of the 2010s, Big Tech group of 5 US technology giants was Amazon, Apple, Google, Facebook and Microsoft.
Source : Genk