Mr. Trump is the "only patient on the planet" who receives the special Covid-19 therapy
The treatment of Covid-19 disease for US President Donald Trump is completely different from the treatment of other patients. Mr. Trump is the only patient in the world to receive a combination of three different drugs.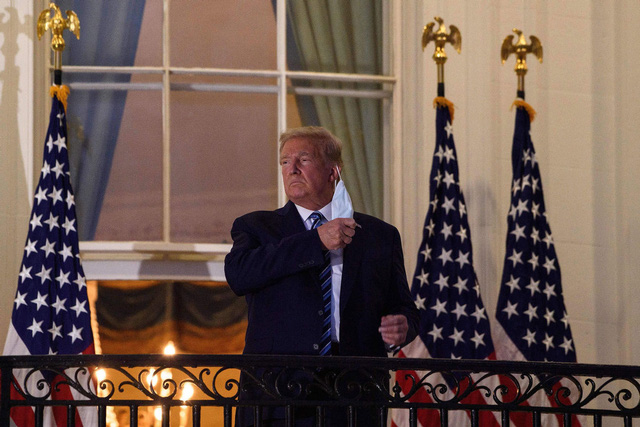 Mr. Trump is treated differently
As the leader of America, President Trump receives the best care and attention he can. But the treatments he received were not available to the people.
"Do not be afraid of Covid-19" or "I feel that my health is even better now than 20 years ago", is the tweet posted by Mr. Trump on October 5 to encourage people to be brave and ready to face. Covid-19 pandemic. But he did not mention that other Americans suffering from this dangerous disease had no access to the treatment and drugs he was taking.
Before he was hospitalized on October 2, President Trump was treated with antibody therapy tested by the Regeneron company. This therapy has reduced the density of the SARS-CoV-2 virus and showed promising results in trials with 275 patients. But the new therapy has not yet been approved by the Food and Drug Administration for use in emergencies. The New York-based Renegeron Biotechnology Company said it provided the therapy after receiving a request for "special use" from President Trump's doctors.
"For most people, having access to unapproved methods or drugs through the requirement of 'special use' can be a long and complicated process," says the non-profit. said Mayo Clinic. The organization also lists a set of requirements that most patients will need to meet in order to take advantage of these priorities.
However, Mr. Trump was treated to the drug on October 2, just a day after he tested positive for the SARS-CoV-2 virus, White House press secretary and President's doctor. Trump said.
As the President of the United States, Trump will be provided with all the available medicine, regardless of whether it is approved for use in an emergency, "said epidemiologist Seema Yasmin. are not. In this case, antibody therapy ".
"The only patient on the planet taking three anti-Covid-19 drugs"
Along with the experimental use of antibody therapy, President Trump is also given two other drugs, remdesivir and dexamethasone.
Dr. Jonathan Reiner – professor of medicine at George Washington University said: "President Trump may be the only patient on the planet to receive the special combination of three drugs Covid-19 cure."
The FDA has not officially approved Remdesivir for the treatment of Covid-19 but has approved the use of the drug in emergencies. Clinical trials have shown that a 5-day course of use of Remdesivir can speed up the recovery time in some patients. But the antiviral drug also causes side effects such as anemia, liver toxicity, and kidney toxicity.Remdesivir is given intravenously, so patients are forced to hospitalize during treatment.
However, doctors released Mr. Trump from the hospital on the evening of October 5 to finish his treatment. Because unlike conventional homes in America, President Trump has a medical team on duty in the White House and here "he is surrounded by world-class medical care," said Dr. Sean Conley said.
Mr. Trump was also treated with dexamethasone, a low-cost and commercially available corticoid, to reduce infection. But this drug can suppress the immune system, so it is recommended for use only in patients with severe Covid-19.
Dr Jonathan Reiner said, some patients got better after taking dexamethasone but died less than a month later.
"We know that dexamethasone reduces the risk of death in patients with Covid-19. This is derived from data obtained in a test called Recovery. Still, there are risks. Many patients participating in the trial were given dexamethasone and had better transformation, but still died 28 days later and this number accounted for 23%, "explained Jonathan Reiner.
"The only conclusion that we can draw from the three-drug combination treatment mentioned above is that President Trump's doctors have realized that he is in danger."
White House doctor Conley said President Trump felt well enough to leave Walter Reed Military Hospital on the evening of October 2. But Mr. Conley is still concerned about the possibility of a reversal.
"That is why we keep our optimism cautiously and wary because we are following a different route. President Trump is receiving new treatments that apply to science.
Test more than anyone
White House press secretary Kayleigh McEnany said Trump was the one who took the most Covid-19 test in America. In a July 2020 announcement, Kayleigh McEnany said: "The president tests more than anyone and he does this many times a day." The White House announced plans last week to distribute 150 million sets of rapid tests for pandemic response, of which 100 million will be shipped to states and territories, while 50 million will be distributed to kindergartens. , nursing homes and similar facilities.
The White House also cites Mr Trump's regular tests to explain why he doesn't need to wear a mask when he appears in public. But medical experts say this argument is unreasonable.
According to many health experts, unlike wearing a mask, the test is not effective in preventing the infection of the SARS-CoV-2 virus, not to mention many tests that show false negative results.
However, easy access to testing services also has many benefits. After Hope Hicks – the President's senior counselor tested positive for the SARS-CoV-2 virus, Mr. Trump quickly tested and quarantined immediately to avoid spreading the virus. others. But there has been mixed information about when Mr. Trump received the first positive test result.
It's still a long battle
Dr Conley said on October 3 that President Trump "has only been 72 hours since his diagnosis", meaning he received the test results that were available by mid-September 30 – the time before his arrival in New Jersey campaign to raise campaign funds. Meanwhile, Dr. Brian Garibaldi, said the President started an experimental antibody therapy "about 48 hours ago," meaning test results are available mid-October 1. And press secretary Kayleigh McEnany confirmed that Mr. Trump received the first positive test result after returning from New Jersey on October 1.
According to medical experts, it is very important to determine when Trump tests positive for the SARS-CoV-2 virus, because during the incubation period, patients with Covid-19 will be at risk. Infection is higher than symptom onset.
President Trump's discharge from the hospital does not mean his fight against Covid-19 is over. Emergency doctor Leana Wen said: "Some patients seem to be fine in the early stages. In fact, many patients can be discharged from the hospital as soon as they arrive. But when they returned home they had to come back because their illness got worse. The average time from when a person develops symptoms of Covid-19 until they are admitted to intensive care is 10 to 12 days. So we can rest assured that the President's health is going well. But we are not in a hurry to be happy because it remains to be seen how his illness progresses in a while "./.
Source : Genk