Mounting MyTV television, welcoming the ultimate summer with a gift store of over 2 billion VND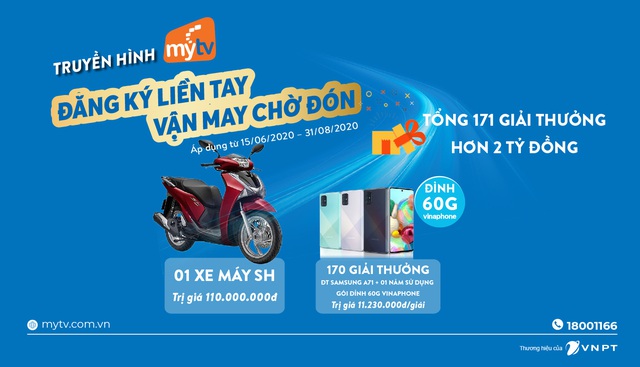 Not only has the multi-utility television service with hundreds of leading domestic and international entertainment channels, new subscribers to MyTV this summer also have an unprecedented opportunity to win. With a gift store worth more than VND 2 billion, the program "Instant registration – Lucky luck" will be organized nationwide by MyTV from June 15, 2020 to August 31, 2020, welcoming the peak consumer. after long time isolation against epidemic.
Accordingly, the luckiest customer of the program will receive a Special Prize – 1 Honda SH motorbike worth VND 110,000,000. The program will also award 170 First Prizes, each prize 1 Samsung A71 phone with 1 year using VinaPhone's 60G PEAK package worth 11,230,000 VND. This is one of the attractive mobile packages on the market, almost covering the needs of users with 60GB, 1,500 on-net minutes and 50 minutes off-net each month.
In addition to offers with practical value, MyTV also attracts customers with many new gadgets and interesting entertainment content, satisfying the diverse enjoyment of the whole family. Along with features like MyTV Selfcare, MyTV Multiscreen, customers can install, purchase packages and watch TV on all smart devices such as Smart TV, Smartphone, Tablet. Exclusive broadcasts, exclusive parallel broadcasts, special feature films and new series are regularly updated each month, increasing entertainment options for customers.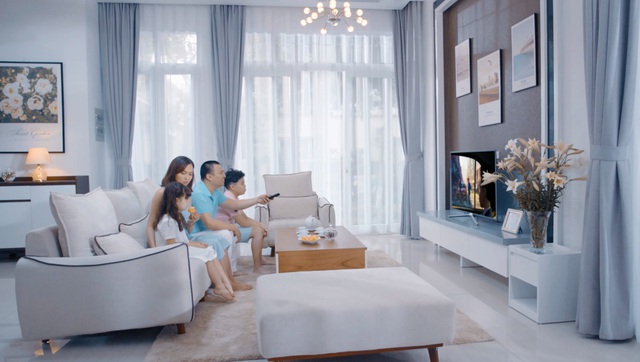 Television MyTV – meet the entertainment needs of the whole family
As one of the first Internet TV providers in Vietnam, MyTV is currently chosen by millions of households across the country. The service can be installed on regular TV with receiver or directly on Smart TV and smart devices via application. The number of channels of MyTV is also the market leader with 178 unique channels at home and abroad including many favorite channels such as VTVCab, Q.net channel bunches like HBO, Max by HBO, Fox Movies, Fox Sports, Discovery Channel , CNN, Disney Channel, Cartoon Network, Animal Planet … Customers also easily add attractive channel packages such as Galaxy Play (brand new name of Fim +), K +, Danet …
The packages of MyTV have competitive prices only from 30,000 VND / month. List of detailed channels and package prices, customers can refer to the website https://mytv.com.vn . All detailed information consultancy and installation registration are supported free of charge via 18001166 switchboard.
Source : Genk