More than looking for lost items, Samsung's Galaxy SmartTag has enormous potential behind it
During its Unpacked event in January this year, Samsung introduced a very special new hardware, the Galaxy SmartTag. Using Samsung's new secure location technologies, the device will help users find their lost items, before anyone else finds it and takes it away.
But in the interview with Mr. Jaeyeon Jung, Vice President of Samsung Mobile and head of SmartThings division, the company's vision for SmartTag is broader than that.
Securely track lost items
To locate lost objects, SmartThings Find server uses Bluetooth low energy signal and UWB ultra-wide band technology emitted from Galaxy SmartTag devices mounted on them. This location will be displayed on the Galaxy smartphone and lead the user to the location of the lost item.
Moreover, to make navigation easier, AR technology and sound are also integrated into the map to help users easily visualize the location to be searched. The service also offers an AR Finder feature, which allows Galaxy smartphones equipped with UWB technology to broadcast virtual messages so other Galaxy smartphone users know they are looking for a lost item.
Not only does it help identify lost items, but Samsung wants to further expand the capabilities of its SmartThings Find service. Through SmartTag devices registered with SmartThings Find service, users can control them remotely via smartphone. For example, with a simple touch button, users can turn on the light before going home.
To ensure user data and privacy, the SmartThings Find service operates on a fully end-to-end encrypted Galaxy Find Network network, so that data in it cannot be traced back. Furthermore, the BLE signal and identity information are changed continuously every 15 minutes to protect the device's location data.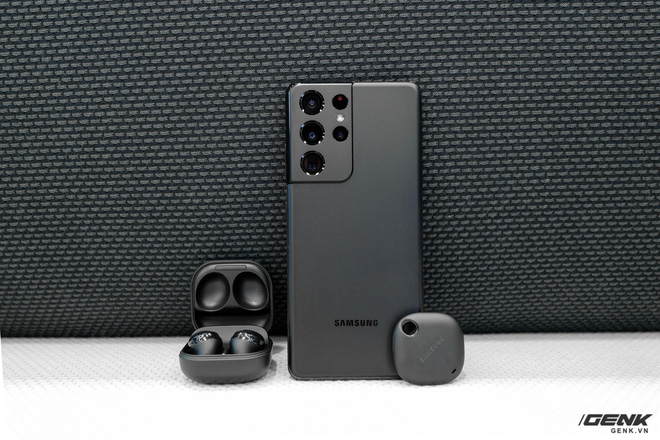 And more
According to Jung, " services and products like SmartThings Find and Galaxy SmartTag are two of the many ways Samsung broadens its horizons to create an even wider ecosystem ." These devices and services give users more control. Combining the SmartThings Find service and Galaxy SmartTag into the SmartThings platform not only helps users find lost devices, but also better control their connectivity needs.
Combined with Galaxy smartphones, SmartThings ecosystem will help users to connect integrated devices and services in a unified way. Not only works seamlessly between multiple devices, the SmartThings ecosystem can also learn users' usage habits to set up appropriate tasks.
This demand is likely to explode in the near future as the number of IoT devices present in the daily lives of users is growing exponentially. According to Jung estimates, "the global IoT device market is expected to grow from the current 7.6 billion enabled devices to 24.1 billion by 2030".
Source : Genk