Money cheated for providing MoMo credentials
Recently, the media reported being tricked into losing money in the MoMo account. Specifically, on March 16, user Thach Thao received a winning message from a fake MoMo fanpage. Then, a person claiming to be a MoMo employee called to instruct him to log into the link sent earlier. When filling in login information and providing OTP code, this person is taken account. The scammer then made a deposit to the wallet and transferred the money to another wallet. The total lost amount is 3.5 million dong.
In reply to ICTnews, the MoMo side confirmed that there is no employee calling the customer to ask for the OTP code.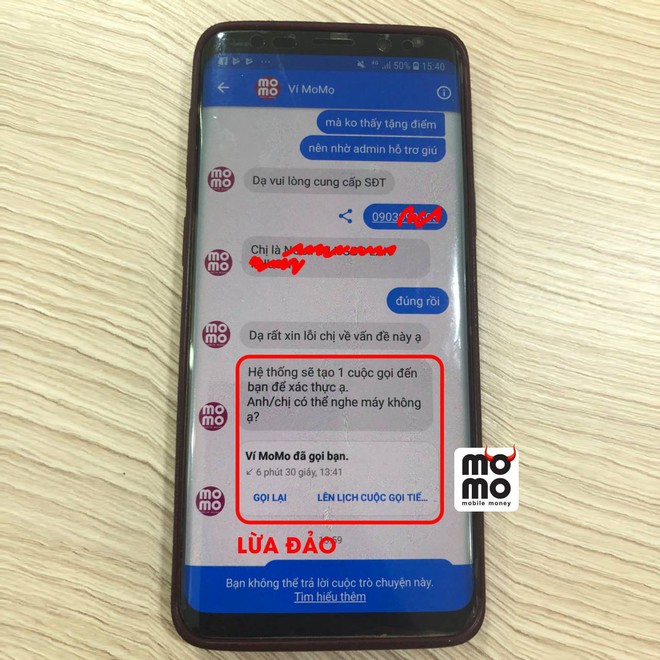 A case of impersonating MoMo for fraud.
" MoMo wallet and company employees never ask users for passwords and authentication codes (OTP) in any form such as phone calls, chat, request to enter the Google Docs link or request to send image. Anyone who requests to provide these 2 information is definitely a scam ", recommended by MoMo.
In recent times, many fraudsters impersonate customer care centers, systems or charities … and use the logo of the business to create trust to ask for the supply. passwords, authentication codes (OTP) to steal customers' money. To ensure correct information, users need to check by contacting the switchboard directly on the official website of the business.
MoMo and many banks regularly warn their customers to absolutely do not provide OTP. Also, do not log your account and password into suspicious links.
In the period of thriving electronic payment, many scam trends are being used by bad guys. For example, they impersonate the bank's SMS Branding to text the victim's phone number, require you to log in to your Internet Banking account to scam account.
Recently, there has been a trend of tagging articles on Facebook to account. Or they tag users in comments in Facebook posts, then require a login to steal information.
The most important thing users need to remember is to keep their bank account information and social media accounts for themselves, not provided to anyone. Always check carefully with requests for information.
Source : Genk