Mobile World forecasts profit decline, stock price has dropped 73% compared to the beginning of the year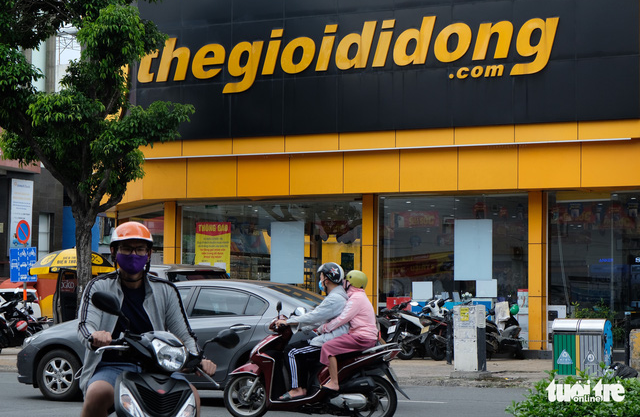 Many retail businesses face difficulties when consumers tighten their spending due to concerns about economic slowdown. In the photo: a Mobile World store in Ho Chi Minh City – Photo: BONG MAI
Mr. Nguyen Duc Tai – Chairman of Mobile World Investment Joint Stock Company (stock code MWG) – has just made a forecast that the company's 2022 profit may go backwards, reaching about 90% compared to the performance of the company. last year, equivalent to 4,400 billion VND.
According to the business results report for the first 10 months of 2022, the enterprise recorded net revenue of more than 113,710 billion dong, up 15% over the same period last year, completing 81% of the whole year plan. However, profit after tax was reduced by 2% to approximately VND 3,840 billion, equivalent to 40% short of the plan for the whole year.
With unfavorable business results, the Mobile World side gave many reasons to explain. First, due to a supply chain disruption in China, the number of iPhones coming back is not enough to meet demand, which may cause revenue for the fourth quarter of 2022 lower than initial expectations.
In addition, the demand for electrical appliances has also slowed down. However, the company said it will offer attractive stimulus programs to make it easier for consumers to shop.
As of the end of October this year, the business has a total of 5,775 stores, an increase of more than 17% compared to the same period last year. Looking at the structure, it can be seen that businesses have increased in opening stores The Gioi Di Dong, Dien May Xanh, An Khang pharmacy, and opening new Ava Kids (mother and baby) and Ava Sport (sportswear) chains.
As for the Bach Hoa Xanh food retail chain, the accumulated sales in the first 10 months of this year were down 9% compared to the same period last year, the average revenue reached 1.37 billion VND/store. By the end of October, there were 1,729 Bach Hoa Xanh stores in operation, a decrease of 247 stores compared to the same period last year.
In order to improve business results, Mobile World has also officially opened its first electronics store in Indonesia this November.
This business said that the population size and GDP of Indonesia is approximately three times higher than that of Vietnam, but there is a shortage of a leading retailer. In addition, traditional stores in Indonesia have a very limited list of display products and after-sales services, for example, buying an air conditioner usually takes 7-10 days to receive warranty. It is the above factors that help businesses have the potential to develop in Indonesia.
On the stock market, the code MWG has decreased by approximately 73% compared to the beginning of the year, currently anchored at 37,800 VND/share.
Source : Genk