MobiFone Meeting – A convenient online meeting solution in the digital age
Accordingly, users can be anywhere in the world, just need a smart device connected to the internet, you can completely exchange information quickly. And capturing the needs of today's consumers, online conferencing product lines were born and increasingly focused on technology to optimize all customer needs. Have you found the most suitable product yet?
The MobiFone Meeting online conferencing solution possesses many perfect technological advantages. Let's learn about the product, you will surely be surprised!
MobiFone Meeting – the perfect choice in the digital age and before the global Covid pandemic
It is known that MobiFone Meeting is a solution exclusively for individuals, businesses or large corporations wishing to conduct online meetings or conferences in many different locations. Choosing MobiFone Meeting – businesses will experience the perfect difference when not only can easily organize internal meetings, exchange with partners – customers through a few simple steps. And you don't have to install any other complicated software.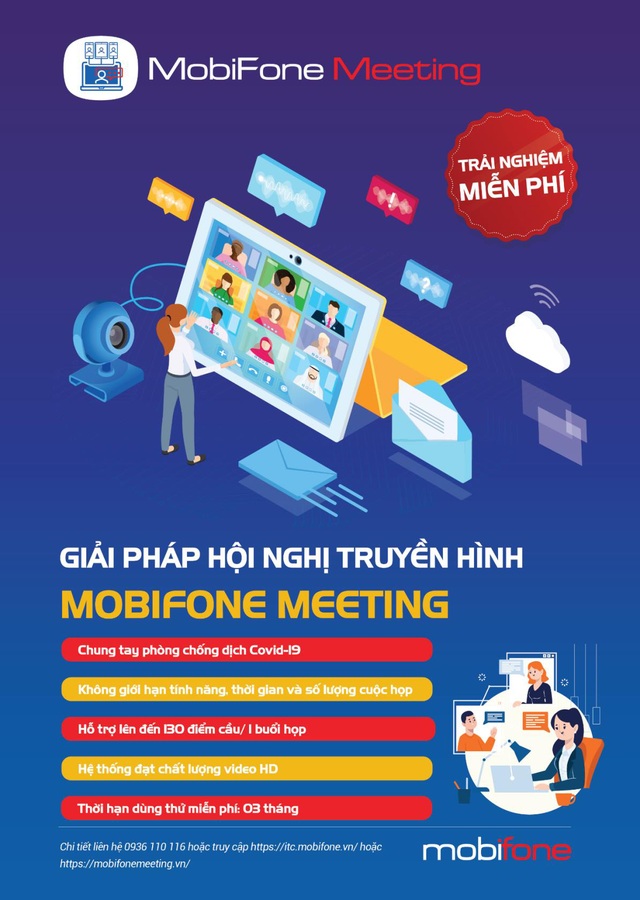 Better yet, the MobiFone Meeting solution also supports almost any terminal device, from mobile to tablet, laptop or PC, .. And on popular operating systems used today such as Windows. /iOS and also Android.
The solution possesses features beyond greatness
Not only is it loved by customers because of the convenience of technology, especially in the complicated context of the epidemic. The MobiFone Meeting online conferencing solution also possesses extremely diverse features and is suitable for many management models. Accordingly, businesses can completely organize online meetings anytime, anywhere and on any device without requiring specialized meeting hardware.
Thanks to being built on the optimal technology platform, MobiFone Meeting is the best online conferencing solution that MobiFone brings to customers with many outstanding advantages: can connect more than 200 bridge points, large cloud capacity , easy to use, high security, HD picture quality…
With the feature of creating a meeting with a name, password and administrator, businesses can completely use it easily with just a few clicks to completely connect all members across the country and the world. gender. Just have a link or meeting code and all partners – customers or employees can join the meeting quickly.
Better yet, the highly appreciated feature of the MobiFone Meeting solution is that businesses can customize the meeting image quality up to HD. Thereby helping to bring the meeting of the highest quality and making it easy to connect and provide information for everyone involved. In addition, you can also customize the background of the meeting person according to each individual need. It's really convenient, isn't it?
Not stopping there, users can completely chat with each other through the public chat application and even private chat during the meeting. This makes it easy for you to exchange all your private information without having to use other applications. And there are countless other useful features waiting for you to discover, such as settings, turning off member cameras, sharing, speaker statistics, or embedding meetings and mutes, etc.
Surely with the above great utilities mentioned above, MobiFone Meeting solution can completely conquer even the most discerning customers. And if you need more reference, you can follow the questions below for quick answers.
Answer around customer questions
Many customers are wondering how and how easily the partners of the organization – businesses can log in to the MobiFone Meeting application? In fact, this is completely simple, and the organization only needs to instruct the partner to sign in with a personal Google account to be able to participate in the meeting.
So, how to register to use the solution? Just leave your information at website https://smart-office.vn/ or contact directly at hotline 0936.110.116 and you can easily register to experience this utility software.
With an extremely diverse product price list and many choices, MobiFone Meeting is the perfect choice for all businesses today. Hopefully the above useful information will make it easier for you to learn about this application.
Source : Genk