Microsoft unveiled a new, more flexible, easier-to-read Segoe UI font on Windows 10
The latest Windows 10 preview build has introduced an updated version of the Segoe UI font, and Microsoft says it will replace the classic Segoe font on Windows 10 devices.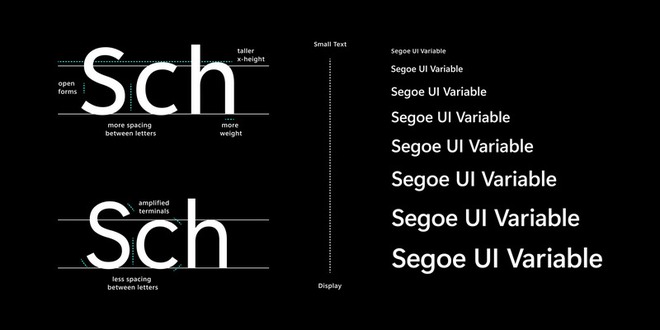 Officially called Segoe UI Variable, the new font is a better choice for devices of all sizes, as it uses an optical axis, allowing it to scale properly for both small screens and big.
" Historically, fonts for small text were designed differently than those designed for large text. The Segoe UI was originally designed for 9pt size, " Microsoft explained . The font is great for that size but its limited expression lies in its large size and lack of legibility at a smaller size.Segoe UI Variable solves this problem by using a new version of Segoe with Variable font technology for flexibility offers better readability at very small sizes and styling at large sizes.
The new font is available in Windows 10 build 21376, which can be downloaded in the Dev channel.
But on the other hand, although the new font is deeply integrated into the operating system, it will take a while to display all interfaces.
"Although the Segoe UI Variable is part of the operating system, its implementation across all visual interfaces is still under study and will be rolled out over time," explains Microsoft . all visual interfaces will have new fonts ".
The latest build also includes improvements to the Connect app icon to accommodate the new overhaul, updates to the Segoe UI Historic font to Bamum Unicode support.
In case you are wondering when the new font will be available to all users, unfortunately there is no specific date yet, but chances are it will show up in the next big update released in the fall.
Refer to Softpedia

Source : Genk