Microsoft opens up a new feature that allows the use of Android apps on Windows 10 through Your Phone
One of the most interesting updates Microsoft has released recently is the support of Android apps on Windows 10 computers through the Your Phone app that comes pre-installed on Windows 10.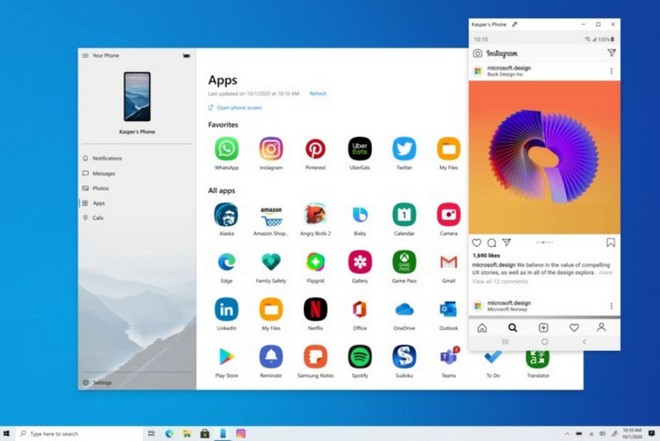 Initially, Microsoft only offered this feature to Windows Insider users. But now it's ready for all users.
Share on Twitter, Analy Otero Diaz, head of program management at Microsoft and currently improving the experience on other devices connected to Windows confirmed, all users can try the Android app now. on Windows 10.
She revealed: "The #YourPhone feature has begun to roll out more widely. So some users can already see the switch to Apps on the Your Phone app. And now the feature is available on some devices. Android ".
Of course not all Android apps are supported. Your Phone app allows users to pair Android devices with Windows 10 and now supports running Android apps in separate windows right on the desktop.
In particular, users can switch between applications and the screen by pressing Alt + Tab. Android apps can also pin to the taskbar to make things look more natural.
On the other hand, be aware that Android apps on Your Phone only work with certain devices and not all are supported. In other words, not all apps on the Google Play Store can be used on a Windows 10 device. And if you still want to open it, you'll only see a black screen or not be able to download apps.
Refer to Softpedia
Source : Genk