MediaTek holds the No. 1 position in the mobile chip industry, but still loses to Qualcomm in this point
According to a report from market research firm Counterpoint Research, in the third quarter of 2021, MediaTek continues to take the No. 1 position in the mobile chip market, surpassing both Qualcomm and Apple.
Specifically, MediaTek accounted for 40% of the global mobile chip market share in the third quarter, up from 33% over the same period last year. Following MediaTek is Qualcomm with 27% market share, a 1% decrease year-on-year. In third place is none other than Apple with 15% market share and 3% growth compared to last year. Samsung and Huawei's HiSilicon ranked at the bottom, in which HiSilicon witnessed a strong decline from 13% last year to only 2% in the third quarter of this year.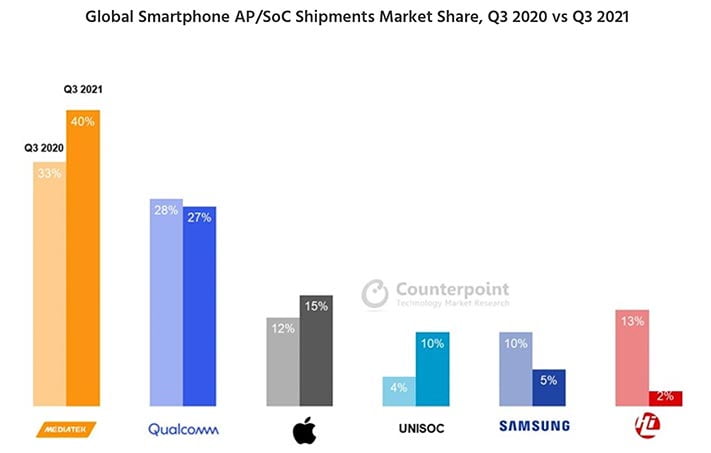 In the market share ranking, Unisoc suddenly surpassed Samsung to take the No. 4 position. In the past year, we have also witnessed a lot of mobile devices equipped with Unisoc processors, most of which are equipped with Unisoc processors. low-cost devices.
Although MediaTek has performed very well in recent times and knocked Qualcomm out of the top position, but when it comes to mobile 5G chipset market share, MediaTek is only in second place, first place. the board continues to be Qualcomm. According to data from Counterpoint Research, Qualcomm experienced a spectacular growth from 32% to 62% of the 5G chip market share, almost doubling in just 1 year. Meanwhile, MediaTek is almost "stagnant" with 28% market share, up from 25% over the same period last year.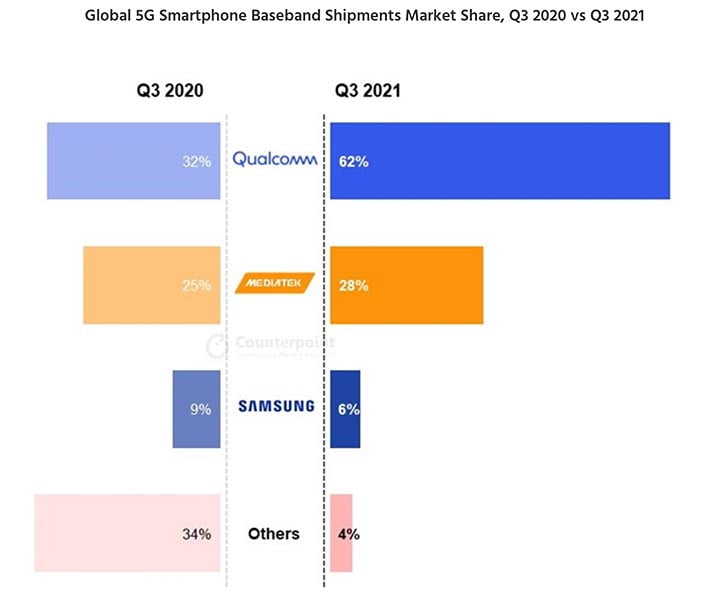 MediaTek is taking new directions to compete with Qualcomm as it prepares to commercialize the Dimensity 9000 processor, a flagship chip with powerful performance that will soon be equipped on many high-end smartphone lines in 2022. Besides, in the mid-range and low-cost segments, most 5G-enabled smartphones in this segment are equipped with MediaTek's processors, helping this manufacturer to soon close the gap with Qualcomm next year.
Source : Genk