MC Nguyen Cao Ky Duyen: Proud that VinFast is present in the US, will cancel the purchase of Tesla to wait for VinFast
Recently, within the framework of the Los Angeles Auto Show, VinFast officially held an event to mark its arrival in the US and launched two high-end electric car models, the VF e35 and VF e36.
This VinFast event has attracted great attention from domestic and international media. Previously, VinFast cooperated with some famous KOLs such as NasDaily or Supercar Blondie to promote. However, besides foreign KOLs, VinFast also invited many guests from Vietnam to its event, including MC Nguyen Cao Ky Duyen.
Sharing with the Youtube channel of Pho Bolsa TV, the MC "Paris by Night" was surprised at first, and then proud when the Vietnamese were able to bring an electric car to the US. In addition, the female MC also praised VinFast's team for recruiting many international talents.
"I did not expect that in a very short time (for Duyen) that VinFast was able to bring a car to the US. VinFast just started in 2017 but has already brought a car here. Ky Duyen does not think that is the case. Vietnam has a high-end product that is brought to the LA Auto Show.Usually, when I hear that Vietnam exports, it is usually seafood, food, beans… But now it's a car, it's also an electric car, Mr. The CEO was once of Volkswagen, the design team is full of international people… truly a dream team, I must say Duyen is very proud to be Vietnamese, she has a car in this."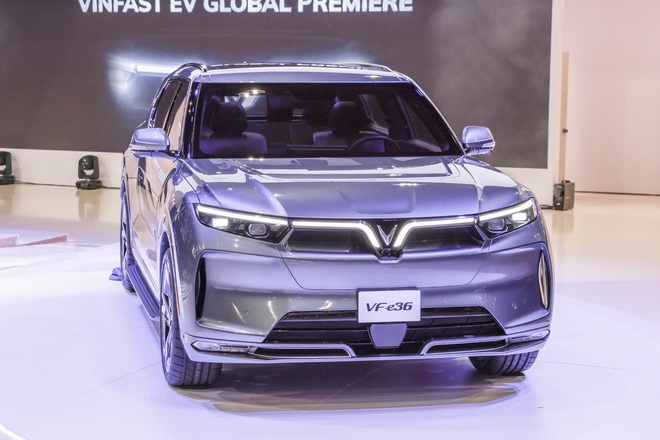 VinFast VF e36, one of two cars that VinFast brought to the US in this launch
When asked about the opportunity for VinFast in a highly competitive market like the US, MC Ky Duyen said that electric cars are a new field and VinFast can completely learn faster than companies with long experience. .
"That's the question Duyen asked a person working at VinFast. If it's a normal car, then it's possible that I've been behind the car manufacturers for many years, regardless. But in the field of electric cars, even car manufacturers. If they go ahead, they'll just get in. But as technology becomes more advanced, Ky Duyen thinks that those who come in later will learn faster and take shortcuts faster than those in the front."
About himself, MC Ky Duyen said that he had ordered a Tesla and was about to receive the car. However, it is possible that the female MC will cancel the order to wait for VinFast and support Vietnamese goods.
Duyen ordered a Tesla. But Tesla had to wait for 8-9 months, that party just called Duyen this December. But Duyen thought that Duyen would not take Tesla, Duyen waited next year to get the VinFast. If two cars Equal on everything, what Duyen supports a Vietnamese firm, Duyen wants to support."
As expected, two electric car models of VinFast will be allowed to order in the first half of 2022 and start delivering cars from the end of 2022.

Source : Genk