Many pitfalls to use the game Shake Shake MoMo to cheat
The award-winning program Lak Xì MoMo in 2021 has officially kicked off with a total prize of up to 300 billion VND. Compared to the previous seasons, this year, this year, Lak Xi is expected to bring more interesting things, both entertaining and associated with the cultural values ​​of the nation. Therefore, in recent times, wherever we go, we have seen the heat of Lak Si MoMo spreading more and more.
Sadly, contrary to the publisher's expectations, behind the healthy game there are always worms trying to cheat and steal other players' money.
Taking advantage of quests to block "1k"
Among the MoMo Shaking seasons, the Send lucky money / Money Transfer quest is how players earn their newest shakes. The content of the task is also quite simple, just transfer the amount of 1,000 VND, the player will have 3 shakes and a maximum of 20 transfers per day. In addition, they can also receive the same number of red packets thanks to the successful New Year's Eve quest. Therefore, a series of groups on social networks were born to help each other and bring back shakes of luck.
Facebook groups are set up to give money to each other (Photo: Screenshot)
Every new day, when the task is renewed, the frequency of writing each other's phone numbers is increasing. By the time the number of comments was large and the article owner struggled to act, the scammers seemed to wake up, ready to roll their phone numbers up to ask for 1,000 dong "cross" lucky money, but then " silent silence ". Many players summed up and found that losing a few tens of thousands of dong is also natural, because the scammers do not "cross" for themselves.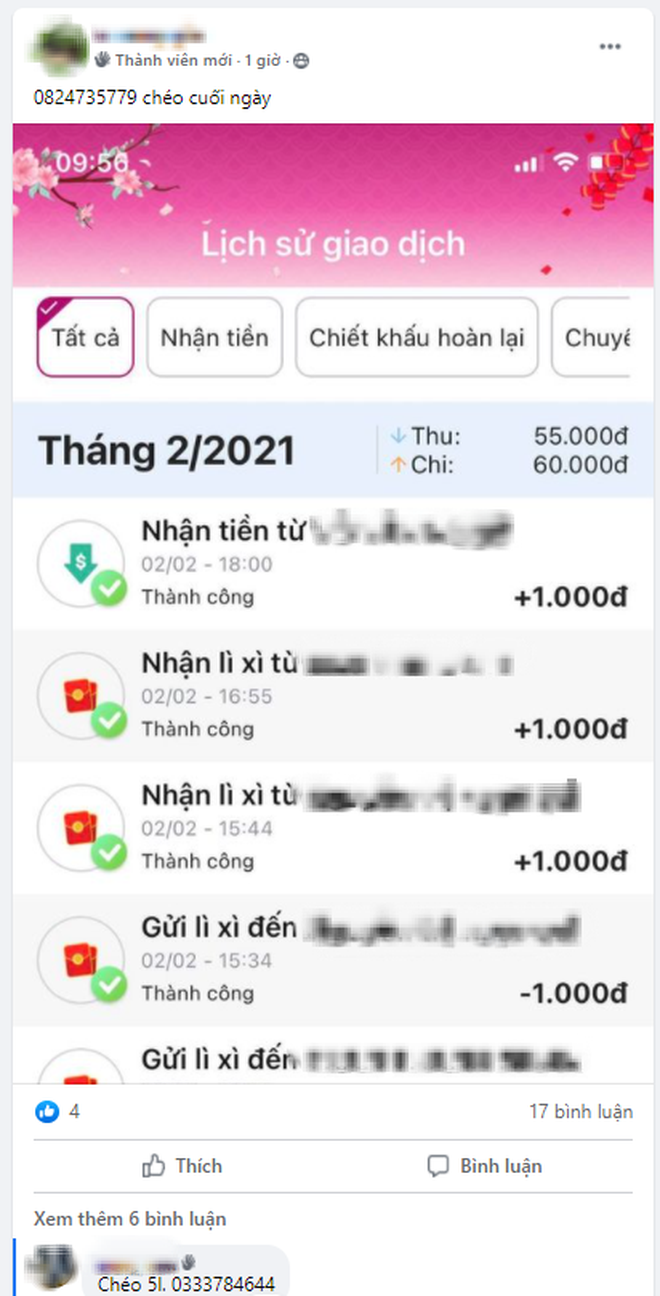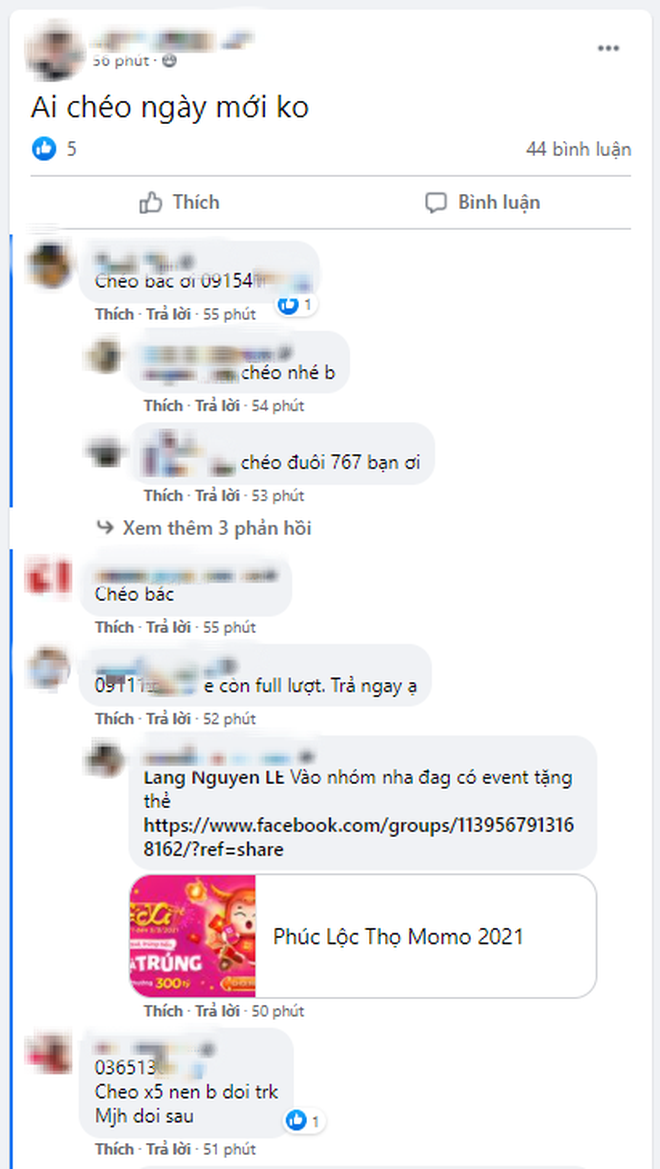 Entering the new day, netizens again boiled red packets for each other on social networks (Photo: Screenshot)
Although, 1,000 VND may not be much, but it causes inhibitory mood for players, due to the trick "small to big" of the genuine "small" scammer. It is estimated that if they successfully deceive genuine players from different groups, it is no longer a "1k" story but maybe a few million dong a day.
Pretend to buy the item, but it turns out it's just a scam
Unfortunately for those of you who have encountered the "1k" trick. Then also be alert to the case of buying gems, buying red packets.
Specifically, the value of the reward when the player completes the task of collecting 8 gems this year is 3 very valuable prizes: 1 billion, 3 billion and 8 billion VND (that amount will be divided equally by each player. , depending on what they choose). It is worth mentioning that the 3 gems Phuc, Loc and Tho are all high-priced jewels in the market.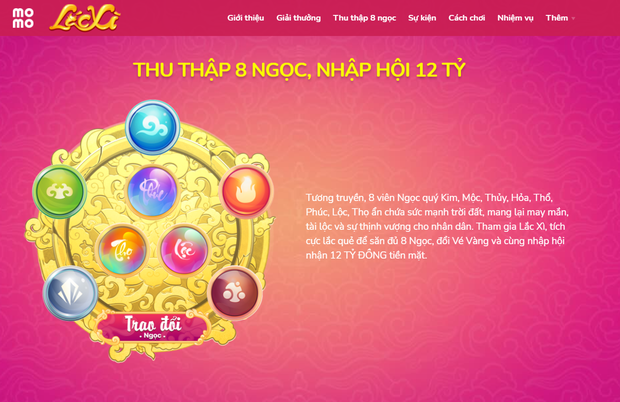 Gems collection quest (Photo: MoMo)
Many players commented that it would be better to spend a few dong to buy gems and wait for the biggest prize to be divided, whatever would be profitable. So they look to attractive offers at low prices. Scammers will beat that mentality to play the role of the jeweler, asking the player to transfer money first. Once the funds were deposited into their wallets, they immediately blocked the conversation and flew away, leaving the victim in a daze to post to the group to warn others to avoid making the same mistake.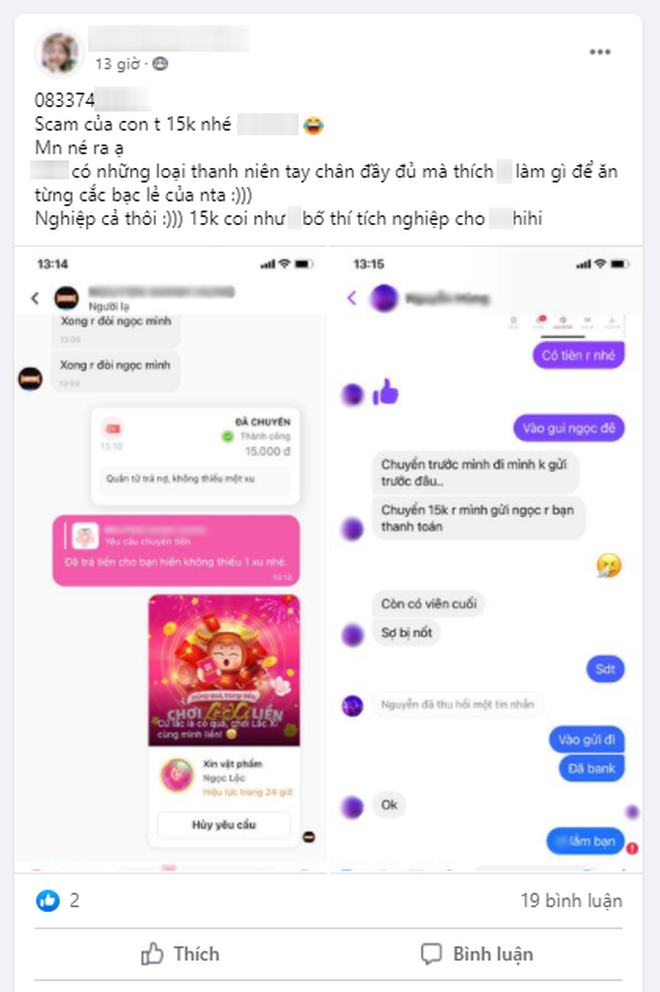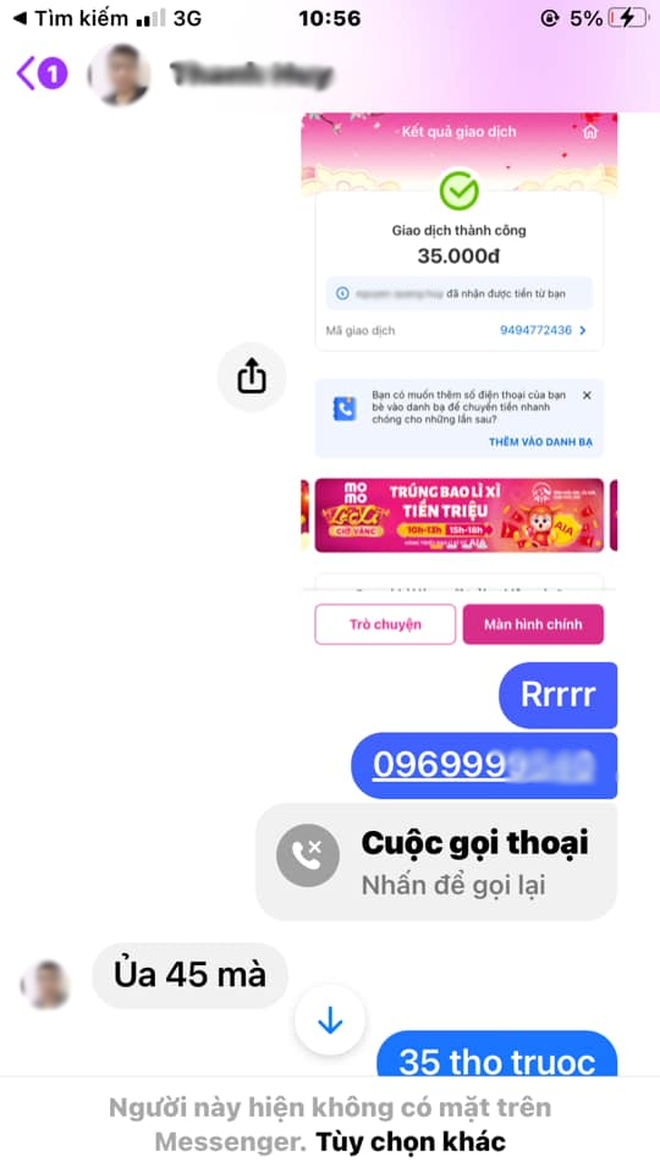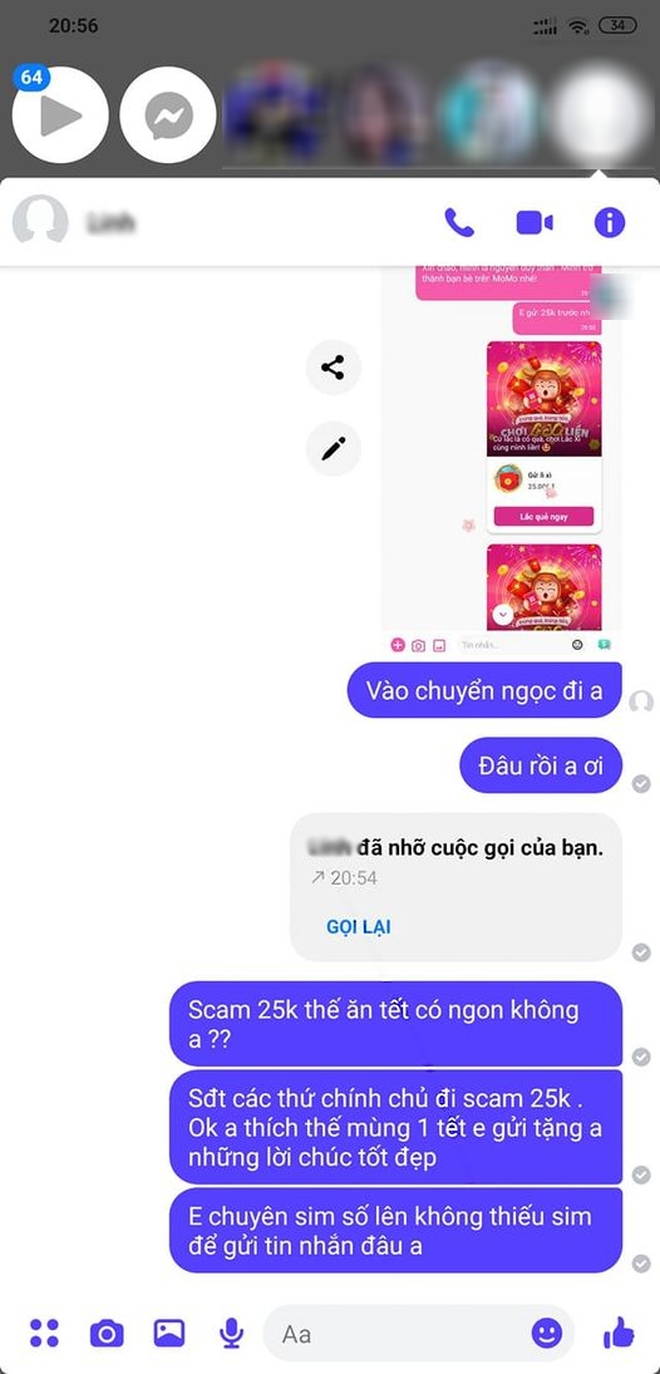 Many people are deceived for buying rare gems (Image: Internet)
In addition to the evenly divided prizes, Shake Si MoMo also cooperates with major brands such as FPT Shop to bring to the community the gifts everyone desires: iPhone 12, Apple Watch, MacBook … All these items are is divided into 4 pieces and the player has to shake the lucky money to find them. In particular, the 4th puzzle pieces are always considered the ultimate and if anyone owns it, it is considered to win 90%.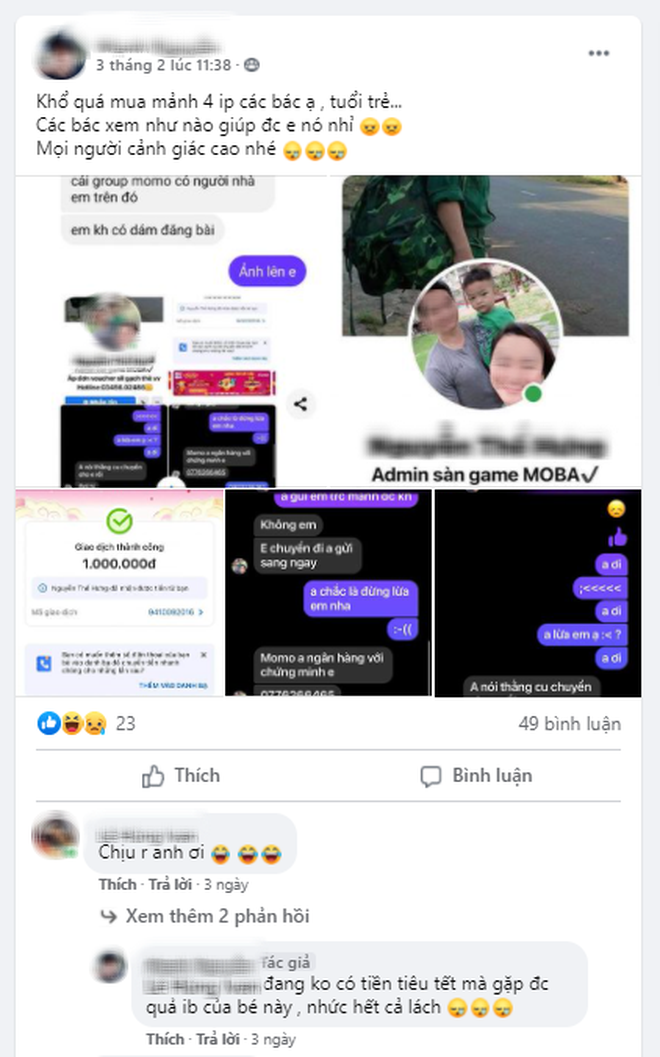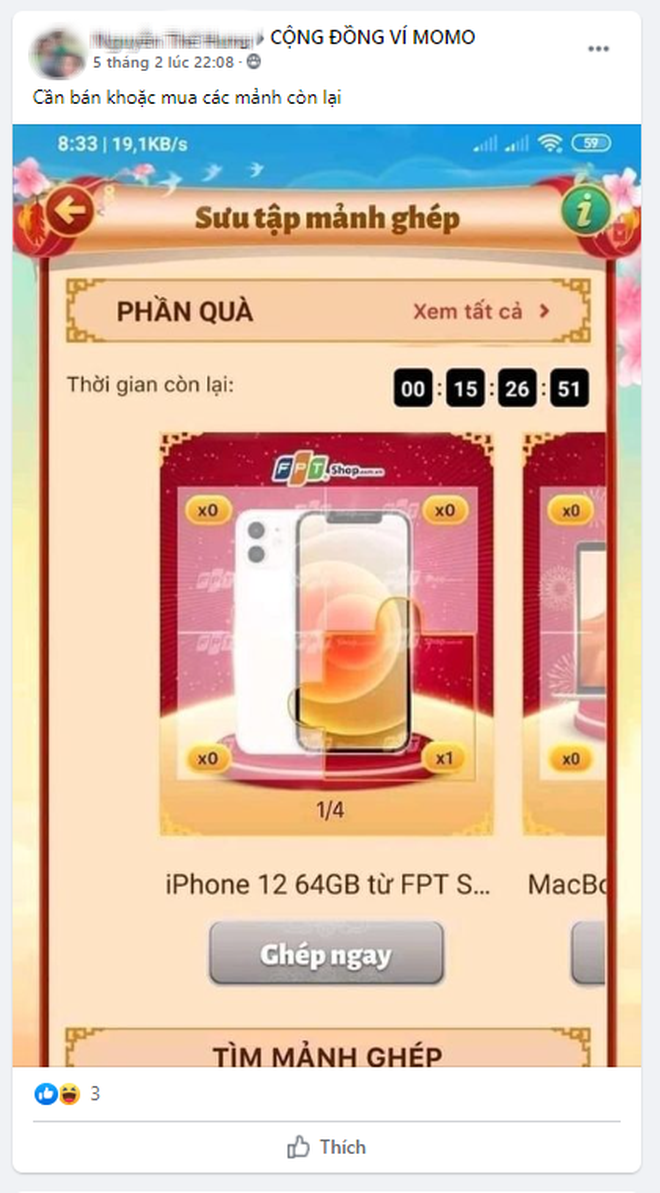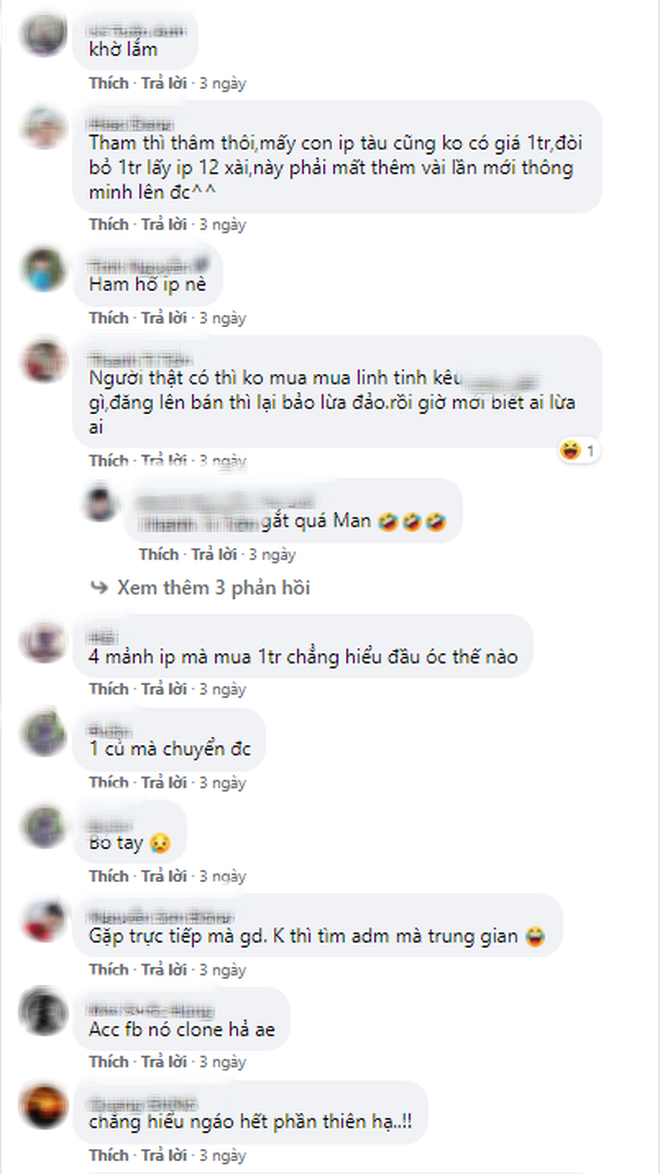 Then there are the rare pieces of the iPhone 12 (Image: Internet)
However, many people just because of the last iPhone 12 puzzle piece. Even though the sellers sell for a price in the sky, but because of the rarity and the desire to win the iPhone 12, they bite their teeth into the transaction and then lose a few million dong to spend Tet is also very normal. Partly because scammers use too sophisticated photoshop tricks to lure their prey, making them lose their guard.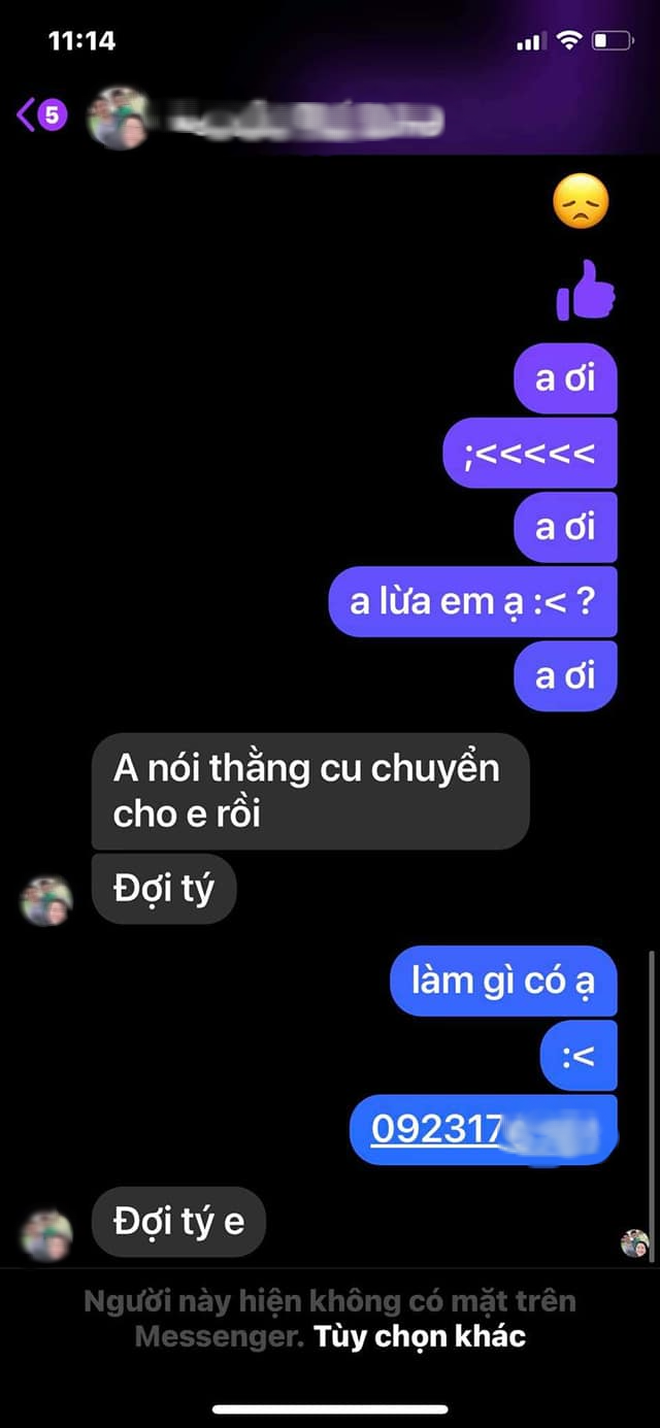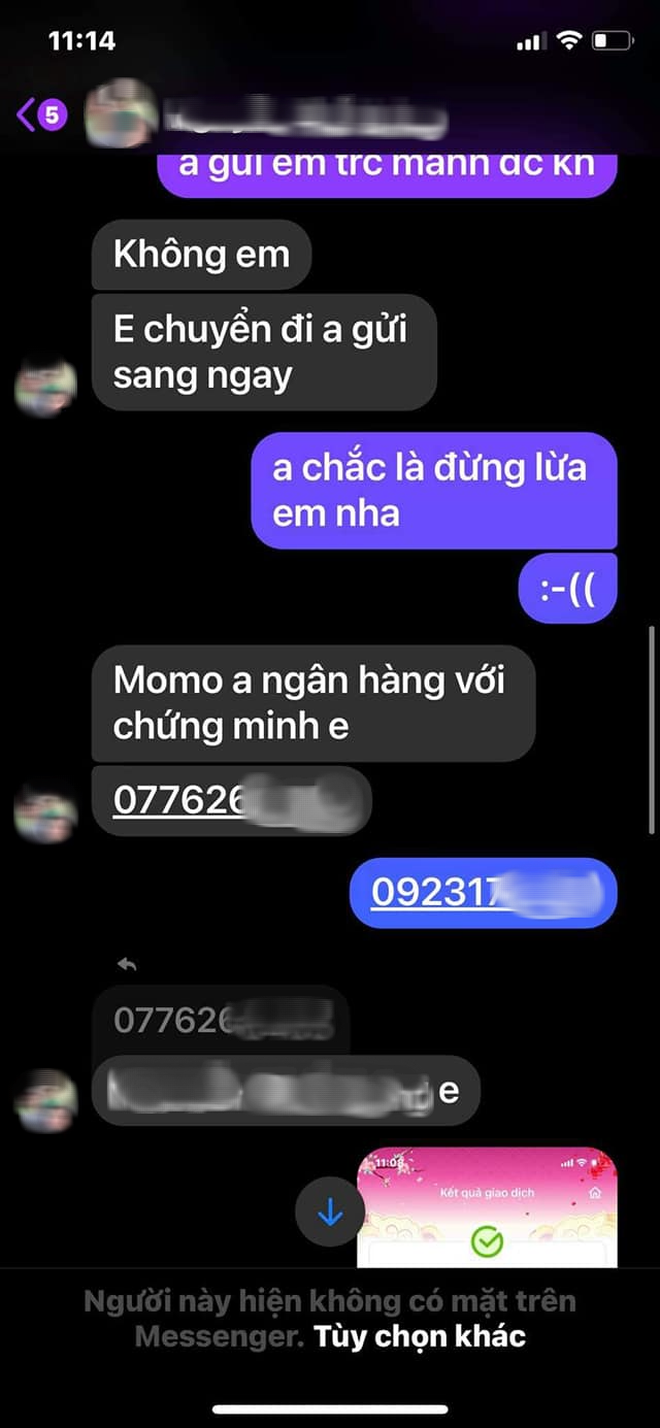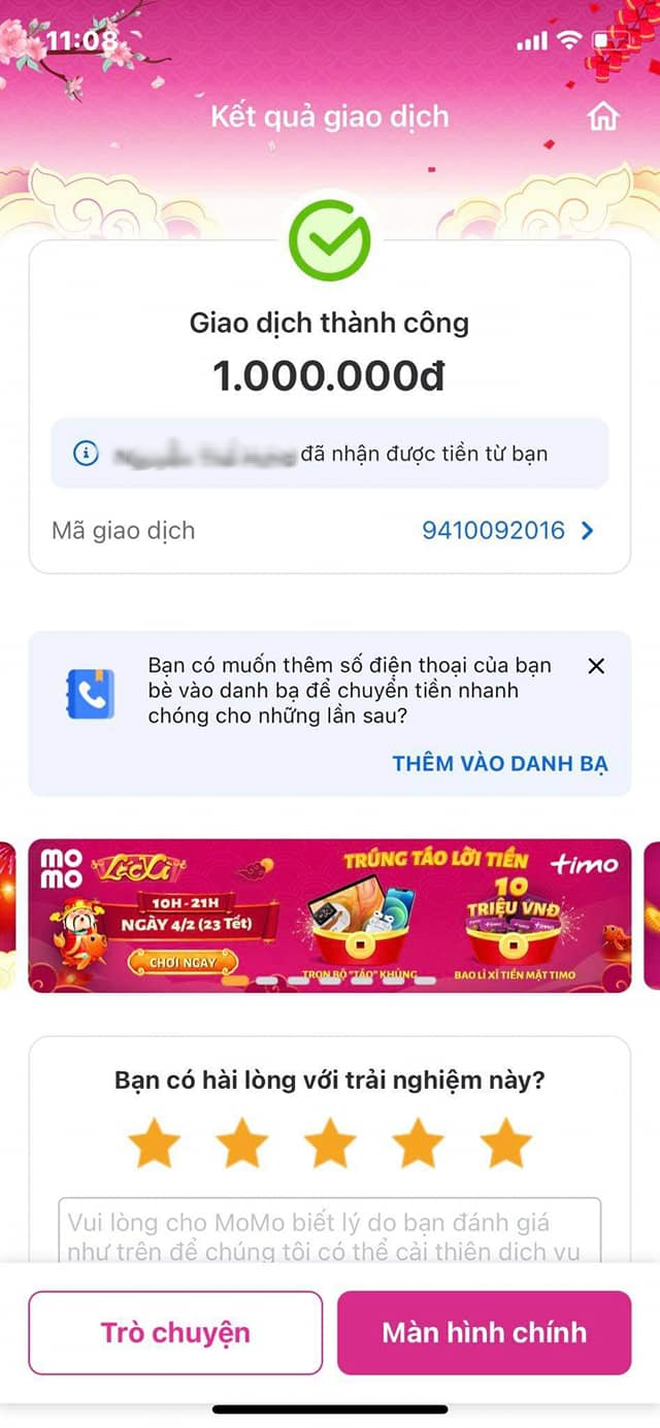 Users were tricked into buying the last piece of iPhone 12 (Image: Internet)
From a few tens of thousands of dong to "evaporate" accounts

In addition, many people playing Shakei MoMo also reflected that they were completely deducted from their accounts because they wanted to sell vouchers to pay for electricity, water, Internet, supermarkets, air tickets …
Specifically, they will lure the prey that I am buying a large number of vouchers that the account owner does not use at a good price. These scammers will require to log in to the wallet to pay for themselves (because MoMo does not allow the voucher to be transferred to another account). When they successfully log in to your account and also when they withdraw the money in both MoMo account and associated bank card (in case the owner has not unlinked the card).
Of course there are still many other sophisticated tricks to steal money from the victim.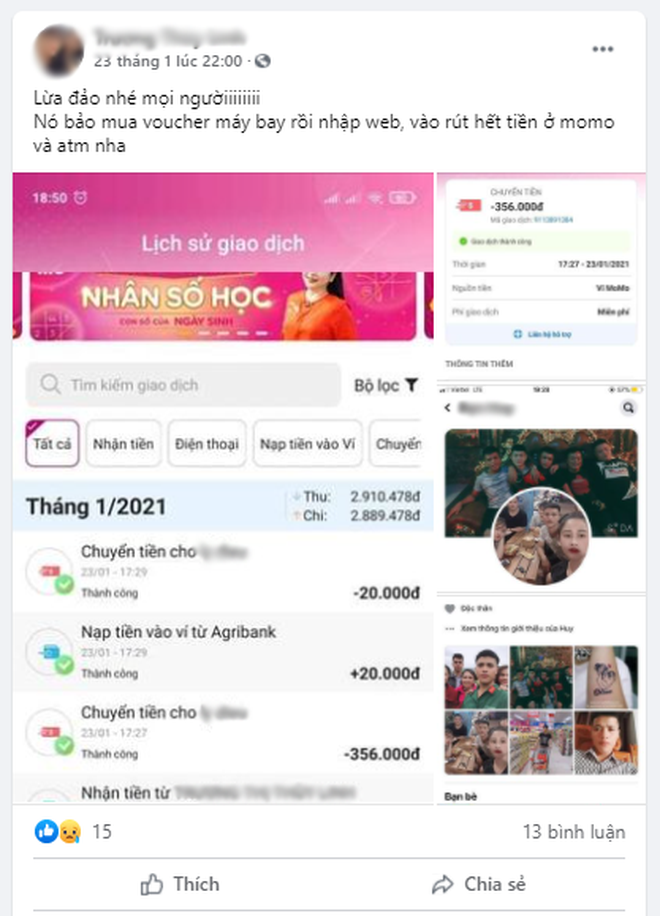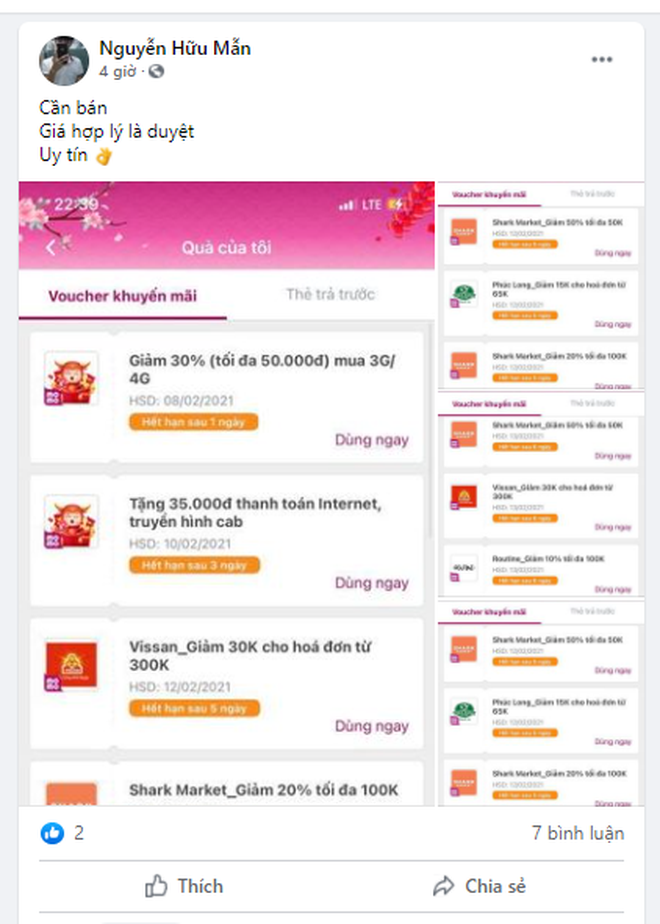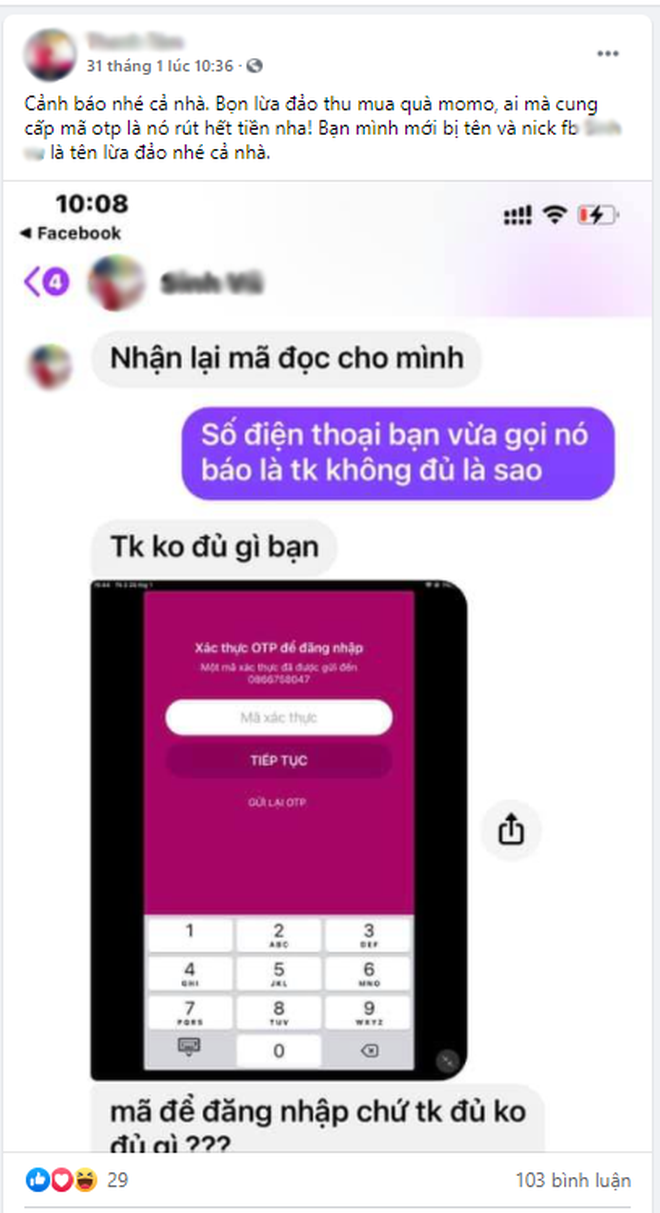 Scammers take advantage of the seller's account to wipe out money (Image: Internet)
Stories that were both deceived and annoyed were exchanged enthusiastically by members of the Lak Si MoMo group, mainly residents expressing their anger and condemning the above unethical behaviors. Everyday, admin of these groups also regularly posts articles to warn members, do not want to cheapen to accidentally become a delicious bait for scammers. When falling into the above situation, it is difficult even for the authorities to investigate responsibility and find fraud, because they frequently use hacked or fake Facebook accounts.
Through this article, we want to warn you who are participating in the game Shake Shake MoMo, please raise your guard. Chances are, having not received a few billion from the publisher, losing money to spend Tet is very sad!
Source: General
Source : Genk