Many Apple products will remove the "assembled in China"
"Designed by Apple in California. Assembled in China "(Designed by Apple in California. Assembled in China) is a fixed cluster, often found on Apple product packaging. Although these eight words do not mean much to the average user, they effectively shorten the process of making Apple's popular products. However, there is a change in this supply and production chain. More and more packaging no longer says "Designed by Apple in California Assembled in China". It shows how to approach the production of "defective apples" in the 2020s.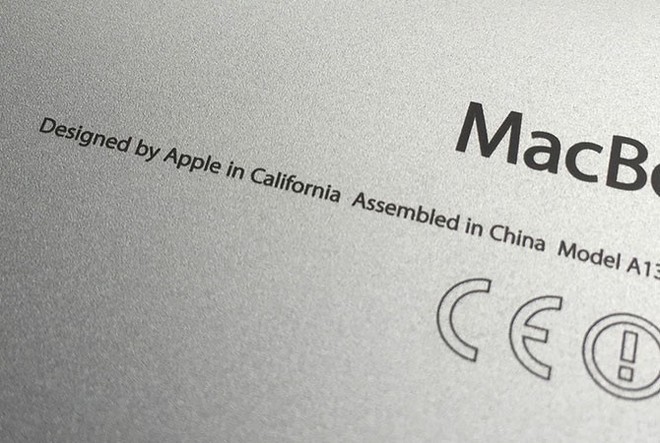 Designed by Apple
Most analysts and scholars argue that Apple's efforts to customize silicon are the source of its success, the most important factor determining why Apple stands out from its peers. However, according to expert Neil Cybart, it is not the fundamental reason that brought Apple to this day.
It is the culture driven by design that is responsible, behind the company's scalability for its user base. The relationships Apple forms with customers are among the most loyal and powerful in the corporate world. Apple bets on design (the way we use products) and proves it to be true. Other companies are mimicking Apple's mindset and culture with varying degrees of success.
In California
Apple's roots and heritage are tied to Silicon Valley. Apple can be seen as a "brain-centric" company. Despite plans to expand its presence in US cities such as Seattle, San Diego, New York, Boston … everything returns to Apple Park in Cupertino, California. Apple Park is the sun, and the offices and other headquarters are orbiting satellites.
Silicon Valley has not been replaced, despite other emerging tech hubs. It remains one of the world's largest sources of focus on creativity and new thinking. If someone "fled" Silicon Valley, someone else would be ready to take the place.
Assembled in China
For some products, Apple depends on Chinese production. China is home to 15 to 20% of Apple users. Meanwhile, many scholars want Apple to give up this market.
As the relationship between the world's two biggest economies deteriorated, Apple was stuck in the middle. Apple's position in China is not as dangerous as the Western media reported. They are still high-end brands that have a great influence on the domestic technology market. It's no exaggeration to say that most of the smartphones sold here are inspired by the iPhone, as well as the wearables inspired by the Apple Watch and the AirPods.
In addition to a strong brand, Apple still has a few factors in hand to maintain its power and position in China. They are the driving force behind the nation's largest employer. Products Apple makes in China are not only for local customers but also for export to other countries. Being the factory and the heart of the supply chain for Apple gives China strength and position in an economic battle with the US and other regions, such as India.
Not assembled in China
At that time, rumors of the HomePod mini made in Vietnam were tingling. So, when seeing the word "Vietnam" on the package, the expert was expanded. He lists products that are or will be made outside of China:
– Vietnam: AirPods Pro, HomePod mini, AirPods (rumor), iPad (rumor), Mac (rumor)
India: iPhone, iPad (rumored)
– Malaysia: Mac mini
US: Mac Pro
Some Southeast Asian countries are at an advantage to produce products for Apple. That's because the government is increasingly promoting foreign investment. Another factor is Apple's longtime, trusted partner – Foxconn – demonstrates its efforts to diversify its business and make its mark outside of China.
By diversifying assembly operations, Apple forces contractors to compete with each other. Instead of declaring the big change to "move all iPhone production out of China" as the media demanded, Apple took a smarter and more pragmatic approach. They take care not to break the existing assembly apparatus. Most of the product assembly is still going on in China. Apple is looking outward for newer products, selling much lower iPhones. The decision involves a comprehensive assessment, not just of the assembly unit (Foxconn, Pegatron, Luxshare, Wistron) but also of the supplier's capabilities. Apple benefits when the human resources and supplies are close to the assemblers.
Looking further, there's absolutely reason to believe that a large percentage of Apple products will be assembled outside of China.
Evolution
Apple quietly showed us how "Designed by Apple in California Assembled in China" will evolve. The company still invests heavily in China and the trend cannot change anytime soon. However, by gradually shifting assembly to another country, Apple points out that the supply chain contains more options than critics can imagine. The battle between economies for Apple's business will be an important topic worth watching for the 2020s.
According to Above Avalon
Source : Genk