Manage and secure your cards securely with MyVIB 2.0 – a bank beyond numbers
Now, with the card management feature integrated on the digital banking application, some banks such as International Bank (VIB) have brought customers a new way to manage their personal finances. If you want to actively spend and secure your card, enable/disable/enable transaction features with just one touch, MyVIB 2.0 digital bank is the first choice.
When logging into the MyVIB 2.0 application in the Card section, users will easily find a variety of card management features such as: Card lock, outstanding balance payment, view statement, installment payment, create PIN / change PIN , gift exchange. In particular, with the Card Lock feature, users can actively control the card's payment tasks depending on their personal use needs, thereby choosing an appropriate security plan. For example, when selecting Card Lock, right after the operation is successful, all features integrated with the card are disabled, all payment transactions with the card cannot be performed. In addition, depending on usage needs, users can also choose to lock each payment feature separately such as: card lock, online payment lock, transaction feature lock at ATM, payment lock via POS, lock Contactless payment. When you want to make a payment, just log in to the app and unlock it to be able to make normal transactions immediately.
Previously, when it was necessary to lock a card or limit certain features in an emergency such as card loss or card information disclosure, users would have to call a switchboard or go to a bank branch to request it. With the card lock/unlock feature on MyVIB 2.0, users can flexibly manage and secure their cards anytime, anywhere, just by manually manipulating them on their phones or mobile devices with internet connection. Users can also create a habit of actively locking infrequently used payment features and only opening them when needed for transactions. In emergency cases such as losing your card or suspecting card information disclosure, whether you are in Vietnam or abroad, you can immediately lock your card on the app without having to call roaming which is costly and time consuming. for the operator to handle.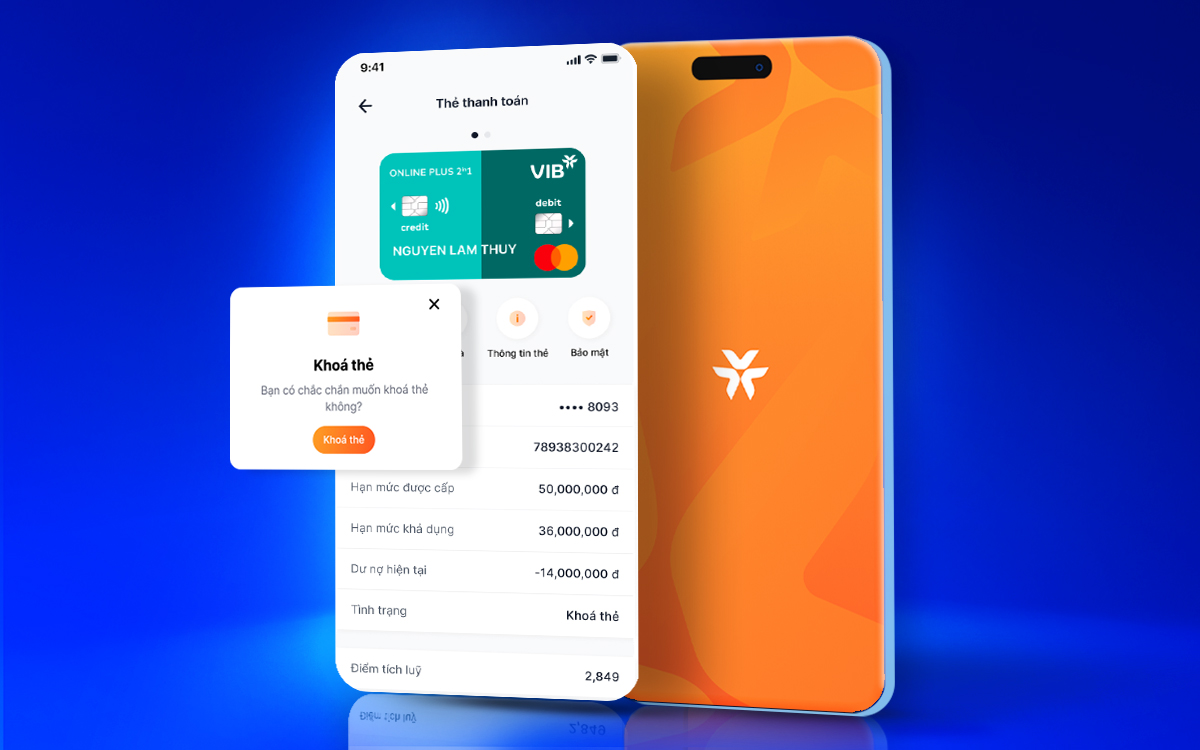 Le Yen (Hanoi) said that she often buys online and chooses to pay via credit card, so her card information is stored on many different applications and shopping sites. Since knowing the card lock/unlock feature on MyVIB, she actively locked the card's payment features and only opened it when there was a need to use it. She once received a lot of messages paying for purchases on an app while not making a transaction. However, because the card was previously locked to the online payment feature, the transaction failed and the card was not charged.
The management and security of card information is an important factor to help users avoid the risk of losing money to today's increasingly sophisticated forms of technology crime. Therefore, knowing how to exploit the features on the digital banking app will make personal financial management easier and more effective than ever.
MyVIB 2.0 is VIB's newly launched digital banking application with pioneering technologies appearing on Digital Banking applications in Vietnam. By investing and applying many new technologies in MyVIB 2.0, VIB wishes to bring users a unique experience beyond a normal digital bank.
In particular, VIB is currently applying a completely free policy and implementing many attractive incentives for customers when paying via MyVIB 2.0 such as: 3% discount for unlimited number of times when recharging prepaid phones via MyVIB 2.0, applied to any recharge card value, can be reduced to 150,000 VND; Cashback of VND 500,000 for new friends when opening online savings from VND 50 million with a term of 01 month or more, until the end of October 31, 2022; Free annual fee for the first year up to 1,300,000 VND & free 200,000 VND in cash/liter of petrol/ bonus miles when opening a credit card; Free issuance of VIB iCard global payment card.
Download the app now to experience.
Source : Genk