Looking at the 'terrible' profile of the new CEO of Gojek Vietnam: Former employee of billionaire Pham Nhat Vuong, used to contribute to building Adayroi, Coffee Community before embarking on a ride-hailing business.
In early July, Go-Viet suddenly announced that it would merge its application and brand with Gojek to become Gojek Vietnam. The position of General Director was put on the role of a man born in 1987 Phung Tuan Duc, former Managing Director of Go-Viet.
It is known that Phung Tuan Duc graduated from Wesleyan University, USA with a 200,000 USD scholarship of Wesleyan Freeman. This is a quite competitive scholarship when in the past 10 years each year the school is only for 1 to 2 scholarships for Vietnamese students.
After graduation, he returned to join Adayroi, an e-commerce website of VinCommerce General Trading Service Joint Stock Company, a member of Vingroup.
Duc Phung used to be the director of Online Groceries, a key that makes Adayroi.com a pioneer and competitive difference. Here, he was the one who built the system, process and application of mobile technology in order processing, helping Adayroi.com become one of the few e-commerce websites in the world to do business successfully. Fresh food on a large scale.
After 1.5 years working at this e-commerce platform, he joined Lead Coffee in the role of Operations Manager, contributing to transforming this brand chain from start-up stage to rapid development stage. with the restructuring of the company, recruiting important positions and building a development framework for the future …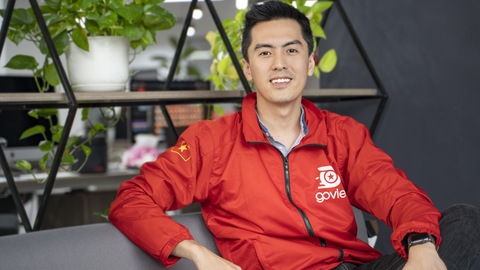 In 2018, when Go-Viet entered Vietnam, Duc Phung was selected to hold the position of COO – Chief Sales Officer and also one of the four senior leaders of the platform. Although he was the youngest of the cold team at the time, he was still appreciated for having nearly 10 years of experience in diverse fields such as running many businesses in diverse fields such as retail and concessions. rights, trade, such as retail, franchising, e-commerce, and information technology.
Currently, with the position of CEO of Gojek Vietnam, the position that has been vacant for a long time after Le Diep Kieu Trang left the chair, Duc Phung is once again trusted by Gojek to continue the long journey in battle with Grab.
"Mr. Phung Tuan Duc will lead the implementation of Gojek's highly localized strategy in Vietnam and continue to shape product development. No one is more suitable than Mr. Phung Tuan Duc, who Co-founded GoViet in 2018, to lead Gojek Vietnam forward, "affirmed Gojek's representative.
Of course, undeniably, compared to the two faces who used to be CEO of Go-Viet before, Duc Phung now has outstanding strengths as experienced in the ride-hailing market (after 2 years of holding COO position). ), understand the organization and operation structure. He will not take time for the problem of "surpassing himself", the problem that CEOs who have never had experience in calling cars face.
However, waiting for this new CEO will be a difficult journey ahead, when he must simultaneously achieve 3 goals: Retaining the driver partner, customer satisfaction and maintaining growth in the context. Grab is holding the "throne" as it is today.
Not to mention, according to an industry expert who once shared with VnExpress, the model of calling a car for people or cargo, which has many challenges in technology, infrastructure, legal corridors … should put great pressure on CEO. They have to run the startup in a somewhat 'run-and-blind' situation. When finding a suitable business strategy, it is even more difficult to maintain growth, between 10 drivers and 50,000 drivers, the management is very different.
"In essence, the drivers of these models are considered partners, not people of the company. Therefore, both pleased and manage partners, must ensure the quality of service for customers and continued growth is a huge problem, "he commented.
Nhat Anh (combined)
Source : Genk