Lien Quan Mobile is 'resilient' at the top of Vietnam's mobile games
Leading the monthly play in Vietnam
Lien Quan Mobile launched players in the third quarter of 2016, but up to now, Garena's "national game" is still developing constantly. This is considered a rare case of the domestic mobile game industry when there is an IP turning 7 years old but still developing new players while maintaining the old fan base from many years ago.
Up to now, Lien Quan Mobile is still the mobile game with the largest number of monthly players in Vietnam, according to a report by Game IQ Taxonomy. Not stopping there, during the last Lunar New Year festival (taking place during the Lunar New Year), the game broke the record of the number of players per month, achieving a growth of 30% compared to the average in 2022. In January 2023 , has up to 23 million players logged in and active in the game application, an achievement that makes many mobile games available on the market jealous, while games released at the same time … "can only wish ".
Turning 7 years old, Garena Lien Quan Mobile has had more than 90 million app downloads on the two most popular platforms today, iOS and Android, continuously voted as the most favorite mobile game in Vietnam. for several years. To maintain that achievement, the operation and development team has always made great efforts to create new content, absorb user feedback to upgrade and modify to better suit tastes and needs. through each time.
"We sincerely thank the Lien Quan Mobile player community in Vietnam for always supporting and joining hands to build a healthy, fun and entertaining game environment", said Mr. Le Duc Anh, Garena Lien Product Manager Quan Mobile confided.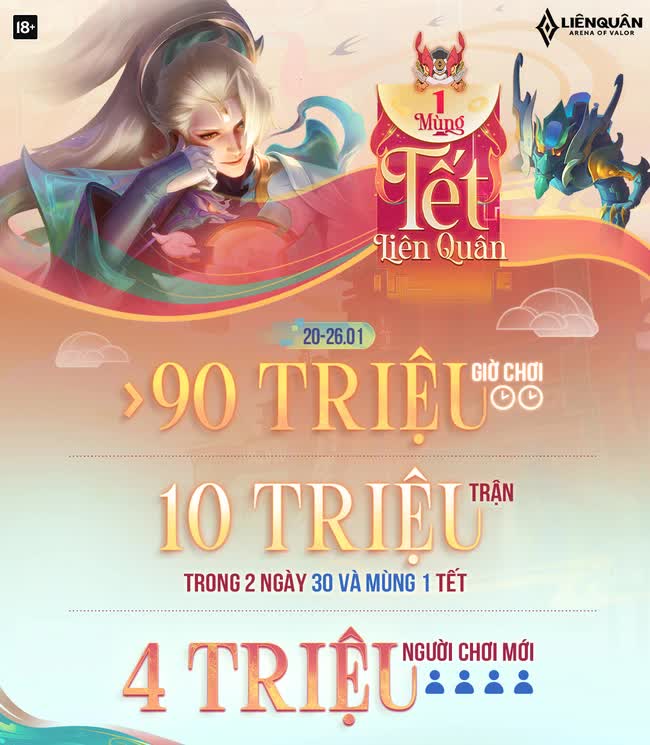 Gamers willing to play, Garena Lien Quan Mobile also pays
Lien Quan Mobile has just experienced the 7th "honeymoon" with the gaming community with the event of the Lunar New Year 2023 and unforgettable new records. In just one week of Tet holiday (January 20 to January 26, 2023), more than 14 million players spent over 90 million hours playing to enjoy and experience the content in the Endless Plains. On the two days of January 21 and 21 (ie 30 and 1 of the Lunar New Year) alone, Lien Quan Mobile has witnessed more than 10 million matches between players in all forms, bringing an exciting Tet season.
Tet Lien Quan is the largest series of annual congratulatory events, as well as a practical gratitude from the publisher and the development team to the players for their support throughout the past and upcoming journey. Many interesting activities in the game took place such as Sowing Hexagrams in Early Spring, Discovering Tu Di Gioi, Treasure Fox, God of Wealth, and Ha Pham Messenger… with special and valuable gifts that have attracted a large number of people. gamer island.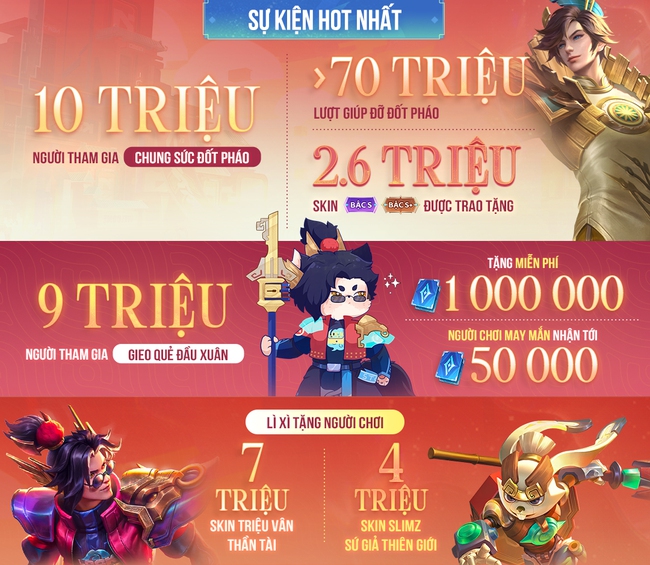 The focus of the main event series is Chung Strength and Sowing Hexagram Early Spring when these two mini games reach 10 million and 9 million players respectively. In which, there were up to 70 million times of helping to set off firecrackers, resulting in 2.6 million high-value skins (skins) from S rank and above that were given to players. A total of 1 million Quan Huy was shared to the community and the luckiest person among them received up to 50,000 Quan Huy. Two new "hot" skins, Trieu Van Than Tai (Level S+) and Slimz Angel of Heaven, have a total of 11 million owners. It can be said without exaggeration that "As long as gamers are willing to play, Garena Lien Quan Mobile will pay".
Covering to…Heavenly Court
Going beyond the traditional mobile screen frame, Lien Quan Mobile during Tet always takes an unforgettable step every time "covering to Thien Dinh". But before that, the Lunar New Year program was available on all social networking sites, earning more than 236 million views from a series of self-produced videos and more than 10 million interactions.
This year, the drama with the title "Tao Quan 2023: The Story of GenZ Time" attracted a huge number of people waiting and enjoying. Many famous and veteran comedians such as Quoc Khanh, Tu Long, Van Dung, Quang Thang, Chi Trung have collaborated with influential young faces in the community such as Do Mixi, Long Chun, Co Dong Nat to create bring laughter outside the Endless Plains. The skit attracted the attention of not only young people but also the elderly.
Tao Quan 2023: The Story of GenZ has more than 14.2 million views and 2.7 million hours of live viewing on Lien Quan Mobile's channel, reaching 6th place in Top Trending on YouTube platform. It is also broadcast on two major television channels, VTC1 and Hanoi Television Station – H1, greatly contributing to Lien Quan Mobile's reach to a wide range of audiences across the country.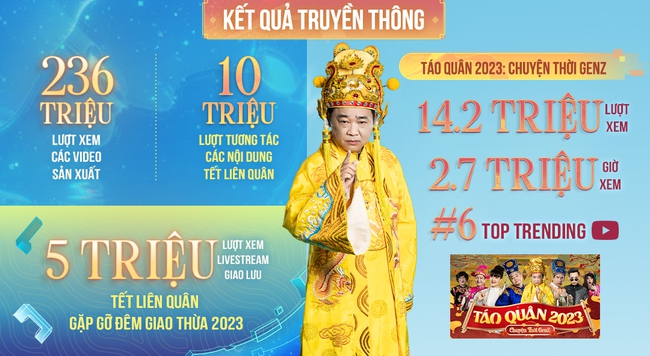 On New Year's Eve, Lien Quan Mobile brought an attractive exchange livestream with the appearance and exchange of players and familiar faces of the country's Lien Quan world. The program has attracted nearly 5 million views online – undisputed proof of the coverage of the "national" game.
Happy New Year wishes, full of happiness – Talent – Tri – Luc
Spring has come, family members share and receive the wishes of relatives and friends. Lien Quan also succeeded with the desire to connect the sharing of a large community of players, make new friends, and reunite with old teammates. Publisher Garena sends full wishes not only to the players but also to everyone in Vietnam. In 2023, Garena Lien Quan Mobile will also bring players many more interesting events and surprise gifts to continue to be valuable "spiritual food" for the community after hours of studying and working. tension action.
Source : Genk