LG launches One:Quick Series – Solutions to enhance business performance
LG recently introduced a new product line in the Vietnamese market for businesses called One:Quick Series – a dedicated display and connection device that helps businesses easily operate their businesses. meetings, seminars, and at the same time ensure safety, as well as improve the working performance of the staff in the context of the new normal.
One:Quick Series includes 3 main products: dedicated display screen One:Quick Works and One:Quick Flex; One:Quick Share wireless device. The new series of products help solve practical needs for units and organizations as well as improve efficiency in the working process.
One:Quick Works
With an "all-in-one" design and impressive performance, One:Quick Works owns a 55-inch touch screen, 4K UHD resolution and up to 450 nits of brightness, suitable for Suitable for both open meeting rooms or large halls with lots of light.
One:Quick Works has a built-in Windows PC, sharp UHD 4K camera, microphone and digital whiteboard. That means meetings can be started at the touch of a button, without the need to connect or set up any additional peripherals.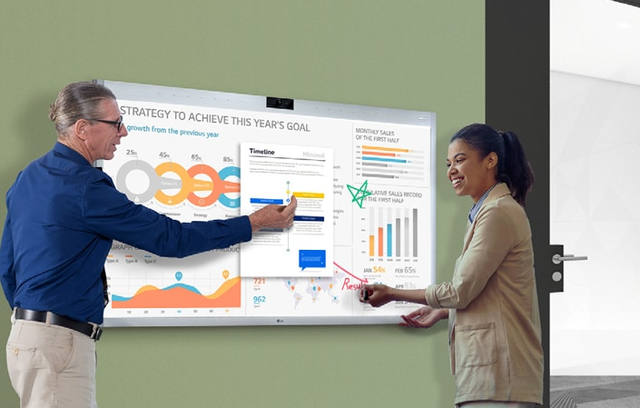 The built-in mic on One:Quick Works has directional technology, focusing on recording the voice of the speaker, with a distance of up to 6 meters with noise cancellation. Along with that, the camera is capable of tracking and automatically focusing on each specific person. In particular, this camera can be flipped and rotated to hide when not in use, ensuring absolute privacy and security for the office environment.
One:Quick Works comes pre-installed with the LG One:Quick Remote Meeting application suite for users to share documents, draw, and interact in real time. With the included stylus and In-cell touch panel supporting up to 10 points, One:Quick Works turns ideas into reality and entire sketches can be recorded, archived or shared after meetings. .
One:Quick Flex
One:Quick Flex is the "flexible" version of One:Quick Works with its own optimizations.
Specifically, the product owns a 43-inch touch screen, 4K UHD resolution and 350 nit brightness. The built-in camera on One:Quick Flex has Full HD resolution, 88-degree wide angle and can be adjusted manually. Mic with the ability to record sound with a distance of up to 3m, two-channel speakers for a total capacity of 20W, ready for meeting and online conversation needs.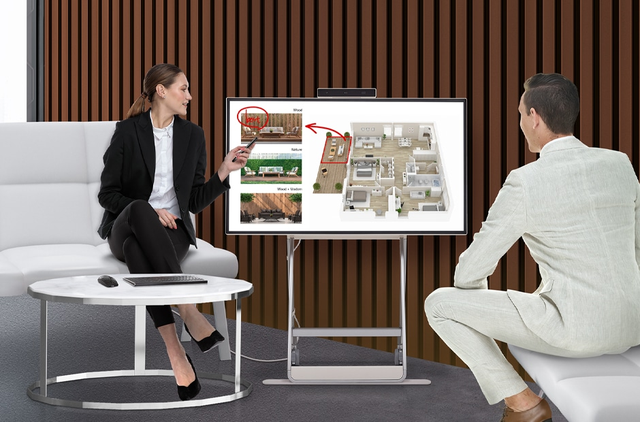 One:Quick Flex can work in both portrait and landscape screen modes, and allows split screen space for multitasking tasks. With a specially designed stand, with wheels attached, this multitasking monitor can be easily moved anywhere in a light, simple way. The height can also be adjusted (flex) up to 9.5cm to meet the user's posture or height.
Similar to One:Quick Works, inside One:Quick Flex is also a PC running Windows operating system with an extremely rich application store that allows users to flexibly discuss with partners and colleagues on any platform such as: Microsoft Teams, Zoom, Skype, Hangout Meet…
One:Quick Share
Event arrives now but can't start because presenter's PC can't connect to conference room display. When changing presenters, meetings are often interrupted because it takes time to connect the new person's personal device to the screen. These are just two examples of the many problems that traditional devices face.
One:Quick Share wireless image transmitter is LG's smart solution to this problem. The device comes in the form of a plug (Wi-Fi dongle) with USB interface, connecting and compatible with most computers, tablets and many smart devices. Simply plug in One:Quick Share on your personal device, and the image will then be transferred to a compatible LG display.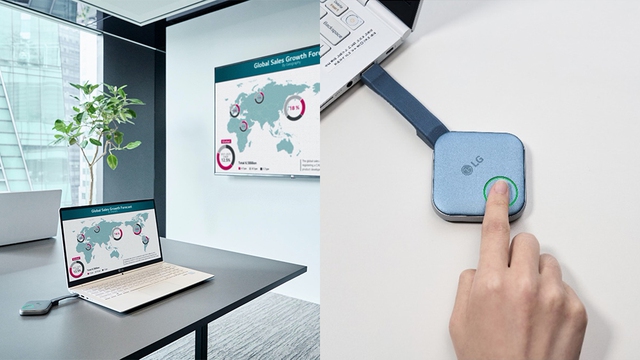 Through a button on the USB dongle, users can easily switch between different display devices on the screen. It is even possible to display information on up to 4 PCs to the screen at the same time. With the SoftAP function, the connection between One:Quick Share and a compatible display is made quickly without the need for an additional transceiver.
One:Quick Share application is designed to optimize user needs, through setting volume, adjusting image mode, brightness… Besides, it is also a set of applications to help edit, note and Slideshow settings.
Source : Genk