Lenovo ThinkBook shock 10%, year-end laptop shopping
In order to serve the year-end shopping needs, FPT Shop drastically reduced the price of all Lenovo ThinkBook laptops being sold at all stores nationwide by 10%, the new product price was only from 12,990,000 VND. extremely suitable for the needs and budgets of the students, students and the office world. The program applies from now to December 31 and is for customers paying 100% directly. To choose to buy products, you can go directly to more than 630 FPT Shop stores nationwide or choose to buy online right here . Especially, FPT Shop commits to free door-to-door delivery.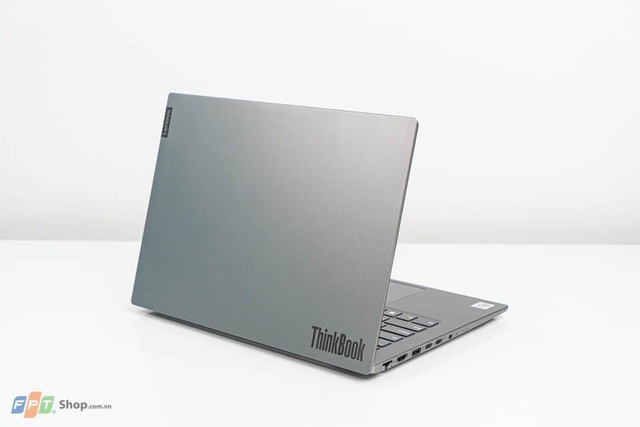 At the end of the year, FPT Shop drastically reduced 10% – up to 1,200,000 VND for all Lenovo ThinkBook laptops.
For those who are worried about costs, rest assured, FPT Shop has a 0% interest installment program, no prepayment required and 100,000 VND refund. The installment payment procedure at FPT Shop is very simple, you only need to bring your ID card and driver's license (or household registration book) and check in within 15 minutes to be able to bring a brand new, "genuine laptop. smooth "go home. FPT Shop even supports online installment payment procedures, customers do not need to go to the store. This is a 'one-of-a-kind' offer, helping customers to own products quickly without worrying about financial issues.
Whether paid directly or by installments, customers will also receive more practical gifts such as laptop backpack, gift voucher worth 300,000 VND used to buy printers, up to 700,000 VND discount for customers with December birthday. be subsidized up to 3,000,000 VND when participating in the old renewal program.
Not only discounts and gifts, but customers who choose to buy laptops at FPT Shop can also be assured of the quality and warranty policy here. 100% of laptops at FPT Shop are genuine, guaranteed for 12 months. The warranty is also very flexible and convenient. Accordingly, the device will be under warranty according to IMEI so it is very accurate. Customers also do not have to worry about storing papers or invoices, just bring the device to FPT Shop for quick support.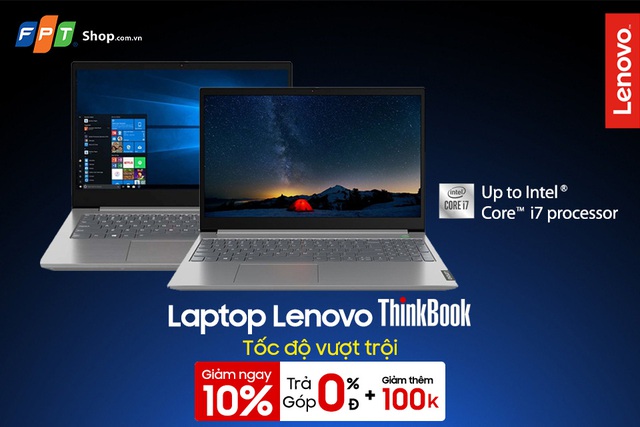 Lenovo ThinkBook laptop has a slim, lightweight, stylish design. 100% of laptops at FPT Shop are genuine and are warranted for 12 months.
About Lenovo ThinkBook laptops being sold at FPT Shop
Currently, FPT Shop is selling both versions of the 14-inch and 15-inch Lennovo ThinkBook. Most machines are equipped with the latest 10th generation Intel Core i5 10210U processor, which is not only powerful but also energy efficient. In addition, all products do not use traditional HDDs but use SSD solid-state drives with a capacity of up to 512GB, allowing you to comfortably store, accelerate startup, open multiple applications and transfer data. materials are remarkably fast. 8GB DDR4 RAM with Windows 10 copyrighted operating system will enhance multitasking, web browsing, smooth tab surfing without lag phenomenon. As a result, you will have a stable and ideal laptop for work.
High quality Dolby Audio is also an impressive highlight, helping Lenovo ThinkBook stand out in products in the same segment. Specifically, the machine owns two external speakers tuned with Dolby Audio, for detailed volume, warm bass and vivid stereo emulation. The next notable point is the large thin-bezel screen with sharp Full HD resolution, which makes editing photos and videos with more accurate colors, and entertainment also more interesting. In particular, its modern design and ultra-thin and light body make it easy to hold in your hand or in your bag for you to take anywhere. What are you waiting for without quickly buying a gift for yourself or your loved one, a friend, a worthy and long-term investment on the occasion of Christmas, New Year and the New Year, right?
Source : Genk