Leaking the final design of the iPhone 12 and 12 Pro 5G, the notch is still but smaller than the previous generation
However, the company's efforts have finally paid off, and the design of the upcoming iPhone 12 line has been officially adopted.
Although this milestone was achieved a few months later than originally planned, thanks to Front Page Tech 's YouTUber Jon Prosser, some key details about the iPhone 12 and iPhone 12 Pro have now been revealed.
The notch is smaller, and all four iPhone 12 devices support 5G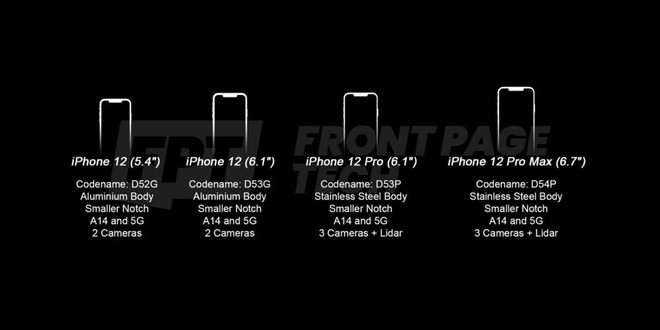 Apple first introduced the controversial rabbit ear in September 2017 with the iPhone X. The notch then continued to be present on the iPhone XS / XR and iPhone 11 series, and once again, it will be on the line. iPhone coming.
However, according to information collected by Prosser, Apple plans to reduce the size of the rabbit ears on the iPhone 12. Do not be too excited, because the difference is thought to be very small, you probably will not recognize.
The reason for this change is still a mystery, but perhaps related to the new 4-lens camera system that Apple is likely to equip the iPhone 12 Pro. This cluster takes up a significant amount of space inside the device, forcing Apple to reduce the size of the Face ID system.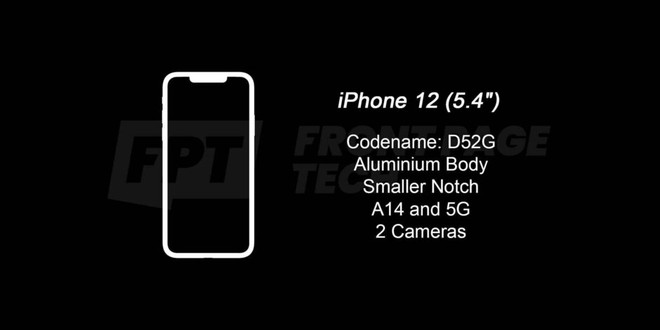 And to ensure uniformity in the iPhone 12 series, this change will be brought to two models iPhone 12 and iPhone 12 Plus.
Another feature that will appear on the iPhone 12 and iPhone 12 Pro is 5G connectivity, even though they are not the two most advanced iPhone models. Specific information has not been disclosed, but many previous reports said that only the Pro model supports mmWave technology.
Of course, these iPhone models will come with next-generation A14 Bionic chipsets with significant breakthroughs in performance and energy efficiency thanks to the 5nm manufacturing process.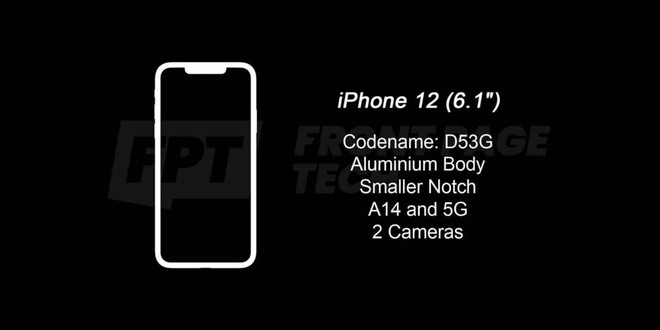 Material aluminum shell and stainless steel
iPhone 12 and iPhone 12 Plus, codenamed D52G and D53G, will follow the iPhone 11 with dual camera clusters on the back and aluminum chassis.
In theory, these smartphones will look almost identical to the previous generation, and should be called iPhone 11S. But that is not entirely true, as previous reports have indicated that there will be some relatively significant changes in the new product line.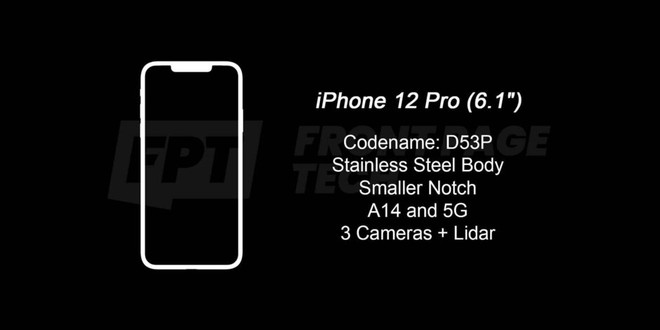 For example, the aluminum frame on the iPhone 12 will have flatter edges. The LCD screen, on the other hand, will be replaced by an OLED panel, which means that the bezels will be thinner like the high-end iPhone 11 Pro.
As for the iPhone 12 Pro and Pro Max, codenamed D53P and D54P, they will use stainless steel chassis and also have flat edges as mentioned above. Of course, both will have larger OLED screens and thinner bezels.
Two new high-end iPhone models will also be equipped with a triple-lens camera cluster and a LiDAR sensor. This is probably the biggest difference when comparing new devices to last year's iPhone 11 Pro.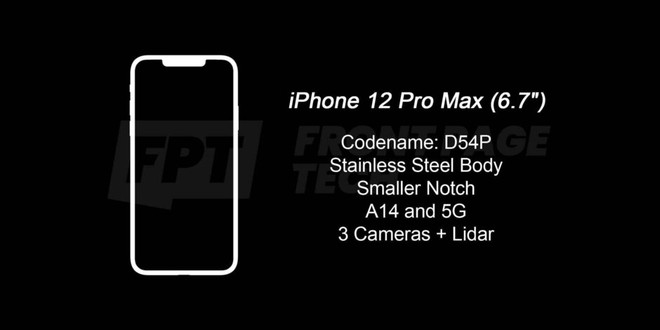 Price of iPhone 12 and 12 Pro
With the aforementioned upgrades, it's safe to assume that the price of the iPhone 12 lineup will increase slightly this year. The following is the estimated selling price of iPhone models that will hit the market in 2020 based on leaked information:
– iPhone 9 / SE 2020: $ 399
– iPhone 9 / SE Plus: 499 USD
– iPhone XR: $ 549, down from $ 599
– iPhone 11: 649 USD, down from 699 USD
– iPhone 12 (5.4-inch): 699 USD
– iPhone 12 Plus (6.1-inch): $ 799, up from $ 699
– iPhone 12 Pro (6.1-inch): $ 1,049 or $ 1,099, up from $ 999
– iPhone 12 Pro Max (6.7-inch): $ 1,149 or $ 1,199, up from $ 1,099.
Reference: PhoneArena
Source : Genk